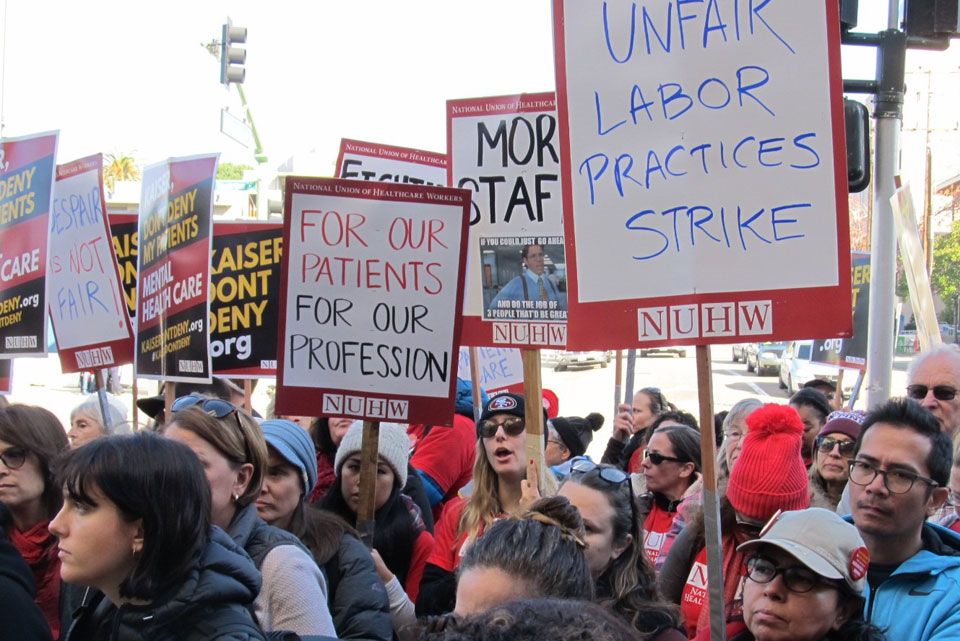 Leaders of the National Union of Healthcare Workers said over the weekend that a strike by some 4,000 Kaiser Permanente mental health professionals in California, set to start June 11, is called off, following progress in bargaining and in response to legislative leaders' calls for continued talks.
The union said June 9 that member-led bargaining teams representing the psychologists, therapists and social workers at Kaiser Permanente hospitals and clinics throughout the state voted unanimously in response to concerns California legislative leaders expressed about the strike's impact on patients unable to access urgently needed mental health services.
California Senate President Pro Tem Toni  Atkins,  D-San Diego and Assembly Speaker Anthony Rendon, D-Lakewood, issued a statement June 7 calling on both sides in the long-running contract dispute "to immediately sit down and continue to negotiate in good faith, regardless of how long that might take, until an agreement is reached."
The two said they are "deeply concerned" that the strike would be "extraordinarily disruptive" to millions of Kaiser patients who depend on the mental health professionals for care, and called it "critically important" that Kaiser members and their families continue to have ready access to urgently needed mental health services.
Union leaders said if Kaiser rejects the legislative leaders' call, the member-led bargaining committees will recommend that their colleagues reject Kaiser's last offer.
"The ball is in Kaiser's court," NUHW President Sal Rosselli said in a statement. "We remain ready to negotiate a contract that fully addresses the pressing problems faced by Kaiser Permanente clinicians and patients, but Kaiser is refusing to meet with us."
Rosselli said Kaiser's latest offer is better than before clinicians authorized an open-ended strike last month, with Kaiser finally acknowledging the system is in crisis. But, he said, while the latest proposal includes the framework for a six-month collaborative process to reform the system, with everything on the table including in-sourcing tens of thousands of patients now forced to find outside therapists, the healthcare giant is still refusing to provide immediate relief for clinicians and patients.
Rosselli added, "We feel that a settlement is within reach, and remain ready to work with Kaiser on a fair contract. But if Kaiser won't come back to the table, we will bring their proposal back to our 4,000 members with a recommendation to vote it down."
The union said that although the strike is called off, noontime rallies set for Wednesday in Sacramento and Los Angeles will proceed as planned.
Kaiser's mental health clinicians in California have been without a contract since the end of last September. In December they held a five-day strike and at a June 6 press conference, the union had announced the now called-off strike.