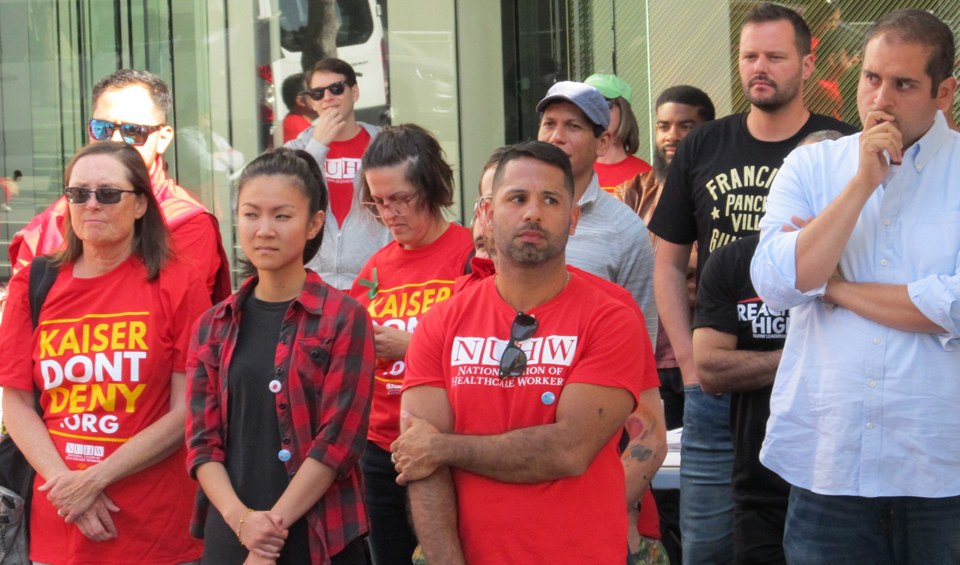 OAKLAND, Calif. – Kaiser Permanente's mental health clinicians throughout California are taking their years-long struggle to assure adequate care for their patients to a new level this week. Clinicians in northern California launched a continuous 24-7 presence outside Kaiser's national headquarters here on Oct. 13, and the next day their southern California colleagues took similar action outside Kaiser's Los Angeles Medical Center.
Across the state nearly 4,000 psychologists, social workers, addiction specialists, psychiatric nurses and other professionals – members of the National Union of Healthcare Workers – have been working without a contract for over a year. And they and their union have been fighting for almost a decade to make the giant health care corporation treat mental health care with the same urgency and commitment as it does physical health care.
As over 150 clinicians from the San Francisco Bay Area and beyond joined labor and community supporters here on Sunday afternoon, Mickey Fitzpatrick, a clinical psychologist at Kaiser's Pleasanton Clinic and a steward and bargaining committee member, told the crowd that despite reporting over $5 billion in earnings during the first half of this year, corporate management claims it can't afford adequate staffing for its mental health clinics.
"They actually think it is acceptable to make people with chronic mental illnesses like bipolar disorder wait six to eight weeks to see their therapist," Fitzpatrick said. "They think substituting a 30-minute phone call instead of a 90-minute intake appointment for a depressed child is an exciting innovation in efficiency!"
Gesturing toward a 60-foot-long display with patients', family members' and caregivers' accounts of their experiences – some of them tragic stories of suicides – Fitzpatrick said therapists' schedules are booked weeks and sometimes even months in advance, while clinicians are coming in early and staying late, skipping lunches, and using time after normal working hours to answer patient phone calls and emails and to do needed paperwork.
"What Kaiser is in effect doing is denying patients the urgent care they need and telling them to take care of themselves," Fitzpatrick said. "We are here to hold them accountable for a broken mental health care system."
Kathy Ray, a licensed clinical social worker specializing in treating adolescents, and an NUHW steward and bargaining committee member, said the moment she hates most "is the end of the session, when you have to figure out when your next appointment time is going to be." But while she usually sees patients after four to six weeks, some of her colleagues who care for adults must set appointments at intervals of eight weeks or longer. "Friends," she said, "this is not therapy!"
The clinicians were joined by several Bay Area elected officials.
Declaring that mental health care is a human right, Sandy Barnard, representing Berkeley City Councilmember Kate Harrison, emphasized that mental illness, trauma and stress can happen to anyone at any time, and patients who are denied access to therapists with time to give them adequate treatment are denied that human right.
She also called attention to Kaiser's reported $42 billion in cash on hand and investments, and noted that the health care giant gave the Golden State Warriors basketball team some $295 million to name the area around the team's new San Francisco arena "Thrive City."
Earlier this year Berkeley's City Council passed a strong resolution of support for the clinicians and their union, Barnard said. "We know the people of Berkeley need you all, and we're going to be with you every step of the way!"
Oakland City Councilmember Dan Kalb told the crowd most Oakland city employees are Kaiser members. "I'm here to say on behalf of my colleagues on the council and the City of Oakland, we're with you 100 percent. We need a strong contract, parity, and more workers who can provide the needed mental health care."
San Francisco Supervisor Matt Haney reminded participants that mental health parity "is the law. It should not be complicated," and called attention to Kaiser's "massive profits."
"You're on the front lines," he said. "You know what's right for your patients … Thank you above all for not giving in."
Rudy Gonzalez, Executive Director of the San Francisco Labor Council, pledged the solidarity of his council and that of the Alameda Labor Council, whose leader was unable to be present.
"Your fight is our fight," he said. "We believe in what you are doing … we honor you today with our solidarity."
The clinicians' struggle to improve patients' access to care dates back nearly a decade.
In 2011 a complaint by NUHW therapists about inadequate mental health care services sparked a 16-month state investigation, after which Kaiser was fined $4 million and ordered to stop limiting access to care in violation of state law.
In 2017, Kaiser agreed to three years of outside monitoring with further fines if the issue remained unresolved, but a year later, Kaiser still had just one mental health clinician for every 3,000 members.
After their contract expired on Sept. 30, 2018, the Kaiser Permanente mental health clinicians held a week-long strike in December, followed over the summer by one-day actions in San Francisco and other cities.
In August, Kaiser rejected NUHW's settlement proposal to hire more clinicians and give them the time needed for patient care, and to establish crisis centers at all clinics. At the same time, Kaiser withdrew a proposed cost-of-living increase because the clinicians would not accept the company's proposal.
The National Union of Healthcare Workers is a member-led union representing 15,000 workers including over 4,000 psychologists, social workers, therapists, psychiatric nurses and other mental health clinicians.