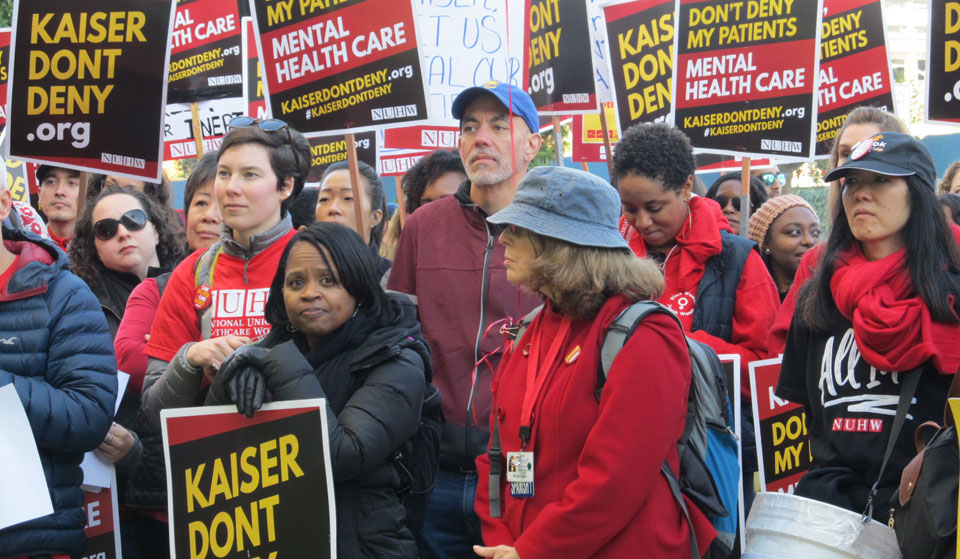 After a three-week voting process, some 4,000 mental health clinicians at Kaiser Permanente facilities throughout California have rejected the health care giant's latest contract proposals by an overwhelming 88%, signaling a new phase in their long struggle to assure prompt and effective treatment for their patients.
As they announced their decision June 11, the clinicians and their union, the National Union of Healthcare Workers, called on Kaiser to resume negotiations immediately, to work with them to determine additional staffing needs for every clinic, and start filling the positions. They also called on Kaiser to establish crisis teams at each clinic and give clinicians enough time to respond to patients' calls and emails—essential functions that now must too often be done outside working hours.
NUHW President Sal Rosselli called on Kaiser "to provide the same quality of care for patients seeking mental health treatment as it does for patients seeking medical care. That should not be difficult to accomplish for an HMO that reported a $3.2 billion net profit in the first three months of this year."
Rosselli called Kaiser's recent announcement it is posting 300 mental health positions around California a possible "meaningful step forward," but said the union needs more information about the jobs, and a commitment from Kaiser to work with the clinicians in determining how many new professionals are needed and where they should be deployed.
"That can't happen," he said, "until Kaiser returns to the bargaining table."
The mental health professionals, who have been waging a years'-long struggle with Kaiser over the urgent need for increased staffing, have been without a contract since the end of September 2018. Now, across the state, just one mental health clinician is available for every 3,000 Kaiser patients.
After a five-day strike in December, they threatened an open-ended strike last month, but called it off in response to the leaders of the state Senate and Assembly, who asked that they continue trying to settle a new contract without a work stoppage because of the impact a prolonged strike would have on patients.
The clinicians called for bargaining to be resumed but said Kaiser's "best" offer failed to provide meaningful relief for understaffed clinics.
During months of intense struggle, they, together with patients and family members, have told graphic account after account of the tragic consequences, including suicides, when patients in mental health crisis could not receive timely, focused, and effective care.
While all Kaiser mental health treatment facilities in the state have long experienced severe staffing shortages, some 60 clinicians at San Francisco's only Kaiser mental health facility have faced especially sharp challenges.
On July 10—just a day before the results of the statewide vote were announced—the San Francisco clinicians held a one-day strike, demanding increased staffing to turn around a rapid decline in available services and reduce dangerously long wait times for both first-time and follow-up appointments.
Now, just one full-time equivalent clinician is available for every 4,300 San Francisco children with Kaiser health coverage.
Staff cuts have ended 70 percent of group therapy programs, and group therapy sessions for children contemplating suicide are now so crowded that some children and parents must sit on the floor.
One part-time child eating disorder specialist was available for all the children San Francisco Kaiser covers—until that clinician said she is resigning because of management's refusal to address the chronic staff shortage.
Ted Vander Clute, a licensed clinical social worker in Kaiser San Francisco's Department of Psychiatry, was among the strikers on the June 10 picket line.
"My goal is to help our patients," he said, "and the systemic issues that Kaiser has get in the way of helping patients. The patients we're seeing are generally in a severe crisis, maybe having the hardest time of their lives, and it's taking them weeks, if not months, to get in for a first appointment. It could take another six to eight weeks before they come in for a second appointment."
Vander Clute said the staffing crisis also sharply impacts the clinicians, who have caseloads of about 600 patients each, and must chose between making their patients wait weeks for follow-up or packing them in during lunch hours or periods usually reserved for required paperwork.
"So I end up working often until 9 and 10 at night—which I don't get paid for—and I'm burning out. That's not good for me as a staff member, or for our patients."
Kaiser has the funds to remedy the crisis, Vander Clute said, pointing out that the corporation is investing up to $295 million in a deal to name the 11 acres of land surrounding the Golden State Warriors' new San Francisco stadium "Thrive City"—a play on Kaiser's "Thrive your way …" slogan.
This, and Kaiser's announcement that it plans a new, 29-story office tower in Oakland, at a projected cost of $900 million, have made Vander Clute and his co-workers wonder about the health care giant's real priorities.
If Kaiser can spend nearly $300 million to put out a brand, he said, "you can spend that money to help the patients you're saying you want to serve."
NUHW said that by the end of the one-day strike, Kaiser had sent word it is ready to work with the San Francisco clinicians to address the staff shortages.