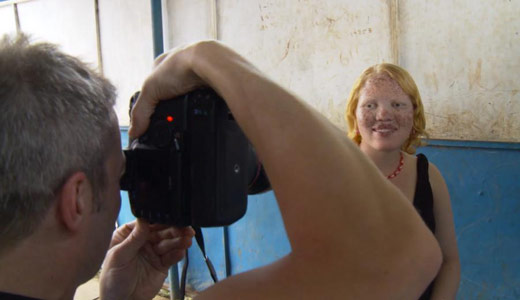 CHICAGO – Kartemquin Films, Chicago's documentary powerhouse, announced that two of their films will hold world premiere screenings in October.
On Beauty will world premiere as an official selection of both the 50th Chicago International Film Festival and the Hot Springs Documentary Film Festival.
Oct. 28 will see the world premiere of The School Project, an unprecedented collaboration between Chicago production companies in documenting perhaps the most volatile issue of the city's recent political history.
On Beauty is a story about appreciating the beauty of difference. The 31 minute film follows fashion photographer Rick Guidotti, who left the fashion world when he grew frustrated with having to work within the restrictive parameters of the industry's standard of beauty. After a chance encounter with a young woman who had the genetic condition albinism, Rick re-focused his lens on changing the way we see and experience beauty. At the center of the film are two of Rick's photo subjects – Sarah and Jayne – who have overcome other's perceptions to lead vibrant lives.
In Chicago, audiences can meet Emmy-nominated director Joanna Rudnick (In the Family), Rick Guidotti, and other special guests on Saturday, Oct. 18 at 1:15p.m. at the AMC River East 21 theater. Get tickets.
In Hot Springs, the film plays on 3:50 pm on Monday, Oct. 13 and 9:50 a.m. Saturday, Oct. 18. Get more details.
Visit On Beauty's website or follow the film on Facebook or Twitter.
The School Project
Examining public education after the fallout from the city's historic closing of 49 public schools, The School Project, a six-part series of 10-minute segments, launching with a free public screening and discussion at the Chicago History Museum on Tuesday, Oct. 28 (RSVP here to attend). The series' interactive website will launch simultaneously at www.schoolprojectfilm.com, and air on Chicago's PBS station.
The School Project's co-production partners include Free Spirit Media, Kartemquin Films, Kindling Group, Media Process Group, Siskel/Jacobs Productions, and producers Rachel Dickson and Melissa Sterne. Outreach partners include WTTW/Channel 11, the Chicago Sun-Times, Catalyst Chicago, the Chicago History Museum and Ebony.com.
Read more about the series.
About Kartemquin
Kartemquin Films is a collaborative center for documentary media makers who seek to foster a more engaged and empowered society. They have a tradition of nurturing emerging talent and acting as a leading voice for independent media.
Their films such as The Interrupters, Hoop Dreams, and The New Americans have left a lasting impact on millions of viewers. A revered resource within the film community on issues of fair use, ethics, story and civic discourse, Kartemquin is internationally recognized for crafting quality documentaries backed by audience and community engagement strategies, and for its innovative media arts community programs.
Photo: Rick photographing Jayne, On Beauty.