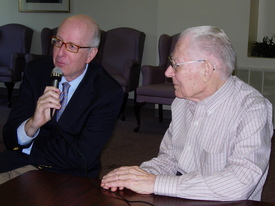 PROVIDENCE, R.I. — Seventy-two years after he went to Spain to defend its republic against fascism, John Hovan was honored here by the government of Spain.
Spanish Consul General Carlos Robles traveled to Hovan's home from Boston July 9 to salute him and have him sign documents that will give him Spanish citizenship and a Spanish passport and allow him to vote in Spanish elections.
The ceremony, held in the social room of the senior apartment where Hovan lives, was featured in the Providence Journal, and The Associated Press ran a lengthy interview with Hovan about the award and his history.
It was a moving vindication for Hovan, a lifelong Communist who stuck to his beliefs despite persecution he suffered during the McCarthy anti-Communist witchhunts of the 1950s.
Hovan went to Spain at age 21 in 1937 with the Abraham Lincoln Brigade, a group of Americans who volunteered to fight alongside the Spanish people and other international volunteers defending democracy against fascist forces headed by General Francisco Franco. Franco was a stalking horse for Hitler's aim to conquer all of Europe, and the battle to defend Spain became an international cause.
But the republic was crushed, and Franco's dictatorship ruled Spain until 1975.
"Those were very difficult years for my country," Robles told Hovan's neighbors, friends and three of his grandchildren. "It was a difficult moment in the world, and they risked their lives," he said of the Lincoln Brigade volunteers. "We respect that, and would like to honor that in a small way."
Last year, the Spanish government approved a "historic memory" law allowing the foreign volunteers who fought fascism there to apply for Spanish citizenship while retaining their current citizenship.
Hovan is one of fewer than 25 Abraham Lincoln Brigade veterans still living.
A lifelong Communist, Hovan served in the Navy in World War II and then worked in Rhode Island's textile mills, where he was a union activist and leader. During the McCarthy period he lost his job, with local newspaper stories labeling him "John Hovan, Communist."
"Not only did I lose my job, but my house was fired on, my windows were broken by rocks, there were swastikas painted on it. It wasn't easy," he said recently, but "I knew I had the strength to endure."
Speaking to the group gathered here to see him honored, Hovan advised, "Fight for justice and you'll stay young."
For more about Hovan, see .
suewebb @ pww.org