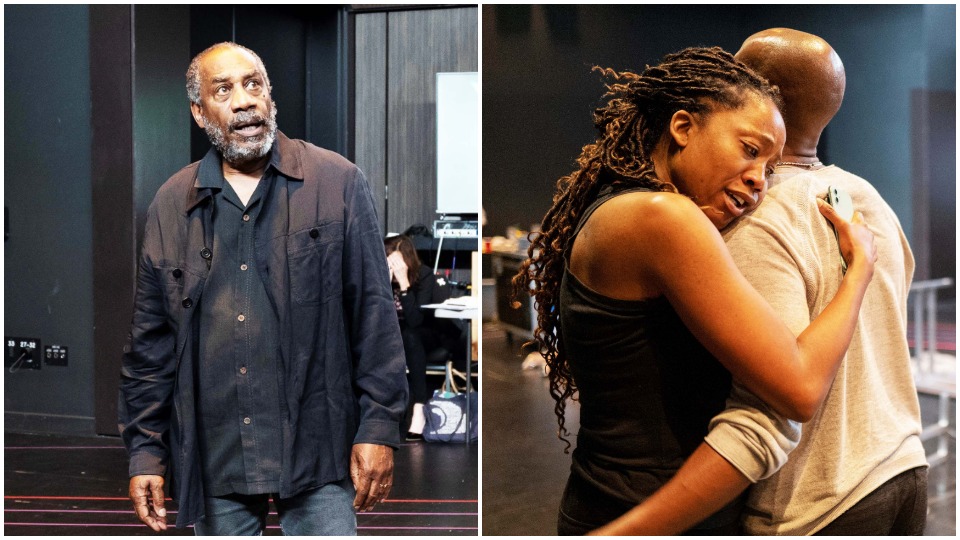 BEVERLY HILLS — Countless productions of William Shakespeare's masterpiece King Lear have been staged since it premiered circa 1606 at London's Globe Theatre. The Bard reportedly wrote the lead role for his troupe's top tragedian, Richard Burbage, but many distinguished stage and screen stalwarts have portrayed the title character, including Laurence Olivier, Paul Scofield, Anthony Hopkins, Ian McKellan, Al Pacino, and Orson Welles. The first motion picture iteration was lensed in 1909, a 16-minute silent film starring William V. Ranous.
Every country and ethnic group has tackled Lear. The veteran Soviet helmer Grigoriy Kozintsev (who co-directed the 1926 adaptation of Gogol's novel The Overcoat, 1929's Paris Commune drama The New Babylon, and 1964's Hamlet) made a version of Lear as his final film in 1970. In 1974 African-American actor James Earl Jones starred in a small-screen version broadcast by PBS's Great Performances series. In 2018 the TV movie The Yiddish King Lear was aired, and so on.
Of the countless screen versions of King Lear, the most offbeat may be Jean Luc Godard's 1987 take co-starring Woody Allen, Norman Mailer, and The Breakfast Club's Molly Ringwald as Cordelia. I kid thee not!
So what's left to say about this oft-produced Shakespearean tragedy?
To its credit, the current production on the boards through June 5 at the Wallis Annenberg Center for the Performing Arts' Bram Goldsmith Theater, deconstructs the Bard of Avon's more than four centuries-old classic for a 21st century audience. Joe Morton (who starred in John Sayles's racially conscious 1984 sci-fi comedy The Brother from Another Planet as an extraterrestrial in Harlem and on TV's Scandal series) depicts the title character in this modern-dress adaptation helmed by John Gould Rubin.
The cast is not only multiculti (as was the 1974 James Earl Jones production), but is multi-gender too: Salvadoran-American River Gallo has a double role, portraying the loyal daughter Cordelia and the Fool. According to Performances Magazine, the GLAAD award-winning Gallo, who co-directed/wrote/starred in Ponyboi, is "an out intersex person."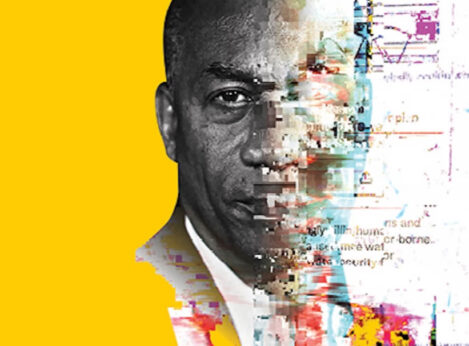 In Rubin's updated reinvention, social media plays an important role, with screens stage right and left that include images shot live on stage, from selfies to video with, for example, tempestuous footage played during King Lear's famed storm sequence. Unlike many other Wallis shows, there are no elaborate sets on the stage, which primarily features several tables, as well as rows of seats behind center stage for theatergoers, something I've never seen before at this posh Beverly Hills venue, which bestows a "theater-in-the-round" vibe on the production. I'm tempted to jibe that scenic designer Christopher Barreca had the easiest job in the world, but I imagine there's more to the set than meets the eye.
As the title indicates, the eponymous Lear is a British monarch. While the trappings of royalty and his dividing up of his realm among his three daughters play important roles, King Lear is at heart as intense a gripping family drama as anything Eugene O'Neill or Tennessee Williams ever penned. It is heartbreaking to see how the sly siblings Regan (Brie Eley) and Goneril (Emily Swallow) pull the wool over their aging father's eyes, hoodwinking him. Meanwhile, the truth-telling Cordelia (Gallo) falls afoul of her father because, unlike her sisters, she refuses to blind him with flattery, triggering a wrathful Lear to bestow her allotment of his royal domain upon the scheming, greedy Regan and Goneril.
King Lear deals with the themes of madness, however a more 21st-century understanding of what appears to be happening to His Majesty is dementia; plus, given his wild mood swings, Lear may also suffer from bipolar syndrome. Blindness, too, is symbolically dramatized by the ever loyal Earl of Gloucester (the three-piece-suit clad Mark Harelik, whose extensive credits include Trumbo and the great FX series Snowfall) having his eyes gouged out as he is doomed to wander the heath. Lear states, "A man can see how the world goes without his eyes," and R.D. Laing-like, clarity emerges out of insanity. The Bard's play finally is about loyalty and apprehending the truth.
Rubin deftly directs his ensemble in what is arguably the ultimate dysfunctional family drama, played out against a royal background, that adds a historical scope to the personal plot. As the monarch from another planet, the spry Joe Morton belies his age (almost 75), whether crawling about onstage, ascending tabletops, or powerfully, poignantly emoting, vocalizing those immortal words about that which is "sharper than a serpent's tooth." Lear's battles with Regan and Goneril are far more epic than those fought by Olivia (Kerry Washington) and Rowan Pope on our TV screens for years on Scandal.
As Regan and Goneril, Eley is slinky in her tight-fitting latex pants and heels, while Swallow is likewise sexy, as they conspire against dear old dad and compete for the sexual attention of Gloucester's born-out-of-wedlock son Edmund (Rafael Jordan). Harelik, who has trod the boards on Broadway, excels as the steadfast Gloucester who, like Cordelia, remains admirably true blue. In a double role as the King of France and Gloucester's legitimate son Edgar, Zachary Solomon provides some much needed comic relief.
Clocking in at three hours-plus with one intermission, and given ye olde English spouted onstage, some ticket buyers may find this production tedious, hard to sit through and follow. But the more serious theatergoers among us—dare I say we few lucky "Shakespeareans," we band of Bard fans?—are likely to be enthralled by this contemporary rendition of an early 17th-century classic about family angst that remains all too relevant lo, these long years since the greatest playwright of all time dipped his magical quill into immortal ink. The show also provides fortunate Angeleno audiences with yet another opportunity to see the great Joe Morton perform live and in person, since his pre-pandemic one-man show Turn Me Loose about that king of comedy Dick Gregory at the Wallis.
King Lear is being performed Tues.-Sun. at 7:30 p.m., and Sat.-Sun. at 2:00 p.m., through June 5 at the Bram Goldsmith Theater, the Wallis Annenberg Center for the Performing Arts, 9390 N. Santa Monica Blvd, Beverly Hills 90210. For info see https://thewallis.org/ or call  (310) 746-4000.