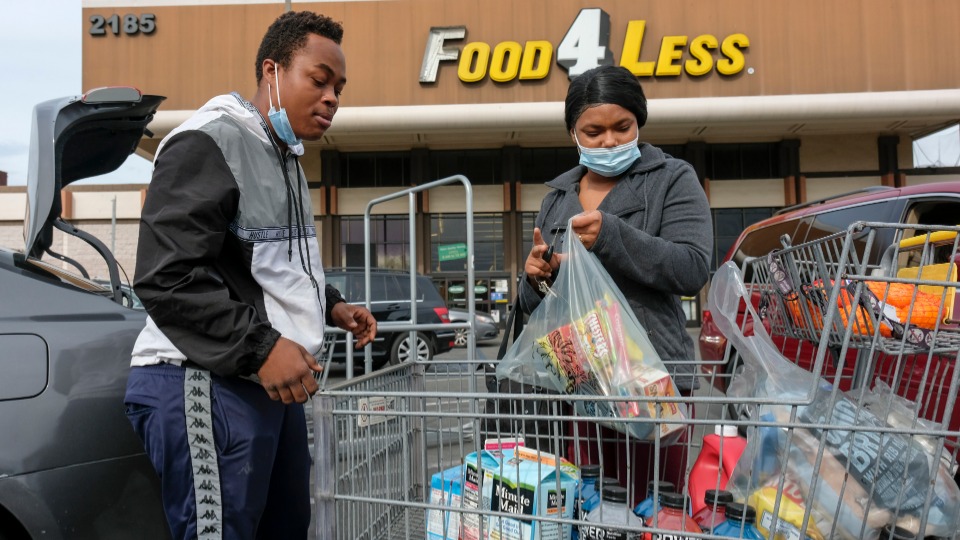 LOS ANGELES—One of the most profitable corporations in the United States is threatening grocery workers' jobs in response to a new coronavirus-era hazard pay requirement.
Reacting to a near-unanimous vote by the Los Angeles City Council requiring large grocery and drug chains to offer their front-line essential workers an additional $5 per hour for the next 120 days, the corporate owner of Food 4 Less and Ralphs announced the closure of three stores in L.A., eliminating the jobs of more than 250 workers.
"We sacrificed our health and our families' lives to provide for our communities," said Omar Hernandez, who works at a Food 4 Less store in Hollywood. "Instead of sharing their record profits with the people who suffered and risked their lives, the CEOs and corporate leaders of Food 4 Less and Ralphs are punishing and trying to intimidate us. They should be ashamed."
The ordinance, finalized on March 3, affects over 35 companies in Los Angeles with more than 26,000 workers. Kroger, the largest corporation among them all (#23 on the Fortune 500 list) is the only company pleading poverty and closing stores. From Albertsons and Vons to Trader Joe's, Smart & Final, and Northgate Markets, other supermarkets affected are paying their workers and continuing operations.
Kroger, the corporate owner of Food 4 Less and Ralphs, more than doubled their profits during the pandemic to $2.6 billion. They paid their CEO $21 million in 2019, a 76% increase over 2018. The $1.2 million the Hazard Pay increase would incur is less than .05% of Kroger's profit last year, and 5% of the CEO's annual pay.
By some estimates, the wealth of the super-rich in the United States has increased by a third since the pandemic started just over a year ago, while millions have descended into poverty, homelessness, and unemployment. Some of those lost jobs will never return. The super-rich obviously are the only constituents that every single Republican legislator in Congress—in the House of Representatives and in the Senate—every single one of them, answers to, judging by their vote on the American Rescue Plan.
"This company took in $2.6 billion in profits last year alone," said John Grant, president of the union representing grocery and drug store workers, United Food and Commercial Workers (UFCW) Local 770. "Some people won in the pandemic, most lost. Kroger clearly won and now faced with sharing their windfall with their employees they chose instead to destroy 250 families' lives in the middle of a pandemic. Talk about being a sore winner. This is not about hazard pay. This is about communities standing up to big corporations as they profit off thousands of infections and death. The Empire continues to strike back."
"Why would a company making so much money from my risk and work punish me and my coworkers over such a small amount of money for them?" said Tina Jones, a courtesy clerk at a Ralphs store in South Los Angeles. "I came to work every day terrified for the last year. Kroger may be trying to scare and intimidate us, but I'm not scared of them—I'm just angry and disappointed. I grew up in this community and have family and friends who are going to be affected. Our communities deserve more from the companies who profited off the pandemic."
"This is not a business decision. This is greed, pure and simple. This is Kroger sending a message to their employees that asking for their fair share won't just cost them their jobs, but their community's access to food as well," said Michelle Seyler, Executive Director, Clergy & Laity United for Economic Justice (CLUE). "Our elected officials make the rules—not the out-of-state corporations. We are still in the middle of a global pandemic, and we should be caring for those who care for us, not taking away people's livelihoods. They profit off of us but can't pay us? Shame on them."
"Let's not forget Ralphs history in our community during the last big labor dispute, the 2003 lockout and strike. They were found guilty by the federal government and forced to pay $70 million in restitution for using fake social security numbers, illegally hiring strikebreakers, and stealing employees' money," said Goetz Wolff, UCLA Lecturer in Urban Planning. "We shouldn't be surprised they're still acting like bullies in our community. They're trying to intimidate workers and community members. Again. The community should call out this kind of behavior as manipulative and unacceptable."
At press time, according to Bertha Rodríguez, a spokesperson for UFCW, talks are currently proceeding with other union locals as to the actions they will take, whether a call for boycott, informational pickets, newspaper and Facebook ads, or other measures. The union will not remain silent as 250-plus workers lose their jobs for corporate greed.