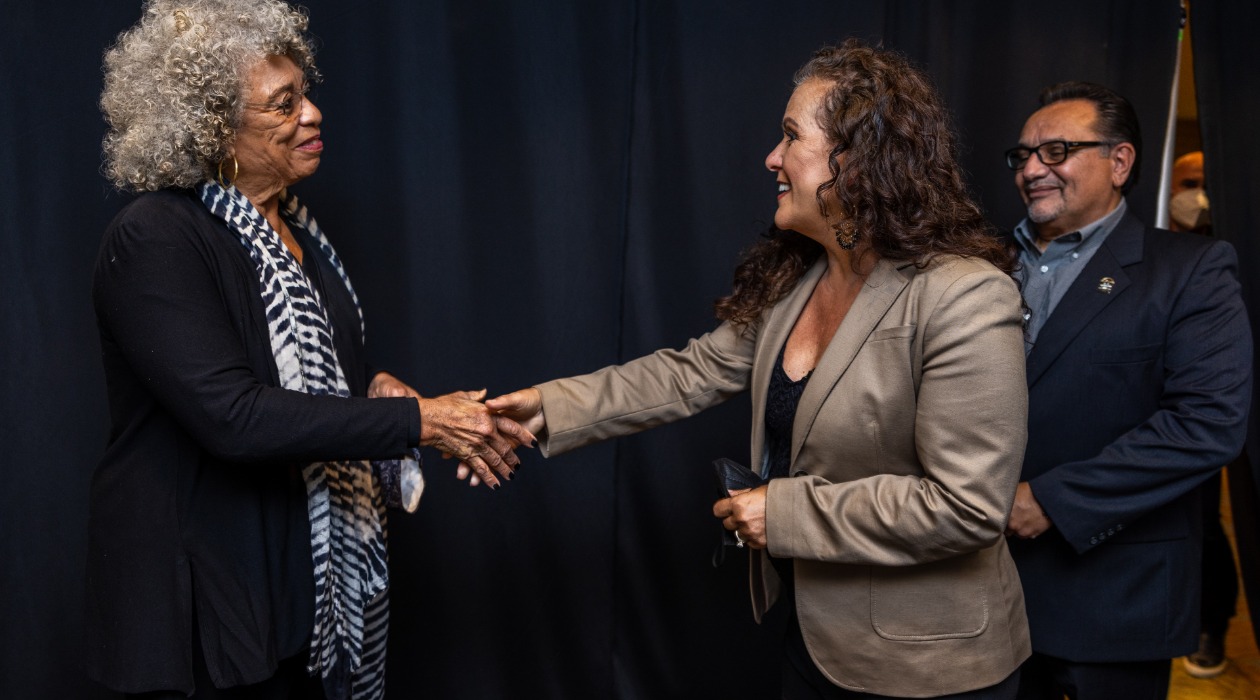 LOS ANGELES—On March 31, the mighty Los Angeles County Federation of Labor brought together one thousand workers, labor leaders, and community organizers for its 2022 Workers Congress at the Westin Bonaventure Hotel in downtown Los Angeles. The main formal event of the day was the swearing-in of the new board, a solemn pledge led by National President of the AFL-CIO Liz Shuler. Every member introduced themselves by name and by union and office held: It was an exemplary cross-section of the labor movement by trade, color, and ethnicity.
The "County Fed" comprises over 300 affiliated union and labor organizations representing more than 800,000 members.
Coming out of the long pandemic that hit "essential workers" especially hard, many of them from communities of color occupying the lower rungs of job categories, labor is once again feeling its power. The U.S. has witnessed what has been called "the great resignation"—hundreds of thousands of workers quitting their jobs knowing they can do better elsewhere in the recovering economy. Working people also see that where unions exist—or could exist, such as at places like Starbucks or Amazon—the sentiment toward organizing for a contract is growing exponentially.
During the event, Ron Herrera, President of the County Fed, spoke of a new labor-backed "People's Project" as a vision for the future of the L.A. labor movement. The People's Project, through mutual-aid efforts, aims to engage with two million Angelenos, connecting them to vital aid and building power, strength, and mutual support through the development of direct networks and community care. This effort to match people to the services they need is set to become the largest mutual aid project in the history of Los Angeles County.
Herrera took over at the County Fed succeeding Rusty Hicks, who is now the California state chair of the Democratic Party. In his remarks, Herrera reflected on his tenure, beginning only two months before COVID changed the world, as "president of the most powerful, badass labor federation in the country." Taking the spotlight off himself, he told the congress, "It's not Ron did this, Ron did that. It was we and us and team."
Gain our freedom when we learn
The phrase "On Our Terms" suggests that the initiative is beginning to shift as the nation wakes up to the reality that while working people kept the nation alive by putting in their shifts at healthcare facilities, grocery stores, transport, and packing plants, the 1% of the 1% have multiplied their wealth.
Those at the bottom saw their debt growing as they were thrown onto the unemployment lines, unable to pay their mortgages or rent, unable to send their kids to school, or simply cast to the four winds if they didn't have the right papers. In the hospitality sector, 90% or more of hotel, restaurant, and casino workers lost their jobs.
Labor is reawakening to the wisdom of the classic song "Solidarity Forever":
They have taken untold millions that they never toiled to earn
But without our brain and muscle not a single wheel can turn
We can break their haughty power, gain our freedom when we learn
That the union makes us strong.
As the pandemic winds down (hopefully), activism on the labor front has exploded across the country. It is clear that the bosses do not hold all the cards. AFL-CIO President Liz Shuler came to L.A. to put the imprimatur on the project, citing polls showing 68% public support for unions, and 77% among young people.
L.A., she said, has set "a very high standard for the rest of the labor movement" and, addressing the newly inaugurated board, reminded them that "in this moment, your leadership is needed more than ever. Unions are the place to make the change. There is hope and a home in the union—everyone included, no one left behind. As goes California, as goes L.A., so goes the labor movement."
Meanwhile, only blocks away on the streets of Los Angeles, farmworkers demonstrating on César Chávez Day were demanding that the governor sign a measure allowing farmworkers to vote in union elections by mail; L.A. County workers organized into SEIU Local 721 representing 55,000 County workers (it's the largest county by population in the nation) were marching and rallying for a new contract, rejecting the County's offer of a 6% raise over three years when inflation over the last year has been 7.9%.
Many of the key leaders of the UFCW, meanwhile, representing 47,000 grocery workers, were not present at the Workers Congress because they were in urgent bargaining sessions with grocery owners for a new contract. (A tentative agreement was announced Monday night, April 4.) On March 31, for both the County workers and the grocery workers, a strike looked imminent. The commitment to "mutual aid" may have arisen just in time to be given a test run.
Angela Davis animates the crowd
The main featured speaker of the day in a plenary session was Dr. Angela Davis, Professor Emerita at UC Santa Cruz, introduced in a chat format with Lorena Gonzalez, former California State Assemblywoman, and as of this summer the incoming President of the California Federation of Labor, AFL-CIO. Gonzalez spoke of being personally inspired in her own life by the courage of Davis, saying, in terms that set a tone for her leadership at the State Fed, "I am a militant and I am an activist." They conversed in a far-ranging discussion about life, organizing, change, opportunities, and what they have learned from experience.
"My greatest contribution," Davis began—the author of numerous books and an icon known to change-makers worldwide—"is that I have never crossed a picket line." That certainly put the audience in a good mood!
Davis touched on numerous themes in response to Gonzalez's open-ended questions. Where are we now? "We need to stand back and understand where we are at this moment, the most exciting I've ever experienced in my life. People began to realize who the essential workers are. This is a moment of potential. We have a long way to go, but we have come a long way and we have to celebrate that.
"Hope is a discipline. Without hope nothing is possible. Part of the work we have to do is generate hope for a better future. The conversation about structural racism goes back to W.E.B. Du Bois. We cannot talk about Black history without also talking about Indigenous history. Even those who are fighting Critical Race Theory show how much they have been formed by that history."
With all our talk about intersectionality, how do we inject the idea of class?
"I read the Communist Manifesto at the age of 15 and was stunned by the words, 'Workers of the world, unite, you have nothing to lose but your chains.' We often forget to talk about capitalism. Capitalism thrives on the unpaid labor of working people and leads to increasing concentration of wealth, valuing profit over everything else. We have to remind ourselves there is actually enough to eat, there is housing, education, medical care for every person on earth. The millionaires are in the process of destroying this planet—no wonder they're looking into colonizing other planets!"
Davis lived in Los Angeles for a period in the 1960s and vividly recalled her work in South L.A. fighting against police abuse. She cited the case of a young Black man, Gregory Clark, killed by Officer Warren B. Carlson. On April 4, 1968, she was printing up WANTED posters for Carlson (see image 33c here) when the news came of Dr. Martin Luther King, Jr.'s assassination.
"We targeted the individuals who committed these acts and nothing ever changed—it even got worse. There is something structurally wrong. We have to figure out other ways to ensure safety and security, clear the space to imagine something better. What do we need to have a safe world? Housing, healthcare, education…."
Looking back, would you have done anything differently?
"I never did anything alone. What people project onto me is the work that many other people did. Ronald Reagan, Herbert Hoover, and Richard Nixon all wanted to see me executed, but the workers' struggle was always international. We don't even know the names of all those people who organized the Free Angela Davis campaign. I can't claim responsibility: I'm part of a larger community. It was workers, women, domestic workers in the Freedom Movement who envisioned a different future.
"I've always argued against individualism—that's the ideology of the capitalist market. The labor movement is the model of struggle for a new world. Capitalism can be defeated, colonialism can be defeated."
Is it always going to be a struggle?
"In the struggle for democracy, it's always been those who enjoy those rights who believe they know best—white, affluent men! But the struggle never gives up the possibility of freedom. There can be no working-class victories without victories against racism. It's precisely those who've been minoritized who most passionately defend democracy. Trans folk—gender is not a binary structure! How much this country has learned from all those struggling for freedom! You are evidence of this new surge to redefine the struggle!"
The County Fed now has this project to reach out to people with mutual aid.
Ultimately we need to create a new system, Davis says. "If we come together collectively we get power…[but] if you talk about mutual aid you cannot leave the Black Panther Party out of the conversation. They had the aspiration to create a society beyond capitalism, where the needs of human beings—and our nonhuman companions—should be central."
Voices of AFL-CIO leaders
On the fight for passing key legislation, Liz Shuler said, "A lot of unions are afraid to talk with their members. A lot of workers don't know what's in those bills. There's so much misinformation—disinformation—dividing our country, divisions shaking the foundations of our country, and it's labor's job to break through, to cut through the noise, one-on-one, face-to-face. We can build this! Be bold! There will be some failures, but everyone can be organizing. Workers are fed up, tired of taking risks for a crappy job, of being essential one day and expendable the next, of unfair, toxic management. We need to win back credibility, in conversations about issues not just about candidates."
"The solution is unions," says Ron Herrera, "and a community with a thirst for justice, a common vision as one that we can win. Workers are the community, but we have to fight on our own terms, on our own issues. The work is not easy, but we have made miracles fighting the pandemic, delivering PPE, revamping public health policies locally, establishing public health councils, establishing state and local policies for essential workers."
We'll save a deeper discussion of how The People's Project of mutual aid is rolling out for a later article.
Before lunch, there were three breakout panels. "Power Starts with Organizing" was a crash course on strategies to draw fellow workers into active union commitment, overcoming discouragement, identifying leadership qualities, and moving people to take action. "Will Strike If Provoked" featured spokespersons from three recent labor actions in L.A.—janitors and security officers, sanitation workers, and teachers—analyzing how painstakingly their unions laid the groundwork either for a successful strike or for avoiding a strike by forcing the employer to negotiate with ever escalating tactics.
And "From Protest to Vote" underlined the importance of voting rights and electoral struggles if we are to grapple with such large issues as immigration, Black Lives Matter, student debt, and the environment. Among popular forces outside the main political parties, the labor movement has the greatest and most vital role to play in that mobilization to the polls.
Rosalío Muñoz contributed to this article.