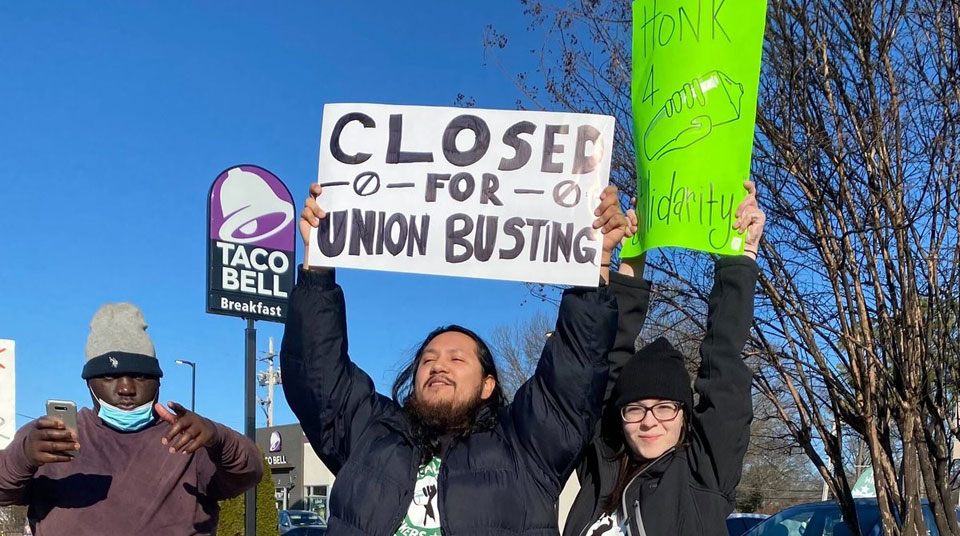 MEMPHIS, Tenn. — The nationwide campaign by Workers United, a Service Employees sector, is accelerating. And, at least in Memphis, Tenn., so is company retaliation.
Tweets from the union around the country put the number of stores where drives are going at 72 and counting, including four more which began on February 9.
That includes Memphis, where bosses replied with the ultimate weapon: A permanent shutdown on February 8, after firing seven pro-union employees. The firings violate labor law.
"Protesters have forced Starbucks to close the store in Memphis where 7 pro-union workers were fired Tuesday," More Perfect Union, which backs the unionizing workers, tweeted. "Community members joined the fired workers to picket the store. It closed at 12:30 pm and will remain closed tomorrow. Remaining workers will go to other stores."
In Memphis, Starbucks CEO Kevin Johnson nastily blew a hole in the firm's longtime claim that it treats workers cooperatively. After it fired the seven campaign leaders and shut the store, the workers took to tweets—and a picket line–to tell everyone else.
"'If you were paid this much money, wouldn't you spy on them, too?' Overheard at the Memphis picket line from a former Starbucks manager, who was previously seen recording workers in the Poplar & Highland store," one, LaKota McGlawn, tweeted.
Starbucks workers, from coast to coast, are part of a mass movement of exploited, low-paid, no-benefit workers who are both fed up with wages, working conditions, and lack of job protections and realize the pandemic gives them leverage.
The result has been walkouts, one-day strikes, protests, organizing drives, unionization election demands, and worker victories.
Workers in the movement include Starbucks baristas in Buffalo, who won in two stores there, adjunct professors in Pittsburgh, and warehouse worker organizers in Chicago's southern suburbs—both organized by the News Guild—museum workers in the Loop (AFSCME) and port truckers in Los Angeles-Long Beach.
Truckers win in court
The truckers, having beaten port owners in court over the issue of whether they're "employees," who under labor law have the right to organize, filed to unionize with the Teamsters at one of the big port firms last month.
But the Starbucks campaign has recently come to the fore, partly because, like Starbucks, it's ubiquitous.
Unionization drives emerged at Starbucks stores ranging from Chicago's Hyde Park to Boston to Buffalo to Eugene, Ore. (24 employees eligible to vote) to Syracuse, N.Y. (17) to Seattle to Philadelphia (20 in one store, 23 in another) to Memphis to Cleveland to Atlanta (28). In New York, Workers United is organizing three stores in the city and another, plus a factory, in Great Neck.
Chicago Starbucks workers at the store at 55th and Woodlawn in Hyde Park took to the pages of the community newspaper, the Hyde Park Herald, to explain their unionization drive.
"To a customer, it might even appear a union is unnecessary, or worse, detrimental," they wrote in part.
"We hope this letter shows the opposite is true. We believe forming a union, and joining the courageous fight of partners and food service workers across the country, can and will bring out the best version of Starbucks.
"Through forming a union, we are working to democratize Starbucks, create a just and fair workplace, and to have a seat at the table where we can join the corporate conversation. Forming a union will help ensure that decisions affecting our store, our jobs, and our customers are not purely profit-driven, but are instead born from the workers' perspective."
The company, meanwhile, added a new tactic to try to defeat the Hyde Park campaign. It's using Starbucks's "emergency messaging–a service that is supposed to be used exclusively for extreme weather or other potential dangers– to encourage partners to vote 'no.'" and through using one-on-one meetings with upper management to intimidate partners.
New York workers garnered political support: 76 officeholders, including seven U.S. House Democrats, wrote Starbucks CEO Kevin Johnson on February 10, urging he respect workers' rights and sign the fair election principles Workers United has put forward in every campaign. So far, Johnson's rejected them.
"New York City is a union town and union-busting has no place here," the officeholders, led by Reps. Alexandria Ocasio-Cortez, Grace Meng,  Mondaire Jones, Jamaal Bowman, Carolyn Maloney, Gerald Nadler, and Ritchie Torres, all D-N.Y. declared.
"Our decision to unionize is not an attack on Starbucks, but an expression and manifestation of devotion to the principles Starbucks claims to stand for," the workers at Great Neck wrote Johnson on February 10. They want voluntary recognition if they collect a majority of signed NLRB union election authorization cards, called "card check," there and elsewhere.
"We want Starbucks to be a leader on labor rights…When we as partners stand up for our rights, we are asking you to align with the values you profess," they wrote. Those include "challenging the status quo and finding new ways to grow our company and each other."
"Labor exploitation is a systemic and moral failure. We are offering you the opportunity to help make it right."