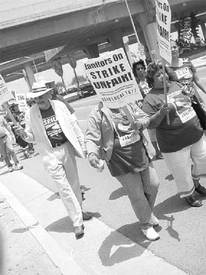 LOS ANGELES — Some 500 Los Angeles janitors are standing up to the nation's giant aerospace corporations here.
Boeing, Raytheon and Northrop Grumman corporations, the multibillion-dollar aerospace/military contractors, are pinching pennies when it comes to paying their L.A. janitors a living wage and decent health care benefits. But the janitors who clean these corporations' facilities in El Segundo, almost adjacent to Los Angeles International Airport (LAX), walked out on strike July 7 and are firm in their determination to win health care and pay they can live on. They are represented by Service Employees International Union Local 1877. The International Brotherhood of Electrical Workers and the Teamsters are honoring the janitors' picket lines.
The workers currently earn $1,000 per month, an average of $7.25 an hour, and get no health benefits. They are demanding significant wage and benefit increases, and seek a contract more in line with other unionized janitors in greater Los Angeles, who make $2 to $4 dollars more an hour with full family health benefits, says Local 1877. Boeing's new CEO James McNerney has a pay package valued at $53 million.
Ava, one of the janitors, told a July 13 rally, "We are not asking the impossible. These are billion-dollar companies. I have two daughters and a husband to support with no health care. We have to go to public clinics with long, long waits. My husband is diabetic. He needs expensive medicines we cannot afford. This is unjust, with a miserable salary of $1,000 a month. We will fight for as long as possible for health care!"
The three aerospace mega-corporations outsource their janitorial work to Servicon, Somers Building Maintenance, and Aramark. Local 1877 has contracts with all three of these large maintenance firms in other corporations' buildings throughout greater Los Angeles.
The union has been pressing congressional, state and local politicians to tell the aerospace giants to agree to decent contract. Los Angeles Congressman Brad Sherman (D) wrote, "The Pentagon pumps billions of taxpayer dollars into the coffers of the defense industry giants. It's just not right for these huge defense contractors to turn around and make California taxpayers pick up the health care tab when janitors or their children get sick."
On July 13, two weeks into the strike, some 700 people — strikers joined by and labor, clergy and community supporters — marched through the aerospace companies' massive corporate complex near LAX, demanding justice for the janitors. Sixteen strikers and supporters sat down in front of the complex in civil disobedience to show their determination and were arrested. Among the group were men and women in T-shirts and jackets bearing union and community emblems: UFCW, UNITE HERE, IBEW, ILWU, PACE, AFSCME, SEIU 1000, SEIU 660, Teamsters, SCLC, MAPA, ACORN and Hermandad Mexicana.
At the rally, Local 1877 President Mike Garcia announced the maintenance companies had called them back to negotiate on July 15. Garcia said, "We will seek to negotiate with them in good faith. If their offer is the same mierda, we're going to come back with more people, more support. We've got to win a fair wage and health care!"
At a July 15 rally in El Segundo, state Senate Majority Leader Gloria Romero told the crowd that the aerospace giants must be held responsible for raising the living standards of the janitors who work there.
"They outsource the jobs. But they cannot run from their responsibility to be a good major employer in California," Romero said to the cheering janitors.
Following the rally, Romero and other state Senate and Assembly members paid a visit to Boeing and Raytheon headquarters, asking their executives to get the janitorial companies to agree to pay a living wage and benefits. A similar request was faxed to Northrop Grumman.
Boeing, Raytheon and Northrop Grumman management have backed the contractors' hard-line stand. They have been calling the cleaning companies' negotiators and saying, "Atta boy!" in support of their stonewalling approach, Local 1877 spokesperson Lisa Gallegos said.
As the workers headed into the third week of their strike, the union planned another demonstration in El Segundo on July 20. The L.A. County Federation of Labor sent out a call to support the strikers, saying, "Send a message to aerospace companies that their callous 'Atta boy' response to janitors living in poverty is not acceptable."