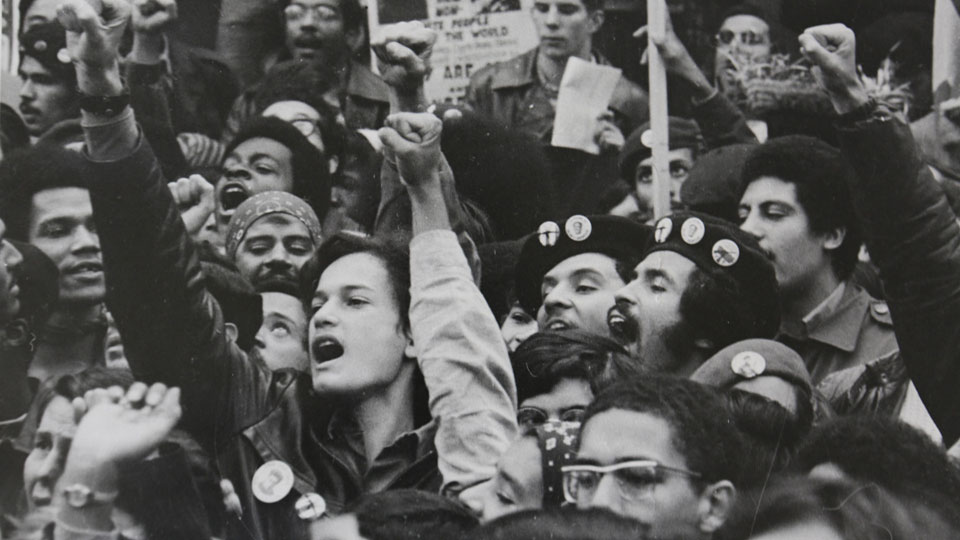 The AFI Fest returned to Hollywood for live, in-person screenings and events, with an additional virtual component. Here are some more quick reviews of some of the films I saw, which may soon be coming to screens both large and small. These were offered as part of "Meet the Press 3: Democracy…on the Line."
Takeover—the Young Lords presente!
Emma Francis-Snyder's 38-minute documentary about the seizure of a Bronx hospital by the Young Lords was one of AFI Fest 2021's very best films and a joy to behold. With an exciting, brisk storytelling style using archival footage, news clips, contemporary interviews, and reenactments (which should have been clearly labeled as such in this otherwise nonfiction work), Takeover powerfully conveys why the Puerto Rican militant organization seized New York's Lincoln Hospital in July 1970 for failing to provide decent healthcare for the impoverished South Bronx community. The breathtaking act garnered a citywide response, from Mayor John Lindsay's administration to the NYPD, which turned out in force, allegedly eager to retake the besieged facility and crack some Hispanic skulls.
It all plays out like a thriller, but this was a real-life revolutionary direct action by the Latino counterpart to the Black Panther Party. Francis-Snyder interviews surviving members of the heroic Young Lords, who still retain their radical fervor and point out that their socialist group was way ahead of its time, putting the issue of universal healthcare front and center decades ago. One of those former Young Lords who is seen then and now, in interviews from both then and now, is journalist and author Juan Gonzalez, although for some strange reason I don't believe that he's identified as being one of the co-hosts of Pacifica Radio's flagship news program, Democracy Now!
Nevertheless, despite a few minor quibbles, Takeover is as thrilling as any of those Liam Neeson Taken movies and strongly reminds audiences of those 12 hours that shook New York City. After the screening Meet the Press's moderator Chuck Todd appeared in person with Emma Francis-Snyder to discuss her great film in a Q&A that followed the screening in the Chinese 4 theatre. Don't miss it! For more info see Takeover.
Party Line: Democracy INaction
Lydia Cornett's 7-minute Party Line is about voters lining up to perform their civic duty and make their vote count in the 2020 presidential election at Franklin County, Ohio. If I recall correctly, the long line is to cast one's ballot for early voting during the pandemic where the voting sites were very limited, thus the long lines and waits. This is an interesting if slight slice of the lengths ordinary Americans had to go through in order to participate in the electoral process in the USA—the Undemocratic States of America. For more info see Party Line.
Red Taxi: Call me a cab!
In the movie industry, cast and crew tend to be zealous about receiving screen credit, but most of Red Taxi's talents go uncredited. That's because this 14-minute documentary was shot underground during the raging protests in Hong Kong against the administration of the city by the People's Republic of China. The film largely consists of cameras recording taxi drivers from Hong Kong and Mainland China as the cabs wend and weave their way through the skyscrapers, demonstrations, and clashes with security forces.
The cabbies, whose identities are concealed, hold forth, but unlike most cable TV "news" pundits, they are eyewitnesses to the events unfolding right before their windshields. Some are sympathetic to the protesters, while others support the actions of the Beijing central government in PRC vis-à-vis Hong Kong and its supposedly special post-colonial status. Red Taxi is actually a compelling you-are-there slice of life and, as Chuck Todd said after the screening, hopefully, someday the filmmakers who remained anonymous in order to avoid potential reprisals will be able to receive screen credit for their work. (Charlotte Cook, however, is credited as executive producer.) This is arguably the best production about taxi drivers since Clifford Odets's classic 1930s play Waiting for Lefty. For more info see Red Taxi.
For more information, including award winners, see AFI FEST.