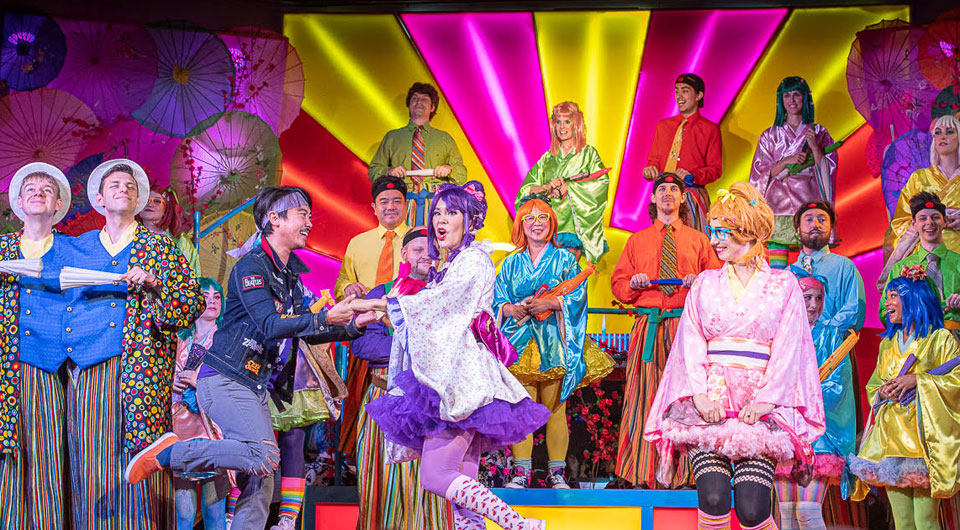 LOS ANGELES—Now Pacific Opera Project (POP) has done it again, offering local audiences another shot at "the most fun one can have in a Los Angeles theater right now" (Maestro Arts & Reviews) with its reprise of its well received 2013 production of Gilbert and Sullivan's The Mikado at The Highland Park Ebell Club.
In the original work, though the setting is Japan, and specifically the town of Titipu, G&S, as was their wont, deftly skewered British nobility and politics with their fine-honed satirical lyrical dagger (or snickersnee in this instance). But many of the topical references from the 1885 operetta would be lost on later audiences, so over the years, tradition has allowed a certain amount of updating to reflect contemporary circumstances.
Nor it is just the lyrics that are updated. POP's colorful production features Maggie Green's fantastic array of costumes inspired by the Harajuku esthetic in that district of Tokyo famous for its wild mix of colors and styles. Manga and anime fans will feel right at home in this Titipu, whose eye-popping day-glo colors light up a stage populated by a cast of 28 singers.
At one time, The Mikado counted as Gilbert & Sullivan's best-loved work, perhaps only rivaled in recent decades by The Pirates of Penzance and H.M.S. Pinafore. POP blends into its reinvention a modern hip sensibility reflected in the intricate choreography and zany antics with visual, vocal and verbal gimmickry that audiences of all ages can respond to with delight.
Even in G&S's time, criticisms were leveled against The Mikado for its unflattering portrait of the Japanese emperor. Already becoming a rising power among the community of nations, Japan's emissaries objected to it, and at different times and places the operetta was banned or at least discouraged. Such critiquing continues today with complaints about "appropriation" and "yellow-facing" Asian cultures.
Understanding that such sensitivities do exist, it's also true that The Mikado was never meant to be seen as in any way literally about Japan. The names of the characters, with the exception of Ko-Ko, the Lord High Executioner, hardly sound Japanese at all—perhaps more Chinese, I might venture. The opening chorus of nobles, "We Are Gentlemen of Japan," might have raised hackles in earlier productions where Caucasian actors were dressed and made up to look more "Asian." But there is no mistaking the absurd conceit of POP's vision. As the ridiculously pale male chorus sings, "Our attitude's queer and quaint—You're wrong if you think it ain't, oh!" At the same time, Sullivan did incorporate some authentic Japanese tunes and words in the "March of the Mikado's Troops," as well as some near-nonsense in the chorus "O ni! bikkuri shakkuri to!" ending Act 1 that could be loosely translated as "Oh! You she devil! We are so shocked by you it makes us hiccup! Bah!"
Directing the company, and this production, is Josh Shaw (who also designed the production). POP recently staged Puccini's Madama Butterfly in downtown L.A.'s Aratani Theater with the titular soprano and all the other Japanese characters singing in Japanese, while the naughty American imperialists sang in English, providing a fresh approach (I believe for the first time with that work) to the question of appropriation.
In fact, though manga and anime do have deep roots in Japanese folk and popular culture, they are also grafted securely onto the trunk of Western comix and cartoons (the Japanese word "anime" derives from the English word "animation"), with their electric, energetic color scheme and design. You'll see no surfeit of faux-elegant embroidered robes, dressing gowns, and kimonos here.
The production's starry cast features the sad-sack E. Scott Levin as the klutzy Ko-Ko, dressed in orange ("a convict from the county jail," you know), whose rendition of "I've Got a Little List" is substantially revised to include many updated references, and whose "Tit-Willow" is both achingly touching and hilariously arch. TV fans from a bygone era may recall Groucho Marx in the role of Ko-ko. There is always, with G&S, a kind of tacit conspiracy between actors and the audience awaiting the hot-off-the-presses additions to the lyrics, and this production does not disappoint (though appreciative laughter, I must admit, obscured several of them to my ears).
Phil Meyer as Pooh-bah, who holds a dozen or so titles simultaneously, is the very model of a perfectly officious factotum—or poohbah—yes, the word comes precisely from this theatrical role. Meyer strongly calls to mind the great comic actor and operetta singer Cyril Ritchard. The self-important Pooh-bah claims to trace his ancestry back to a "protoplasmal primordial atomic globule," an obvious nod to the still controversial Mr. Charles Darwin which might escape a modern theatergoer's attention.
Matthew Welch performs the relatively small role of the Mikado, but of course, he has one of the work's best-recalled numbers, "My Object All Sublime" ("to let the punishment fit the crime"). Coming across like an authoritarian tinpot general from some ludicrous monarchy, he has one of the most unconventional entrances I've seen on the opera stage.
As the two lovers, Charlie Kim is Nanki-poo, the winsome wandering minstrel, "a thing of shreds and patches" suitably attired in a Prince t-shirt (he is, after all, the only son of the Mikado), a jacket appliquéd with patches, and a pair of jeans heavily shredded at the knees, an idolized POP star with a versatile sweet and comic tenor. Affecting soprano Janet Todd is the delicious Yum-Yum whom Nanki-Poo will eventually marry. Her two sidekicks are Pitty-Sing (Abbe Drake) and  Peep-Bo (Tiffany Ho). This trio's big number is the famous "Three Little Maids from School."
Mezzo soprano Adelaide Sinclair performs the matronly Katisha, to whom the Mikado had promised his son, a role that engenders a certain amount of empathy for the plain-faced and full-bodied woman spurned by social constructs of beauty and desirability. In a most amusing conceit, William Vallandigham (Pish) and Benjamin Howard (Tush) both co-play and cosplay a single role as a joined-at-the-hip two-headed entity.
What director Josh Shaw has his whole ensemble do with their nimbly syncopated fans is truly a wonder to behold.
Music Director Parisa Zaeri leads her playfully ribald 12-piece chamber orchestra.
What I have started calling "the little opera company that could," Pacific Opera Project provides quality opera productions that are distinctly innovative and affordable, putting a fresh spin even on familiar standard works in their quest to build a broader audience for the art. Punching far above its weight, it attracts singers who appear on world stages and who are seeking to make their mark in novel, hopefully review-catching performances. The company's final 2019 production is its signature modern take on Puccini's La Bohème AKA "The Hipsters," Dec. 5-14, set in the funky digs of an East L.A. Latino arts collective.
The Mikado was at one time a popular staple of the American stage, performed not only professionally but also in thousands of school productions. It has graced the stage of many opera companies looking for some lighter fare. There was a moment in the late 1930s when three different Mikados were running simultaneously on Broadway—the Swing Mikado, the Hot Mikado and the traditional D'Oyly Carte production.
This timeless work has always served to lighten hearts in epochs both bright and dark. "I'm really very sorry for you all, but it's an unjust world," the Mikado says, "and virtue is triumphant only in theatrical performances."
Final performances of The Mikado take place on August 28, 30 and 31, all at 8 p.m., at the Highland Park Ebell Club, 131 S. Ave 57, Los Angeles. For tickets and other information call (323) 739-6122 or go to the company website.
The author dedicates this review to his Gilbert-and-Sullivan-loving late sister Nina Segre with precious memories of many performances attended and enjoyed.