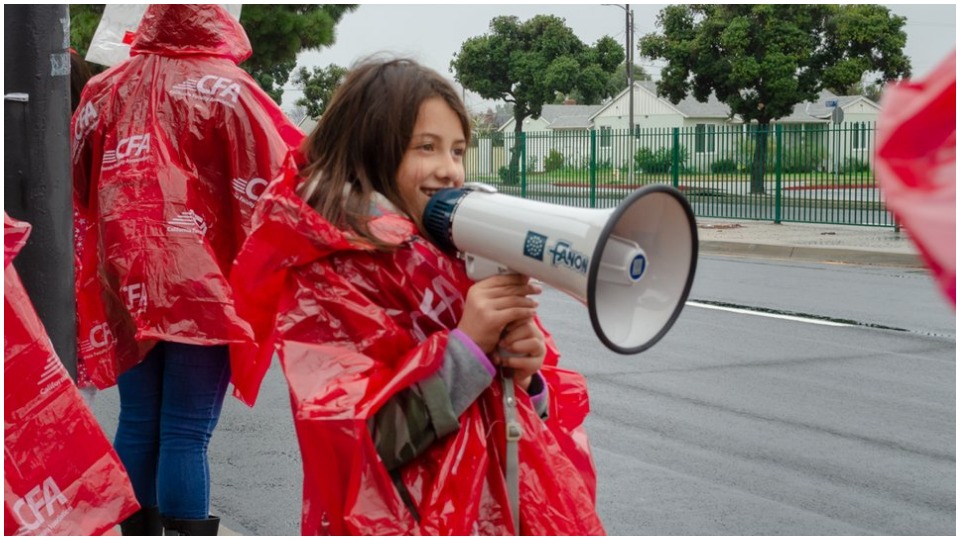 LOS ANGELES—On Wednesday, Day Three of the United Teachers Los Angeles (UTLA) strike against the Los Angeles Unified School District LAUSD), UTLA called a 7:30 a.m. press conference in front of West L.A.'s Hamilton H.S.—more of a rally, really, but which the media came out in force to cover. It's the hottest story in town. No one at this point fails to appreciate the national, even global implications of this struggle. As a light drizzle fell, a series of speakers took to the microphones to energize the large crowd and keep spirits lifted.
UTLA President Alex Caputo-Pearl saluted the rebellious history of Hamilton H.S., saying this is what we need public education to look like. By Day Three, he said, picket lines are growing, with over 30,000 educators hitting the lines on Tuesday. Parents, students, and community joined to form a mass of over 50,000 people at a rally downtown. A new Loyola Marymount poll records that over 80 percent of the public support this strike. Other unions are supporting the teachers, too.
It is not acceptable, the teachers' leader said, "to have charter schools pop up on every corner and drain our resources. No matter what background you come out of," he addressed multi-millionaire Superintendent Austin Beutner, "you have to be able to communicate honestly with the public. You need to stop the lies, like that the union wasn't coming to the bargaining table—a straight lie because we were all there and he skipped out on the last two sessions."
Beutner is also giving mixed messages, "creating chaos and fear," as to whether there will be truancy penalties to students absent from school during the strike. "State law does not require consequences toward students who miss school during a strike. What is happening in school is something that is not worth going to. Many students want to be out on the line with their teachers—that is their fundamental free speech right. No one has more First Amendment rights on a school campus than the students."
Caputo-Pearl and the UTLA leadership team have been trying to reach a local agreement with LAUSD, and have engaged L.A. Mayor Eric Garcetti to bring Beutner to the table. This movement has "shown that at all levels there needs to be more investment and care for public education. Four of the expected Democratic presidential candidates have come out in support of our strike. We need to change federal special ed laws so that our special ed students get the money they have been owed for decades. Yesterday, Democratic Assembly members were all wearing red. Stop the unregulated and damaging growth of the charter movement!"
Maria Salazar briefly addressed the crowd in Spanish speaking of the kids staying at home during the strike. "Viva la huelga!" she cried.
It's going to stop right here
Well-known writer on education Diane Ravitch was next to speak. "You are making history today in Los Angeles, but this is not just an L.A. or a California issue, it's a national and international issue. There's a movement on to privatize public education, there's a movement on to eliminate unions, there's a movement on to get rid of professional teachers and replace them with temps." It's going on in Ravitch's home town of Houston, and in every major city, "and it's going to stop right here."
Per pupil spending in California, Ravitch reminded her listeners and her media audiences, falls well below the national average, "on the same level as Louisiana and South Carolina…. Every school should have a full-time nurse, a librarian, counselors; class sizes must be reduced—that's the most important thing that can come out of this strike, and also a cap on charter schools. Public education made us the great country we are and public education must prevail."
Steven Van Zandt, guitarist and actor, who goes by the stage name Little Steven, is a member of Bruce Springsteen's E Street Band and has appeared on The Sopranos. He spoke of teachers in the same light as firefighters and police, first responders "on the front line of the war on ignorance." He called on colleagues in the music world and in the acting world to come on out and march with the teachers. He especially urged turning the educational focus on STEM (Science, Technology, Engineering and Mathematics) into STEAM, putting the Arts back into public schools. "Art is not a luxury," he declared, "it's a necessity."
Los Angeles City Councilmember Paul Koretz, a longtime labor supporter, told his listeners that he himself had graduated from Hamilton H.S. recalling how as a student there in the early 1970s, he walked a picket line every day during a student strike. "I got a great education at Hamilton H.S., but we didn't have the problem with class sizes. The most important thing that needs to be addressed is the unbridled growth of charter schools. Let's stop and take a breath and analyze the cost of charter schools to our district. We need to declare a moratorium on charter schools. I feel that charter schools could destroy our system, and as a city councilor I'm not going to allow that to happen."
Making the rich schools richer
Hamilton senior student Justin Scott remarked how proud and appreciative he was of the community coming out to support the strike. "This strike is not really about a pay raise, this strike is a strike to save public education…to give the black and brown children in lower income neighborhoods more equity in their future. This district is being run by an investment banker who tries to make the rich schools richer and the poor schools more poor.
"This attack is not only aimed as teachers. This is an attack on students, this is an attack on parents, this is an attack on the entire community. It's an attack on our life, on our lively being, how we just live our day to day life, seeing our children getting educated the way they're supposed to. Student need over corporate greed! Our community is unity!"
"My name is Jody Podolsky," the next speaker introduced herself. "I'm a proud parent of LAUSD but I have questions. I question why the leader of our school district is not an educator but a former investment banker who looks through the lens of profit. I understand his natural predisposition, okay, but I question the judgment, then, that class size doesn't matter, that it can grow as big as it needs to in order to meet financial concerns while the professional educators say otherwise.
"And I question the judgment that support personnel—counselors, librarians, nurses—are not necessary, that these jobs can all be done by the classroom teacher when the professional educators say otherwise. And I question the judgment that the arts, music and PE are considered unessential even as we know the redemptive power of creativity and the professional educators say otherwise.
"Why, why, why have we allowed the erosion of the authority of the professional educator? I don't understand. The teachers ask for a reasonable class size, whole child support personnel, a respectable living wage and faith in what they do.
"How could such fundamental needs cause such conflict with management unless in truth, as has been alleged, the district intentionally angles for public school disempowerment and deprivation. Not on our watch! Our children are in those classrooms!
"As a parent, this is painful, I know, but we must not waver on the basics. I stand with teachers to insist: Enough disrespect! We honor your expertise, we challenge this national erosion of your authority. And we have faith in what you do!"
Ken Turner is a restorative justice teacher/adviser at Hamilton. On behalf of the faculty there, he had "a message to the students" whether at the rally, at home, or listening to the news: "It has always been and it will always be about you. We love you, we see you, and all of this that we're doing, we want you to know you're worth it….
"Listen, our kids need people to talk to on campus. They need people to go to when there are things going on in their lives that won't allow them to function and concentrate in their classrooms. That's what we're here for. If you think that all we do is limited to what we do with pencils and paper and curriculum, you're missing the whole point. We are here to assist them with whatever they need….
"As the parent of two students, one who graduated from here and one who's here now, I stand in solidarity also with you parents: Peace of mind, when you bring your kids to school, and wherever you go, you want to know that when you leave, your kids are in good hands. That's what we work hard for every day, to provide you with, that peace of mind that says when you come back your kids are safe, they've been in a safe place where people love and care about them.
"We will do that no matter what the District does because that's in our DNA. We are going to continue to do that no matter what. It is time, though, that we are appreciated for all that we do. But even if you don't, we're gonna still do it, because we love the kids and it's all about them."
The press conference/rally also featured animated call-and-response cheers and chants: "When we fight…We win!" "Whose schools?…Our schools!…What kind of schools?…Public schools!"
I will not be complicit
A second senior at Hamilton took the microphone and gave a dramatic prepared speech. Macy Bartlett supplied People's World with her text:
"I am a senior here at Hamilton High and I will not be complicit.
"I will not sit idly by as I watch billionaires dismantle the school system that has nurtured me into the person I am.
"My teachers are striking for all the things that create better learning conditions for me, my friends, and things that will strengthen our public school system. That's why I support them.
"To my teachers: Thank you. We are here with you because you are here for us.
"It is absurd for me to accept that a student would be forced to sit on the floor of their chemistry class, as I was, for an entire year, or have to drop AP psychology because there were more students in the class than there were desks.
"Smaller class size will increase the student-to-teacher ratio—we are 48th in the country. More nurses and counselors will create a nurturing learning environment. Holding charter schools accountable will reduce the drain on public resources. And community-centered schools will create strong bonds between schools and their surrounding neighborhoods.
"It has been my privilege to attend LAUSD public schools for the past 13 years. The great teachers I've had helped shape me to what you see today.
"When I graduate this year, I want to know that every child in Los Angeles has an even better opportunity than I had.
"I will encourage everyone I know to stand up for what is right, and public education is right.
"So I will march with my teachers and I will not stop fighting until both teachers and students get the resources, funds, classes, and opportunities that they deserve.
"My name is Macy Bartlett, and I will not be complicit."
With a warm shout-out to the two ASL interpreters who signed throughout the whole conference, Alex Caputo-Pearl took the floor again to close out the rally. He reminded his listeners that he had taught in LAUSD schools for 22 years, in Compton, and at Crenshaw H.S. He is also an LAUSD parent, and he saluted the overwhelming response and leadership from parents.
"It's a movement and not just a labor strike. On Monday, the L.A. strike and all the supporters, we were the Number 1 trending story nationally, and that continued Tuesday. It is very obvious the world is watching, and when the world watches we don't suddenly get humble, okay? We step into that space even more and we hold that space because what the world is watching is a struggle over what is basic to human beings—education for the whole child. We make our actions even stronger. When I'm talking to the governor or the mayor or the school district I have to know that when I say people are up in arms about these issues, I've got to be able to say that and mean it, and they've got to be able to see those picket lines and those marches and those actions that are overwhelming, energetic, creative, innovative and with your own voice."
And with that, the crowd continued demonstrating in front of the school, enjoying the friendly supportive bleat of passing car horns, getting ready for another mass action in the afternoon, this time at a middle school. The great Los Angeles teachers strike of 2019 that the whole world is watching shows no sign of letting up.