LOS ANGELES—At Hamilton High School in West Los Angeles, United Teachers of Los Angeles (UTLA) chapter chair Frank Burton had his team prepared for heavy rain: As his fellow teachers arrived for the 7 a.m. picket line and approached the tent supplied with coffee and refreshments, Frank unfolded yet another plastic poncho and slipped it over a new arrival's head. By his count, every single one of "Hammie's" 140 teachers, plus others represented by the union, such as the librarian and counselors, turned out to be counted on Day One.
"Rain or shine, we hold the line!" they called out to passing drivers, who saw the teachers and honked their horns in acknowledgment. One driver struck up a salsa beat on the horn and a group of demonstrators danced to the rhythm until the sound faded away down the block.
Teachers did not walk alone: They had parents there and lots of their students and members of the community, all willing to get a little wet to support the cause of public education in America. This long-anticipated strike is not principally about bread and butter issues. It's for the kids—and for their entitlement to the kind of education that will properly prepare them for life in the decades ahead. I observed very few students reporting for classes.
Some of the entries on the official UTLA Chant Sheet indicate that the union truly apprehends what this moment is fundamentally all about:
Money for kids and education,
Not for billionaire profit-making!
Money for jobs and education,
Not for contracts with corporations!
Privatizers, take a hike!
Education is a right!
I don't know but it's been said,
Billionaires run the Board of Ed.
UTLA is right on the mark about that. As reported here previously, billionaire corporations bankrolled the last School Board election which installed Ref Rodriguez, a corrupt pro-charter schools candidate, who was subsequently forced to resign for election fraud—but only having performed his job, which was to select multi-millionaire Austin Beutner, with no educational experience, as the new superintendent of the Los Angeles Unified School District LAUSD).
I wanted to take a picture of the dripping-wet, poncho-clad Frank Burton, now in his 11th year at Hammie, against the backdrop of the high school façade. "No way," he said. "I teach photography here. You need an action shot!"
On this first day of the strike, says Burton, "what we have asked for is what our students deserve." This action, involving 31,000 teachers in LAUSD, is expected to last at least the rest of this rain-predicted week, and it's anyone's guess how much longer, and how many public officials, such as the mayor and the governor, may need to get involved. Many UTLA members regard the strike as a contest to break the union and turn public education over to non-union charter interests.
Just to offer some dimensions of this struggle, consider these numbers: LAUSD comprises schools in 26 different cities of L.A. County, with 863 campuses with an estimated 500,000-600,000 students, 23 percent of whom are English learners, and over 80 percent of whom qualify for free or reduced-price meals. Teachers represent about half the 63,000 people employed by LAUSD. Most of the others are covered by other labor contracts; it remains to be seen how much they will show their solidarity, and in what ways.
I spoke with a math teacher in the Music Academy at Hammie High. (I couldn't get all the names because my notebook would have got drenched!) Hamilton High functions as a regular high school but it also contains two magnet schools—music and humanities. Now, she told me, the District wants to also put a middle school charter in here, which is "a really terrible idea. It's simply inappropriate to mix those younger children into an environment with older kids on the same campus and expose them to things they shouldn't be having to deal with at their age."
This teacher currently has 45 students in her pre-calculus classes, but at their maximum she had 52—and for those last into the room there was nowhere to sit. "If you don't know a teacher personally, or have someone in your family who's a teacher," she said, "you have no idea what is going on in our schools. This isn't elementary school where you have 45 children all day long. No, I have 45 in a class and I have four classes a day—close to 200 kids. I can't possibly understand each student's needs and problems.
"And it's not just class time for a teacher. How about afterschool hours, weekends and evenings that I'm working—preparing classes, grading tests, etc., and buying supplies we need that the District won't provide? Why do I do this? It's for the kids. If I don't, who will?"
I also spoke with a chemistry teacher. "I used to have a T.A.—a teaching assistant—but no longer. Now I'm all alone with 47 kids handling dangerous chemicals." No wonder a strike has exploded—to forestall a fatal classroom disaster!
"There will be some sacrifices," the collective UTLA leadership wrote in a missive to their members on the eve of the walkout. "We will share those with you. We will be tired, as you will be tired. As you will miss your students in your classrooms, we will miss being at school sites and supporting your work with students. As many of you will, we will navigate having our own children with us during the day. We, as officers, of course will not be paid—just as you will not be paid—during the days of the strike."
UTLA must have drawn on the powers of rhetoric their English teachers have studied. Their statement continues in a kind of poetry of struggle:
"The sacrifices that all of us will make collectively will be worth it. Now is the moment for action.
"For years, our schools have been neglected. Now is the moment for action.
"For months, we have built power and now we control the narrative. Now is the moment for action.
"We have a non-educator investment banker as superintendent who is starving our schools and accelerating privatization. Now is the moment for action to push back on this threat.
"We have district, city, and state leaders often acknowledge how important public education and school funding are. Now is the moment for action to ensure the acknowledgments become reality at schools.
"There has been no more urgent moment to use our power to push back on the threats—and no better moment to use our power to win real improvements."
Current status of the strike can be followed on social media, www.utla.net, and www.wearepublicschools.org.
After the morning picket lines at schools, teachers went to gather at downtown L.A.'s Grand Park for an aerial camera shot that will show all educators and supporters together. In the afternoon, teachers return to their schools to greet the parents and students leaving the premises. Repeat daily until victory. For an FAQ and ways parents can support the fight, go to wearepublicschools.org/faq
The community responds
The local press has been full of articles, full-page ads and op-eds about the strike. Possibly the most common meme is asking the teachers to continue to teach "for the sake of the children." One must wonder, though, where those voices have been all these years as conditions in the schools have deteriorated from bad to worse to positively untenable and dangerous.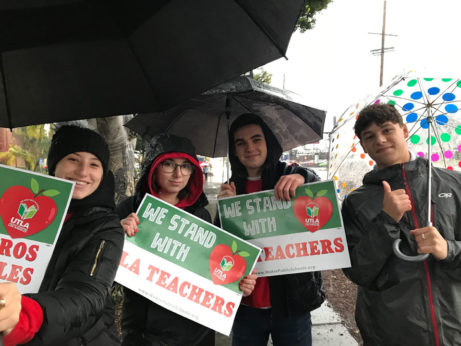 The City of Los Angeles has responded by coordinating offers by many civic institutions to help families and children during the strike. The city has offered enhanced services, extended hours, increased staffing and programming at select recreation centers, where school-age children can receive supervision and lunch, play games, participate in arts and crafts, and engage in sports and fitness activities. This additional programming takes place from 8 am to 4 pm on school days. Parents planning to take their children to these sites must complete this registration form and submit it at the recreation center upon arrival.
In addition, the L.A. Public Library will increase programming at all 73 locations. And during the strike, LA Metro and LADOT DASH and Commuter Express will offer free rides to L.A. Unified students between 5 a.m. and 7 p.m. on regular school days. Bus operators will check student IDs on-board, and fare compliance officers will allow them to ride without fares on Metro's Gold, Blue, Green, and Expo light rail lines. On the Red and Purple lines and other rail stations with fare gates, Metro will deploy TAP personnel to facilitate students' free entry.
All L.A. Unified students have a Student Success Library Card, which gives them access to free online tutoring, homework help, test prep, and online books, magazines, and newspapers. Adults (age 18 and over) can use their library cards to reserve free or low-cost passes that will allow them to take one or more students to several cultural institutions through the LA Public Library's new Explore L.A. program.
The following museums and cultural institutions are offering free admission during the strike: The Natural History Museum and La Brea Tar Pits; Petersen Automotive Museum; Museum of Tolerance; Museum of Contemporary Art (MOCA); Los Angeles Zoo; LACMA; Getty Center and Villa; California Science Center ; California African American Museum; La Plaza de Cultura y Artes; El Pueblo de Los Angeles Historical Monument; Griffith Observatory; Cabrillo Marine Aquarium; and the Maritime Museum. Check each site for details regarding days, hours, and special programming
UTLA officers tell their members that they "are just profoundly moved by your work, your commitment, the work of parents and community, and the vitality of this movement we've created together. We are going to win. We are going to make history."