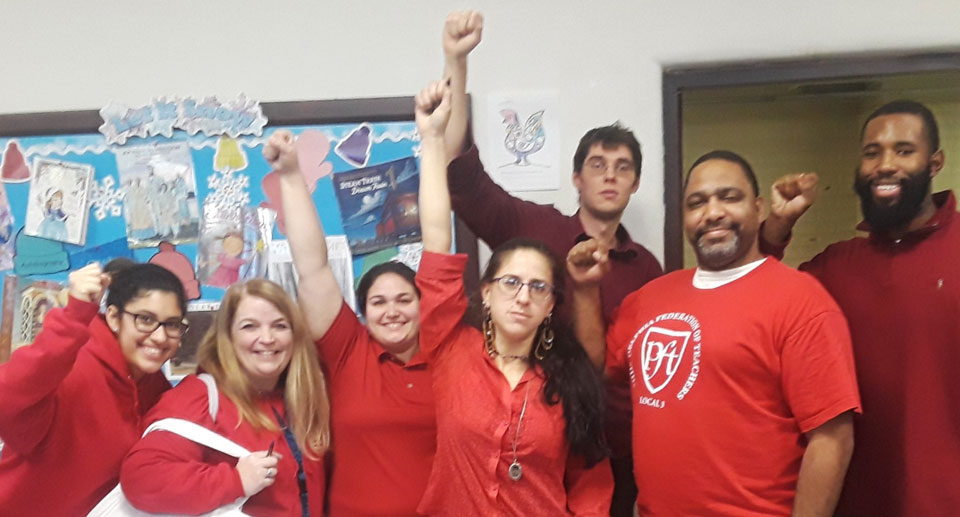 LOS ANGELES—Long announced to begin on Thurs., Jan. 10, the United Teachers Los Angeles (UTLA) strike will now begin on Mon., Jan. 14. Questions had been raised internally whether or not UTLA had given proper 10-day legal notice of the impending strike to Los Angeles Unified School District (LAUSD). Rather than launch a massive District-wide job action one day and then have a judge rule it illegal the next, only to revive it several days later with lost momentum, UTLA decided to simply delay the start date four days.
Day-long bargaining sessions this past week failed to produce an agreement, as mutual accusations flew back and forth between the union and the District. LAUSD maintains there simply isn't enough money in the coffers to satisfy the union's demands, and the union replies with charges of flagrant lying. Negotiations are expected to continue Friday and possibly through the weekend.
At the heart of this monumental struggle, not dissimilar to other teachers strikes that have rocked even conservative states this past year, is the future of public education in America. Do our cities and states—does our country—have the political will to maintain public education as the bedrock of democracy? An educated population is simply better prepared to take on the new jobs and careers of the future, and can manage the affairs of day-to-day living with informed intelligence.
More and more, as the United States becomes more demographically diverse, public schools become the single most important place where children learn about other races and cultures, form friendships, work on school assignments and sports teams together. In Los Angeles, where the public school population comprises some 600,000 students, most are people of color—Latinx, Black and Asian. Important, too, is that kids also see how the multiracial teachers and other staff work together as union members to advance the cause of education.
Among UTLA's concerns is that the proposed educational system reorganization plan millionaire Superintendent Austin Beutner has been developing would favor a radical breakup of the District into smaller, unaccountable "portfolios" that is little more than a fig leaf for citywide charterization. His backing by industry titans not only from the Los Angeles area but by one-percenters such as the Walton (Walmart) family, suggests that one goal of making L.A. a charter school city is to bust the teachers union, as was largely done in hurricane-ravished New Orleans.
In a full-page ad the District took out in the Los Angeles Times on Jan. 9, Beutner highlighted quotes from local editorials and educational authorities to buttress his posture. The final word went to Arne Duncan, former secretary of education in the Obama administration, who regurgitated the District's "insolvency" argument. An open proponent of charter schools, Duncan had been one of Pres. Obama's most controversial Cabinet choices.
Beutner made a quick run this week up to the state capital, Sacramento, to personally declare his agreement with the union's goal of securing greater state support for schools. The newly inaugurated Governor Gavin Newsom has made education an early priority in his administration, reflected in the budget he released on Jan. 10. Positioning himself as a committed progressive, and not so fiscally cautious as outgoing Gov. Jerry Brown, Newsom and his forward-looking allies in state government, where Democrats hold supermajorities in both the Senate and the Assemble, may indeed hold the key to resolving LAUSD's problems, and those of other school districts around the nation's most populous state.
Another moving piece in this story is the upcoming special election for the Los Angeles School Board to fill a seat vacated by school board member Ref Rodriguez who resigned in disgrace. Rodriguez had won election only by dint of electoral fraud. He had been backed by charter school advocates and his win gained a 3-2 majority for the charter side. It was that majority that hired Austin Beutner, who had no previous experience in the education field. A primary election takes place on March 5, with the general election for this seat on May 14 if necessary. That race may well reverse the pro-charter majority and realign the school board with its historic (at least in recent years) pro-labor legacy.
UTLA's basic demands fall into two categories: First is the welfare of the students themselves. The union wants to see schools fully staffed with support professionals such as psychologists, librarians, counselors and nurses. And it has drawn needed attention to the dilemma of trying to teach difficult subjects, such as writing, science and math, in classrooms packed with up to 45 students.
Second, the teachers want a raise of 6.5 percent retroactive to last year when their last contract expired. Teachers in the high-priced L.A. market are compensated far less adequately than teachers in neighboring school districts.
Bottom line: Only the highly visible public drama of a District-wide strike will draw sufficient attention to the multiplicity of problems, many of them of a fiscal nature, that plague public education. The 31,000 UTLA educators believe that the money exists, in a highly developed economy such as the United States, to support a glorious public school system that will provide kids with all the tools they need for success. The single most relevant factor that drags education down into the muck of poorly performing mediocrity is the short-sighted movement to lower taxes and revenue from the one percent. Without mentioning bottomed-out state support for education, the right wing then points to "government" for "our failing schools." Since many of our urban school systems are heavily populated by racial minorities, there is an obvious racist tinge to such accusations. Progressive political rejuvenation at every level of government is required to turn back corporate power.
Starting now…
Angelenos have many opportunities to support the teachers who have made the difficult decision to strike as a last resort. Solidarity and joint struggle will break down the barriers between "worker" and "community."
There are several ways parents, labor allies and community members can support educators during the strike:
 Adopt-a-School: If you live in the L.A. area, adopt one or several schools where parents and community members can join the picket lines before and after school.
Follow this link to find the school closest to you.
Help the labor movement track support for the teachers by filling out this form.
Check WeArePublicSchools.org for picket and rally locations and times.
Social Media: On Friday and over the weekend, in advance of the Mon. morning strike launch, join the union movement in wearing red to support educators. Take a selfie and post to social media. Use the hashtags #strikeready  #redfored #UTLAstrong and tag @UTLAnow. Sample social media posts and graphics to show #solidarity with educators are given below.
For updates on the strike follow @UTLAnow and @ReclaimLASchls.
Also visit www.WeArePublicSchools.org for announcements and resources. Amplify the strike by posting on social media that you won't cross the line! Stand up for public education and the future of our kids!
Sign a petition to support striking educators! The California Teachers Association has set up a petition for people to share messages of support with striking educators at UTLA and the Oakland Education Association, which is also preparing to strike. Share far and wide to amass as many supportive messages as possible!
Leadership School for Education and Action: Recruit members of your organization to be a part of the Leadership School for Education and Action that will bring together parents, students, union members and others in an intense and exciting week-long program of political education and action. Check out this bilingual attached flyer for more information.
Sample Tweets & Messaging:
We stand with LA educators in their fight for a fair contract that benefits educators, students & the community. Support @UTLAnow in their fight for schools our students deserve by joining a picket line here: http://www.wearepublicschools.org/ #UTLAstrong #red4ed
We're wearing #Red4Ed to stand in strong #solidarity w/ our sisters & brothers @UTLAnow. Dignity & respect for educators are fundamental to student success! When we stand together, we win! #UTLAstrong
Students deserve smaller class sizes, counselors, and nurses. Educators deserve dignity and respect on the job. That's why I'm standing with @UTLAnow. When we fight, we win! #red4ed #UTLAStrong
We stand with @UTLAnow educators as they fight for a fair contract, smaller class sizes, full & equitable funding to support students, and RESPECT. Their fight is our fight! #Red4Ed #Strikeready #UTLAStrong