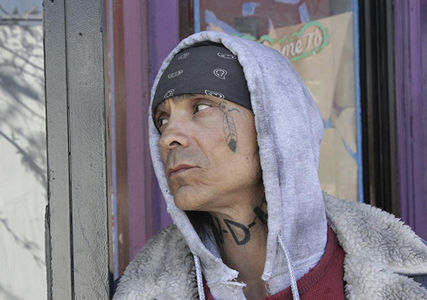 Sterlin Harjo's Mekko is a contemporary look at down and out Native Americans in Tulsa, Oklahoma.
Stuntman and actor Rod Rondeaux, who has played Wild West Indians in movies such as 2013's The Lone Ranger, as well as appeared in the Middle East-set FX series Tyrant, has his breakout role playing the title character in Mekko, which world premiered at the LA Film Festival on June 12. The movie opens with Mekko, a Muscogee (Creek) Indian, being released from jail where he has been doing time for 19 years for killing another tribesman. The parolee tries to make adjustment to the outside world, but after being shunned by relatives he falls in with homeless Natives in Tulsa, a tribe of outsiders, who share a simple camaraderie.
Mekko renews a friendship with an old friend, ​Bunnie (sensitively played by Wotko Long), who has seen better days, and is also befriended by an indigenous waitress, Tafv (veteran thesp Sarah Podemski, whose father is Israeli while her mother is Saulteaux Bear/Thunderbird Clan, from Muscowpetung First Nation in Saskatchewan), who explains that Mekko's name means "chief."
However, veteran actor Zahn McClarnon (the 2002 animated feature Spirit: Stallion of the Cimarron and recently seen as Officer Mathias on the Wyoming-set A&E cable series Longmire and on the excellent Fargo FX TV series) portrays Bill, a menacing character who is pretty terrifying in the tradition of Wes Studi's Magua in 1992's The Last of the Mohicans.
The leitmotif of returning or leaving home seems to be a recurring theme of Harjo's oeuvre, and so it is in Mekko: Rondeaux's character seeks redemption by departing Tulsa and going back to the place of his tribal origins and roots.
This, by the way, is likewise a recurring theme in the literature about uprooted Pacific Islanders, notably with Samoan Albert Wendt's breakthrough 1970s novel "Sons for the Return Home" and Maori Witi Ihimaera's "The Whale Rider," which were both adapted for the big screen.
Indigenous auteur Harjo is an indigenous person from Oklahoma who has chronicled – through nonfiction and feature and short films, such as 2005's Goodnight Irene, 2007's Four Sheets to the Wind and 2009's Barking Water the condition of the American Indian.
If you look up 1990's Dances With Wolves and The Last of the Mohicans on IMDB.com, you'll first see photos of Daniel-Day Lewis and Kevin Costner – the Caucasian protagonists – in these Indian-themed movies. One of the great things about Harjo's Native-made movies about Natives is that they focus on indigenous protagonists – and do so in a 21st century context, not just in a long ago, far away sense.
According to producer Jasper Zweibel, who spoke after Mekko's LAFF screening, the feature combined professional performers with non-actors, in the Italian Neo-Realist tradition. What's great about Mekko is its realistic revelations, presenting a rarely seen slice of life about marginalized people – not too dissimilar, in a sense, from those other "Okies" displaced during the Depression and the dustbowl, as immortalized in John Steinbeck's 1939 classic "The Grapes of Wrath," which likewise involves a journey and John Ford turned into an unforgettable film.
It's interesting to note that Tulsa's band of outcasts, living on the streets, only once seem to receive any outside assistance in the form of a sort of soup kitchen. It's unspecified as to whether or not this aid is provided by the government, church or private charity. On the other hand, the film received state assistance: Ironically, this shot-in-Oklahoma movie utilized the Oklahoma Film Enhancement Rebate Program administered by the Oklahoma Film & Music Office. Be that as it may, while Mekko does not currently have distribution, it richly deserves theatrical and other forms of release and there is an audience for this fine film off the beaten path that moves to the beat of a different, indigenous drummer.
The LA Film Festival ended June 18. For more info see: lafilmfest.com