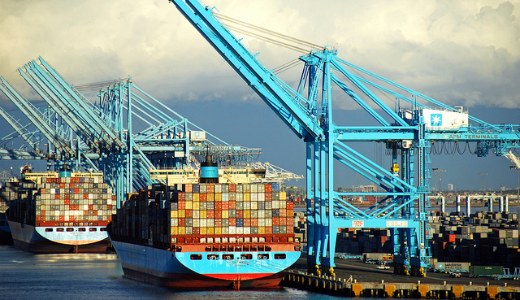 With a 46-15 vote in favor of joining the International Brotherhood of Teamsters, employee drivers at Toll Group logistics company in southern California last week became one of the few groups of port truck drivers to become unionized.
"Our victory means we are finally getting closer to the American Dream," Orlando Ayala, a 10-year driver at the ports of Los Angeles and Long Beach, said after the workers' victory. "If we can win, I know other port truck drivers across the U.S. can unite just like we did."
During the workers' organizing drive, which began last summer, Toll Group, based in Melbourne, Australia, fought back with delaying tactics, surveillance, intimidation, "captive audience" meetings, and attempts to change the composition of the bargaining unit. They fired workplace leaders including a female driver who made an emergency pit stop to use the restroom at a McDonalds while transporting a cargo.
The drivers had broad labor and community backing, including from Australia's Transport Workers Union, which represents 12,000 Toll Group employees in that country. The TWU sent several solidarity delegations to Los Angeles during the nearly yearlong struggle.
"In Australia we have negotiated agreements for decent pay, safe working conditions and proper job security for our members at Toll. Our colleagues across the Pacific in the USA are entitled to the same," TWU National Secretary Tony Sheldon said after the vote. Sheldon pledged the Australian workers' support during the coming struggle to win a first contract.
Teamsters Vice President Fred Potter said the "courageous" drivers "have inspired other port drivers to fight for good, middle-class jobs at America's ports nationwide, and the Teamsters and our coalition are going to be here to help them do it."
Toll Group, which transports brand-name fashion imports, denies its U.S. drivers indoor restrooms at their primary work site, forcing them to use filthy port-a-potties. It was recently fined $25,000 by the California Occupational Health and Safety Administration for a series of workplace violations. The company also faces federal trial after the National Labor Relations Board issued a formal complaint against it for violating U.S. labor law.
Because they are employees, the Toll Group drivers are among the small number of U.S. port truck drivers who currently have the right to organize a union. Since the industry was deregulated in 1980, most drivers are classified – the Teamsters say misclassified – as independent contractors who have no right to unionize.
The U.S. Department of Labor has stepped up its efforts to combat misclassification which exists in many industries, especially those employing low-wage, vulnerable workers who may be paid less than the minimum wage, denied overtime and benefits, and forced to pay taxes and work expenses that an employer would normally pay.
Photo: Jeannie // CC 2.0