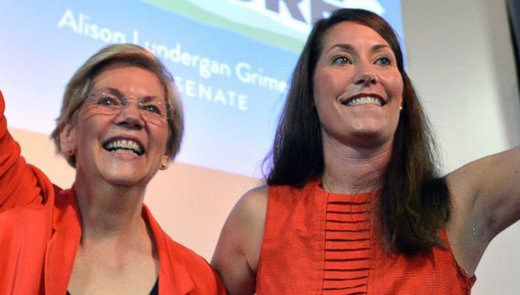 Steelworkers, Electrical workers, Teamsters, and health care workers stood and cheered Oct. 28 as U.S. Sen. Elizabeth Warren, D-Mass., pounded the lectern and urged Kentucky voters to turn out election day to remove Republican Mitch McConnell from the Senate.
"There is no better fighter for America's middle class, for America's working people than Alison Lundergan Grimes," Warren told the crowd of union members that packed International Brotherhood of Electrical Workers (IBEW) Local 369. Warren was referring to McConnell's Democratic challenger, Alison Lundergan Grimes, who is currently Kentucky's Secretary of State. Polls show the two candidates in a dead heat with less than a week before the Nov. 4 off-year election.
Steelworker organizer, Ronnie Watson, told the People's World by phone from his office in Louisville that Alison Grimes, Elizabeth Warren and others who spoke at the union rally then left the IBEW union hall and drove to the Copper & King distillery where they were greeted by another crowd of 400 supporters.
Sen. Warren told that crowd that she and Grimes "believe in an America where kids have a fighting chance to get an education without being crushed by student loan debt." She blasted McConnell for blocking an increase in the minimum wage, for obstructing legislation to ease the burden of student loan debt.
Both she and Grimes support tougher rules against ruthless Wall Street profiteers, ending tax breaks for corporations that ship jobs overseas, Warren said. "We believe that corporations are not people," Warren added. "Mitch McConnell is here to work for the millionaires and billionaires."
As the crowd applauded, Grimes described herself as a "strong Kentucky woman" who will stand in defense of Medicare and Social Security. "It is labor that has lifted millions out of poverty and it is labor that will help us grow the middle class," Grimes added.
Watson said Kentucky's labor movement is helping turn the tide against McConnell. "This election is taking a turn. Grimes has the momentum. She has visited every county and everywhere she stops, she's got a crowd."
He added, "This past week we've been phonebanking and doing a lot of door knocking. Jefferson County, where Louisville is located, is a major population center with a lot of votes."
Yet Grimes, he said, has a statewide strategy, appealing to voters in the coal-mining regions of east Kentucky to the bluegrass of western Kentucky. "We've worked really hard for the past several months. We have a really great candidate, a woman who challenged the 'King.'"
The razor thin margin that separates Democrat Grimes and Republican McConnell mirrors the "too-close-to call" tightness of Senate races all across the nation. Labor's "ground game" is considered a decisive factor in the final drive to get out the vote. At stake is the Republican's determination to take majority control of the U.S. Senate. The current Senate is 53 Democrats to 45 Republicans. The GOP must gain six additional seats to win majority control. For months, the corporate media has trumpeted the advantages of the Republicans while orchestrating a campaign of Obama-bashing seeking to turn the election into a referendum on the President's failure to stop the Ebola epidemic in West Africa and the ISIS offensive in Iraq.
Yet the lie-factory seems to be running on empty even if fueled by tens of millions of dollars in Koch Brother secret donations. Polls show a dead heat in the following Senate races:
Colorado: Democrat Tom Udall vs. Republican Allen Weh
Kansas: Independent Greg Orman vs. Republican Pat Roberts
Kentucky: Democrat Alison Lundergan Grimes vs. Republican Mitch McConnell
North Carolina: Democrat Kay Hagan vs. Republican Thom Tillis
New Hampshire: Democrat Jeanne Shaheen vs. Republican Scott Brown
Georgia: Democrat Michelle Nunn vs. Republican David Perdue
Iowa: Democrat Bruce Braley vs. Republican Joni Ernst
Alaska: Democrat Mark Begich vs. Republican Dan Sullivan
In every one of these races, the AFL-CIO is spearheading a get-out-the-vote ground game for the Democratic or Independent candidates with major mobilizations this coming weekend and on through election day. Union members are phonebanking, doorbelling, to get their members and other concerned citizens to the polls. Corporate media polls cannot deny that this election is too close to call. The only poll that counts in the end, is the number of votes counted starting the evening of Nov. 4.
Photo: Sen. Elizabeth Warren, D-Mass. (left), campaigned in front of crowds of union workers for Kentucky Secrearty of State Alison Lundergran Grimes. The labor movement is backing Grimes who is working to oust Republican U.S. Sen. Mitch McConnell from both his Senate seat and his position as Minority Leader. Timothy D. Easley/AP