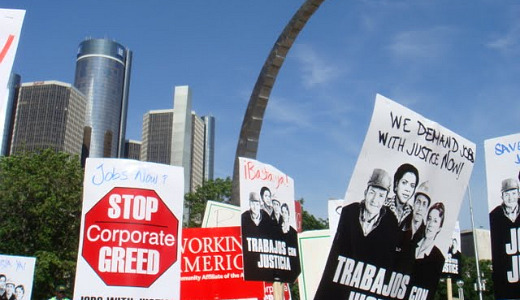 DETROIT – Labor made its presence felt at the U.S. Social Forum on Wednesday in a lively march and rally in this ravaged city's downtown, calling for jobs and an end to cuts in city services. (See video below.)
Johnny Brown, a Detroit resident, expressed both the anger and the determination of the labor movement here.
Brown is upset about cuts in the city's bus service. A retired limousine driver, Brown said he has to wait up to an hour to catch a bus. Voicing anger at Detroit's mayor, he said, "It's not the bus drivers' fault, it's Dave Bing's fault. He's cutting back on service and wants to totally eliminate Sunday service. Bing and his kid have never caught a bus. We have got to stop it somewhere and we are going to stop it here in Detroit."
Others at the rally noted that the economic crisis extends way beyond the Midwest rustbelt. Martin Chartrand, from economically hard-hit Maine, said he is a member of a state organization called Food and Medicine. "Lots of jobs have been lost in the last 10 years in the paper industry and other manufacturing," he said. "Now secondary jobs that depended on people spending those paychecks are also being affected." His organization is "dedicated to the idea that people should not have to choose between buying food and paying for medicine."
Jobs with Justice is playing a prominent role at the Social Forum and JwJ members came out in force for the rally. JwJ member Bob Lynn said government needs to take care of the people instead of the big banks.
Lynn was enthusiastic about AFL-CIO President Richard Trumka's call for taxing Wall Street financial transactions. "Taxing Wall Street is always a good idea," Lynn said. "All the people will get on board, that will be an easy sell."
JwJ-er Karen Krause, from Toledo, Ohio, said the situation there is similar to Detroit. "It's dismal, dismal, it's bad," she said. "We have the same problem. We are heavily invested in the auto industry and when the auto industry is not in good shape, none of us are."
During the brief rally, the Rev. Ed Rowe of Detroit's Central United Methodist Church asked for a moment of silence for "all the workers making millions for all of the banks and corporations but don't have enough for themselves."
Referring to the big Bank of America and Chase offices nearby, Rowe said Americans should "get ready to move their money from the banks down the street. Every dollar we give them helps put us out on the streets. We are foreclosing on ourselves."
Photo: With Detroit's Renaissance Center in the background, marchers demand jobs and say Wall Street should pay, June 23. (PW/Libero Della Piana)