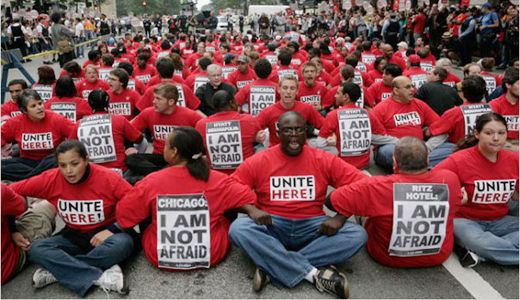 WASHINGTON – The National Labor Relations Board will ask the U.S. Supreme Court to reverse a ruling earlier this year that retroactively stripped the board, starting in 2012, of its power to decide on any labor-management cases.
In a brief announcement, the board said it would ask the justices to review the case, Noel Canning vs. NLRB. The U.S. Circuit Court of Appeals for D.C. ruled in favor of the company on Jan. 25.
In that decision, the three-member D.C. court panel, judges named by Republican presidents, said the NLRB was illegally constituted ever since Jan. 4, 2012, and didn't have a quorum to rule on anything. Businesses and GOP lawmakers – who have been trying to shut down or hamstring the board for years – sided with the company.
The judges called President Obama's recess appointees to the board invalid, because the Senate was meeting in short one-minute sessions every three days and thus technically not in recess. With no recess appointees, the NLRB had only one legal member then, chairman Mark Gaston Pearce. It needed three.
The circuit court's ruling – and the board's appeal to the justices – are important because the lower court's decision potentially threw out dozens of NLRB decisions in a wide range of labor-management disputes. Already, a New Jersey-based nursing home chain, citing the Canning case, tried to overturn an NLRB order mandating it bargain with SEIU-represented nurses at its five Connecticut nursing homes, for example.
Obama had to make the recess appointments to the NLRB because the Senate GOP successfully filibustered his nominees to regular terms on the five-member board. Their objective is to stop the board from functioning by preventing it from getting a three-member quorum. No board means weaker enforcement of already-weak labor law.
"The U.S. Court of Appeals for the D.C. Circuit held the Jan. 4, 2012 recess appointments of three members were invalid," the NLRB's statement elaborated. "The board, in consultation with the Department of Justice, intends to file a petition for certiorari – Latin legalese for asking the court to take the case – "with the United States Supreme Court for review of that decision. The petition is due on April 25, 2013."
Four of the nine justices must vote to accept a petition before the High Court can call for briefs and schedule arguments. If the justices decide to take the case, it will not not be heard until Oct. 2013 or later.
Photo: Hyatt workers at 2010 sit-in in the streets of Chicago. Without a functioning NLRB, workers who exercise their right to protest are left without important protection afforded them by U.S. labor law. UNITE HERE Local 1