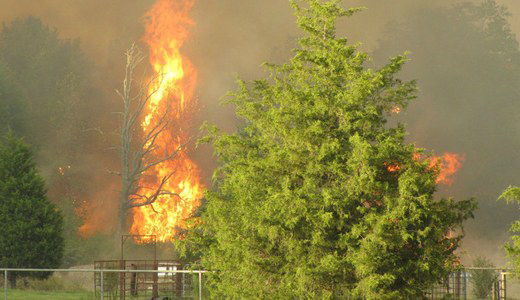 The footprints of a deadly Texas wildfire have reduced over 1,000 homes to ash and rubble, in what, the Guardian reported, was one of the worst blazes in the state's history. Now, the AFL-CIO of Texas is working with United Way organizations to set up a Union Wildfire Relief Fund and aid the victims of the disaster.
Disturbingly, reported the AFL-CIO, the wildfire might have been dealt with faster and more efficiently, had it not been for interference from Texas governor and GOP presidential candidate Rick Perry. Perry cut funding for volunteer firefighters by 75 percent. Notably, volunteer firefighters make up 90 percent of all first responders to wildfire outbreaks. In fact, said Opposing Views, firefighters have been forced to reach into their own pockets to fight blazes.
Perry, for all his proud proclamations about 'how things are done in the state of Texas,' has possibly brought additional harm down upon the wildfire victims.
Of those victims, two residents in a Bastrop County neighborhood were killed by the quick-moving fire, according to the LA Times. Meanwhile, in eastern Gregg County, a separate blaze took the lives of a 20-year-old woman and her 18-month-old child, who were trapped in a mobile home when it became engulfed in flames.
The number of Texas acres consumed by fire this year – 3.6 million – is equivalent to about the size of Connecticut, said Paul Begala, an affiliated professor of public policy in Georgetown.
Perhaps just as tragic is the fact that a wildfire protection plan developed and pitched in 2008 by the Texas Forest Service is, today, only half-funded. The plan called for more firefighters (over 200), the establishment of rapid-response teams to handle small blazes, the construction of advanced weather stations, and the creation of training academies for wildfire crews.
But throughout a decade of steadily more disastrous wildfires in Texas and other southern states, the plan has not been put into action. This is seen as the result of slashed state budgets and as due to a the tendancy of lawmakers to fund such plans only after a disaster, the report said.
As it were, the agency's budget was slashed by $35 million earlier this year.
Finally, there's a third issue – one that is ongoing and extends beyond the range of just brushfires.
Chron reported that the wildfire epidemic of recent times is, of course, related to the heat and drought that has bedeviled Texas. Not an isolated occurrence, the fires and aridness alike are strong evidence of climate change. Increased greenhouse gases like carbon dioxide in the atmosphere cause an uptick in heat energy and water vapor content, thus increasing the likelihood of what the report called "an extreme climate response."
Whether the popular opinion is that these fires are part of a larger problem or not, the task at hand now for the AFL-CIO is to help working families who are now without homes. And as noted on their website, all donations are greatly appreciated, in what is – greenhouse gas emissions aside – an ongoing personal crisis for many people in the state of Texas.
Photo: Lisa A. Combest/Wikipedia