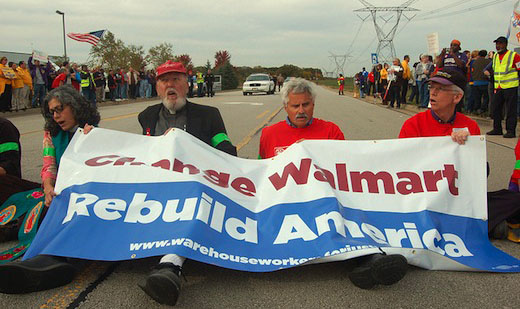 As Labor Day 2013 approaches unions in America are re-assessing themselves in a way they never have before.
The reassessment comes at a time when wages for the bottom 70 percent have been on a downward spiral since the Great Recession hit in 2007.
Only one of every nine workers nationwide is a union member and, in the private sector, only one in 14 hold union cards.
As the AFL-CIO prepares to open its convention in Los Angeles next week, the federation's president, Richard Trumka, is saying something few labor leader have been willing to admit. He is saying that unions themselves are partly to blame for the fall off in their membership.
"I'll point the finger at us," he said at a special press event hosted by the Christian Science Monitor this week. "We did not keep pace with the change in the economy, with the political environment and with young people. Things are different than they were 30 or 40 years ago."
That was when unions represented at least one fourth of all private sector workers and had the clout to raise wages not just for their own members but for all workers.
"But some of the problem is external," Trumka said. He pointed to the attacks on labor by the Republicans and he reminded the reporters that even the nation's highest court has jumped onto the anti-labor band wagon: "The Supreme Court says money is speech, and corporations should be allowed to work their will in political campaigns," he noted.
The plan to solve both the internal and external problems cited by Trumka involves restructuring the labor movement to bring in allies including previously unorganized workers and other progressive groups. Present at this year's AFL-CIO convention, in addition to unions, will be environmentalists, civil rights organizations, gay-lesbian-bisexual-transgender groups, immigrant rights organizations, women's rights groups and organizations of young people.
Representatives of many of these groups attended AFL-CIO-sponsored "listening sessions" in the run-up to the convention – sessions that tackled the question of how to remake the labor movement.
"We're going to create a process where we can sit down and talk, and then not go our separate ways," Trumka said. "We are saying to them – both unionists and outside groups, 'tell us what we need to be, tell us what we need to change."
"One of the big reasons we need to change," said AFL-CIO counsel Craig Becker recently, "is that the U.S. Supreme Court's 2010 Citizens United decision opened the gates for a tsunami of corporate cash flooding into politics… If the court is saying corporations are people, then we need to counter that by fostering the organization of real people.
"The old model of unions and locals no longer fits in the era of Walmart, Manpower and McDonald's," Becker added. "Labor law hasn't changed quickly enough and labor unions haven't changed quickly enough to adapt. So now the labor movement has to be part of a social movement – a democracy movement."
Labor's plan to remake itself in no way means it will abandon its current policy of fighting out its issues in the electoral arena. Plans are underway, in fact, to use the coming convention to help mobilize the full force of the unions and their allies for the 2014 mid-term elections.
Trumka told the reporters that unions will focus hard on governors' and state legislative races in the coming elections, particularly in those states where the governors and the lawmakers went on the attack against workers' rights. He singled out GOP Govs. Scott Walker (Wis.), Rick Snyder (Mich.) and John Kasich (Ohio). He said that unions would be on the move also in some states they have not previously dealt with, notably Texas.
"It's a big state," Trumka said with a grin, adding, "It's the only state in the nation without fire codes – a threat to workers lives. And it's a majority-minority state, with the minorities denied a voice."
Trumka repeated labor's support for a path to citizenship for the 11 million undocumented in the U.S. – 7.5 million workers and 3.5 million children. "When they are able to come out of the shadows the Department of Labor will be able to come out and enforce their rights. And that's important for all of us."
Photo: Union members and faith-based activists join Walmart warehouse workers in protests against wage theft, October 2012. (John Bachtell/PW)