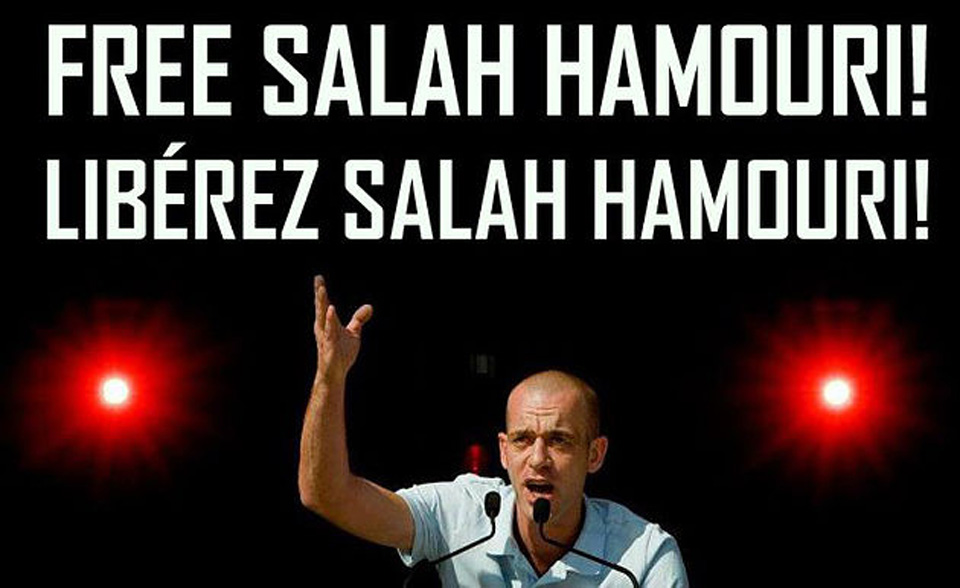 CAMBRIDGE, Mass.––The Committee for International Labor Defense (CILD) announced this Thursday morning that it would join the Addameer Prisoner Support and Human Rights Association, the French Communist Party (PCF), and the European United Left / Nordic Green Left (GUE/NGL) of the European Parliament in calling on Israeli authorities to release field researcher and human rights defender Salah Hamouri, 32, who has received a six-month administrative detention order.
Hamouri was arrested Aug. 16 during a pre-dawn raid of his home by the Israeli military.  According to a statement released Aug. 29 by the Palestinian NGO Addameer Prisoner Support, "This arrest and decision is but one in a list of many, where the occupying power has attempted to stifle the legitimate pursuit of Palestinian human rights and basic dignity. For those who dare to speak up against this oppressive colonial regime, arbitrary detainment awaits."
The campaign for Hamouri's freedom is focused on urging French president Emmanuel Macron and European officials to secure Hamouri's release. Hamouri is a dual Palestinian/French national. The French-based groups planned a massive rally Aug. 31 in Paris, and have launched a signature drive on Change.org
Amnesty International has called the Israeli state's administrative detention "a relic of British control of the area" and a clear violation of human rights, which the global NGO documented in its report Starved of Justice: Palestinians Detained Without Trial by Israel. French legislators, such as former presidential candidate Jean-Luc Mélenchon, called Hamouri's detention "an injustice and a scandal."
Patrick Le Hyaric, a French member of the European Parliament, spoke for the GUE/NGL parliamentary group on Aug. 28, reminding lawmakers and the European public that "Hamouri has been a vocal advocate for Palestinian rights, speaking at venues across France and on the main stage at Fête de l'Humanité and other international forums. We cannot allow for his voice to be silenced."
After learning of Hamouri's detention from members of the PCF, the Cambridge, Mass.-based CILD issued a press release Thursday calling on organized labor in the U.S. and worldwide to join forces in his defense. The Committee also urges Macron and European officials to act now to demand Hamouri's release.
The CILD aims to bring together labor organizations worldwide to organize mass defense in cases important to the cause of workers and all oppressed. The original ILD (1925-46) mobilized worldwide campaigns in political and legal defense of Sacco and Vanzetti, the Scottsboro Boys, Cuban sugar workers, sharecroppers in the U.S. South, and many more cases. In the process of recruiting labor organizations worldwide to rebuild the ILD, the CILD will take up international, domestic, and local defense cases, in line with its capacity.