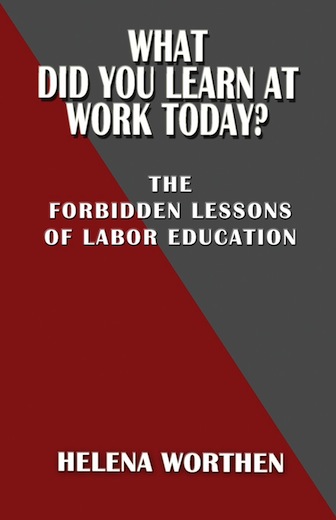 In her new book, "What Did You Learn at Work Today? The Forbidden Lessons of Labor Education," Helena Worthen provides a unique blend of theory and practice. Based on her years of experience with working people – in and out of the classroom – she gives concrete examples of how people learn at work. Lessons on the job span the spectrum of skills to be successful at your work, to navigating the social context of a system based on class conflict, including the "forbidden lessons." At the same time, she explains the educational theories behind her examples; theories that have a wide application for adult education as well as leadership training not only for the labor movement but in many other contexts.
Worthen draws from her years of experience and work both in the labor movement and as a labor educator. Her partisanship to and passion for working people, their struggles and triumphs become apparent reading the first page. She details numerous real life examples of what people learn on the job, valuing all the lessons – some of which most people would not even consider "real" learning. Whether it's learning new software or "how to text your kid with your hand in your pocket so no one could see you using your phone, to see if she made it home from school," Worthen distills all these lessons, relating them to four educational theories, and placing it all in the complicated process of class struggle and social change by addressing a simple question: "Can they get away with that?"
Her examples of learning – taken from real life situations – are an intimate look at how collective knowledge is learned and produced by working people whether on the job or on strike. The case studies range from her classroom experiences to the dramatic and protracted fight by workers at a social service agency in the small Central Illinois town of Effingham to organize a union and to win a contract to safety issues in a power plant; black workers trying to break into the construction industry and the life and struggles of garment workers. She also reviewed essays written by children of union members to draw out what they have learned from their parents. From each of these cases, Worthen quotes workers involved and analyzes their experiences in such a compelling way that it's like eating a chocolate cake – you want to savor every bite.
Like most other services and goods produced by the working class, these lessons are rarely appreciated, let alone mined for their value to understand and improve the human condition. Yet Worthen's dedication to these values takes her into groundbreaking territory; where very few U.S.-based educators, scholars or labor organizers have gone before. And we are richer for it.
In her final chapter, "Why did I write this book?" Worthen makes the point that a wall has been constructed between "labor" and "education." "Education in the US does not think much about work or the working class majority as workers. It does not want to think about workers having to fight an employer," she writes, excluding labor educators from her critique. But she also points to the costs of the Cold War and McCarthy period both. "Labor thinks very little about learning and even less about theory. In fact, it avoids theory as much as possible," she writes. "The wall that keeps these two close cousins from talking to each other is historical. It is the result of two generations of effective popular campaigns against anything that seemed remotely Marxist."
Worthen goes on to suggest what can be done in knocking a hole in the wall. For me, step one is to read and digest this book.
The second edition is due out in mid-October. So give yourself or someone else a treat. This book is for three groups of people, she says, "people who work, including high school students," "people who know something about labor history and unions" and "teachers, especially adult educators and teacher educators," giving insight and tools for just about everyone.
"What Did You Learn At Work Today? The Forbidden Lessons of Labor Education"
By Helena Worthen
2014, Hard Ball Press, 276 pp (Paperback)
This article was updated with additional information on Oct. 9.