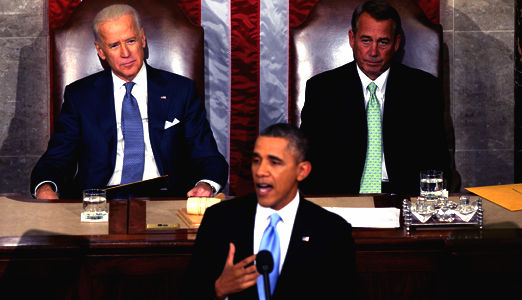 WASHINGTON – "Later tonight, when President Obama speaks to the nation in his annual State of the Union Address, there is one thing I'll be paying close attention to: whether or not the president discusses overtime pay for workers," said Ross Eisenbrey, vice president of the pro-labor Economic Policy Institute (EPI) in a statement he issued here this morning.
"President Obama needs to go bold with the upcoming revision of overtime pay rules expected shortly from the U.S. Department of Labor," said AFL-CIO President Richard Trumka, at a wage summit in the nation's capital last week.
Overtime pay has increasingly moved to the top of labor's agenda because millions of workers are working overtime and not getting paid for it. Between 1979 and 2013, according to the EPI, productivity in America grew by 64.9 percent but during that time wages remained flat with the median worker seeing a real (inflation-adjusted) hourly wage increase of just 6.1 percent.
"One of the reasons paychecks aren't keeping pace with productivity is that millions of workers are working overtime and not getting paid for it," Eisenbrey said.
The Department of Labor, under orders issued by President Obama last March, is expected to announce early this year its intended update of the overtime salary threshold, which currently sits at $23,660 per year, or just $455 per week. "This current threshold is below poverty level for a family of four and must be changed, " Eisenbrey said.
Under federal overtime rules, workers making less than $455 per week are entitled to overtime protection. Ever since the enactment of the first federal overtime law in 1938 the salary threshold was updated every few years. The last "routine" adjustment to the salary level, however, was made by President Gerald Ford in 1975. Overtime protections have been steadily eroded since then by inflation.
Trumka has said that just to make up for inflation the threshold should be raised to $51, 168. "The spotlight is now on raising wages," he declared. "Raising wages is the key unifying progressive value that ties all the pieces of economic and social justice together," the union leader said when he talked about wages here last week. "We think that the president has a great opportunity to show that he is behind that agenda by increasing the overtime regulations to a minimum threshold of $51,168. That's the marker."
Some 6.1 million additional people would earn overtime pay if the President goes with Trumka's figure.
There is concern that the Labor Department is looking at a lower figure, however, somewhere in the neighborhood of $42,000. Adopting the lower figure would mean that at least two of the six million that would be covered under Trumka's figure would be left with no overtime protection.
Business groups are lobbying overtime against any raises in both workers' wages and against any increase in the overtime threshold. Trumka said they will oppose any increase in the overtime threshold, wherever the President places that threshold. "Why would you settle for a figure that excludes millions of people (the $42,000 figure) when business is not going to support that either?" Trumka asked. "The President should go full throttle on restoring the 40-hour work week and not dilute this opportunity for restoring wages," he added.
While business groups and Republicans seem, at best, to be having a hard time understanding the need for raising the overtime threshold, the necessity of doing so is apparently not lost on the broad public.
A grandmother with two small children seated in her shopping cart at Save-a-lot Supermarket in the Bridgeport neighborhood this morning said, "If I pay $40 at the register I am not entitled to walk out of here with as many cartloads of stuff as I like. I'm just entitled to $40 worth of stuff. I used to work as a secretary at Citibank down the street. They hired me for a 40-hour week at a set salary but often made me work extra for the same rate. How is that fair? If you want more, you should pay more."
EPI economists note that even the minimum $51,188 figure pushed by Trumka , while it allows for inflation since 1975, would not give overtime protection to the same percentage of the workforce as had that protection in 1975. To cover 65 percent of the workforce, which was the percentage covered in 1975, the threshold would have to be raised to $69,004, according to Eisenbrey.
While a change will help all workers, minorities and women stand to benefit the most.
"The eventual change will disproportionately help women, blacks, Hispanics, workers under age 35 and workers with lower levels of education," said Eisenbrey. "While our hope is that the Department of Labor chooses a threshold of at least $51,168 to properly adjust for inflation, any significant increase will be a victory for American workers."
Photo: President Barack Obama gives his State of the Union address on Capitol Hill in Washington, Jan. 28, 2014. (AP Photo/Susan Walsh)