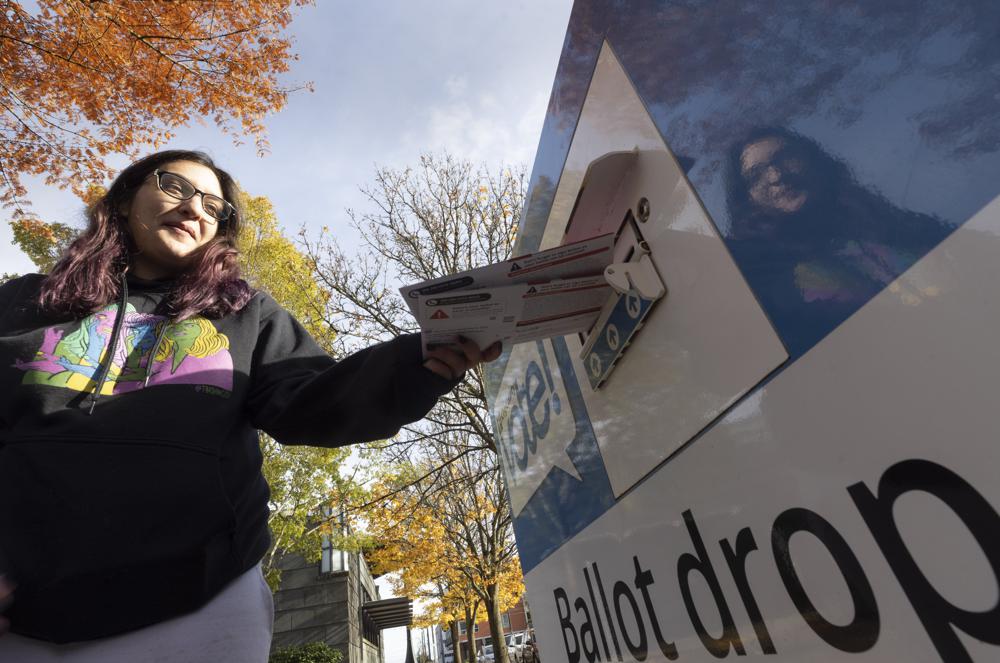 SEATTLE—The surprise election of Democrat Marie Gluesenkamp Perez in the 3rd Congressional District was the high point of a sweeping statewide victory over the Trump Republicans in the Evergreen State on Nov. 8.
Gluesenkamp Perez will take the seat in Congress now held by Rep. Jaime Herrera Beutler, one of 10 Republicans who voted to impeach Donald Trump. Trump was so enraged he spearheaded the drive to oust Herrera Beutler in Washington's August primary.
But his choice to replace her was Joe Kent, someone closely tied to armed militias and other hate groups, an open foe of women's abortion rights, and a loud "election denier" who called the jailed insurrectionists who stormed the U.S. Capitol on Jan. 6, 2021, "political prisoners."
The endorsement galvanized a grassroots voter movement to elect Gluesenkamp Perez led by women and the labor movement in Southwest Washington based in Vancouver, a city across the Columbia River from Portland, Ore.
The role of organized labor in the victory is underlined by the fact that five union members ran for state and local offices in the Vancouver region. They included retired registered nurse Terri Niles, who told an interviewer, "I have been an active union member for my entire career."
She told bloggers for the Southwest Washington Labor Council that workers understand more clearly the importance of standing together in a union since the COVID-19 pandemic. Unions, she said, "are a force for good," and that includes union members running for public office, helping convince people to fill out their ballots and mail them in.
At this writing, Terri Niles, running as a Democrat for the State Legislature for District 17, was ahead of her rival, Republican Kevin Waters.
The Gluesenkamp Perez victory came just hours after Democrat Rep. Kim Shrier, a Sammamish pediatrician, won re-election, defeating a similar Trump extremist, Matt Larkin, in Washington's 8th District that stretches from the Seattle suburbs across the Cascades to Wenatchee.
Schrier ran highly effective TV ads strongly defending women's right to safe, legal abortions and blasting Larkin as an extremist who would strip women of their basic rights. Since she is a medical doctor, her message was highly credible.
An army of women and Labor Neighbor volunteers mobilized by the Washington State Labor Council (WSLC) went door-to-door to get out the vote for both Schrier and Gluesenkamp Perez as well as for Sen. Patty Murray, and the entire Democratic slate.
WSLC President Larry Brown said, "Once again the strong performance of labor-endorsed candidates was fueled by grassroots activism by union volunteers who worked thousands of shifts knocking on doors and making phone calls to make sure union households know which candidates support workers."
Flipping the 3rd District "blue" means that Washington's congressional delegation is now eight Democrats and only two Republicans. Both U.S. Senators are Democrats. Rep. Dan Newhouse, the other Republican in Washington State who voted to impeach Trump, was re-elected after defeating in the August primary a raving Trump Republican, Loren Culp.
Rep. Cathy McMorris Rodgers, a Republican, defeated Natasha Hill, a young African American attorney in Washington's 5th District based in Spokane. Hill ran a spirited grassroots campaign in this far east corner of the state long home to "Aryan Nation" and other white supremacists.
Hill garnered 40.7% of the vote, compared to 59.29% for Rodgers. Hill mobilized such a strong coalition in this "Inland Empire" district that there are calls for her to stay active and run again for elective office.