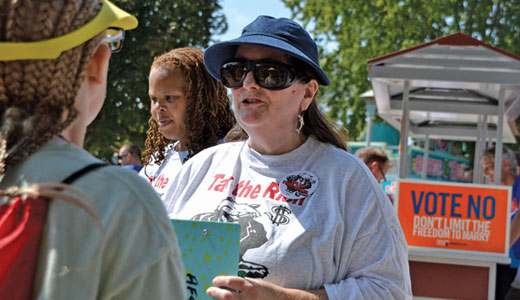 With the election only 18 days away the nation's unions are in the homestretch with their biggest mobilization ever.
The mobilization includes massive get-out-the-vote drives in key swing states and circulation of videos featuring worker testimony about both Obama and his pro-worker policies and GOP foe Mitt Romney and his job-destroying Bain Capital.
That comes on top of what the AFL-CIO said was a 450,000-person success in new voter registrations, while the Teamsters reported registering 25,000 more in California alone. And 200,000+ unionists have voted early nationwide, AFL-CIO Political Director Michael Podhorzer told an Oct. 19 telephone press conference.
The federation plans to have volunteers knock on 5.5 million doors, make 5.2 million "live phone calls," distribute 2.2 million leaflets at worksites and send 12 million pieces of election-oriented information mail to reach voters – union and non-union – in just the last four days before Election Day on Nov. 6, added Sasha Bruce, national campaign manager for Working America, the AFL-CIO community-based group.
The efforts are important: Opinion polls show incumbent President Obama and challenger Romney are virtually tied in the popular vote, but with Obama leading in some key swing states..
In Electoral College forecasts, Obama seems to have a slight lead.
Citing internal polls, Podherzer said he expected Obama to take Ohio, Iowa, Michigan, Pennsylvania and Wisconsin.
Meanwhile, union presidents urged their members not just to vote for the president and other pro-worker candidates, but also to staff phone banks, distribute literature and talk one-on-one with other voters – union and non-union – about the race.
For example, AFGE President J. David Cox asked each of his union members to participate, for Obama. His request is notable because AFGE, with a high proportion of law-enforcement-oriented personnel and military retirees, is plurality Republican.
"Romney really made it very clear that he really believes what he said, that 'I like to be able to fire people who provide services for me,'" Cox said in a video to members.
Other leaders painted similar pictures of stark choices between the two contenders – and the political philosophies they represent:
"Our families and livelihood are being questioned" by Romney and the corporate interests backing him and other anti-worker candidates and ballot schemes, Teamsters Local 14 Secretary-Treasurer Larry Griffith of Las Vegas wrote in the Southern California Teamster.
"I'm not a cheerleader for the president, but I am a realist," added Bernie Lunzer, president of The Newspaper Guild, explaining his own vote for Obama – even though the Guild, true to its values and constitution, abstained when its parent Communications Workers (CWA) endorsed Obama. "Electing Far-Right extremists who profess their hate for government is out of sync with American values," Lunzer added. "It's no way to run a country or fix an economy."
"Do we want more tax breaks for the wealthy?" CWA President Larry Cohen asked in CWA News, referring to Romney's stand for extending the Bush tax cuts for the rich. "Do we want to gut the safety net for millions? Or do we want an economic recovery in which we participate? And how do we get there?" He told an Oct. 18 conference call of activists: "There's a connection between bargaining fights and political action. Elections are about choices."
"In no way is this about Democrats versus Republicans," Seafarers President Michael Sacco explained in Seafarers Log. "We've always had friends on both sides of the aisle and we always will. But it so happens that this year, we've got a pro-labor incumbent running against someone who is openly anti-union…As we all know, every vote counts."
Like others, Cox said Obama was not perfect. But he contrasted the president's policies with Romney's. Indeed, GOP hostility to workers and the party's drive to destroy unions sometimes was more of a motivator for the union leaders than support for oft-wayward Democrats, Obama included. CWA's Cohen told his members in the conference call that Romney and the GOP "want to eliminate collective bargaining."
"I do not want to wake up on the morning of Nov. 7 with Romney in the White House and Congress in the hands of right wing lawmakers," Cox told his members. "That would be a disaster for AFGE and working families in general.
Cox cited Romney's infamous statement at a fancy Florida fundraiser about 47% of the country considering themselves "victims" and ready to seek government aid – and vote for Obama. Romney said he did not care about that half of the country.
People Romney slammed include seniors receiving Medicare and Social Security and veterans who served the U.S. and now need care for their wounds, said Cox. His union represents hundreds of thousands of federal workers serving those citizens.
"And with Paul Ryan as his running mate, Romney has made it clear he supports cutting 600,000 federal jobs," as Ryan advocated in the House GOP budget, Cox said. The federal government employs just over 2 million people.
John Wojcik contributed to this article.
Photo: AFSCME member talks to voters, via AFSCME Council 5.