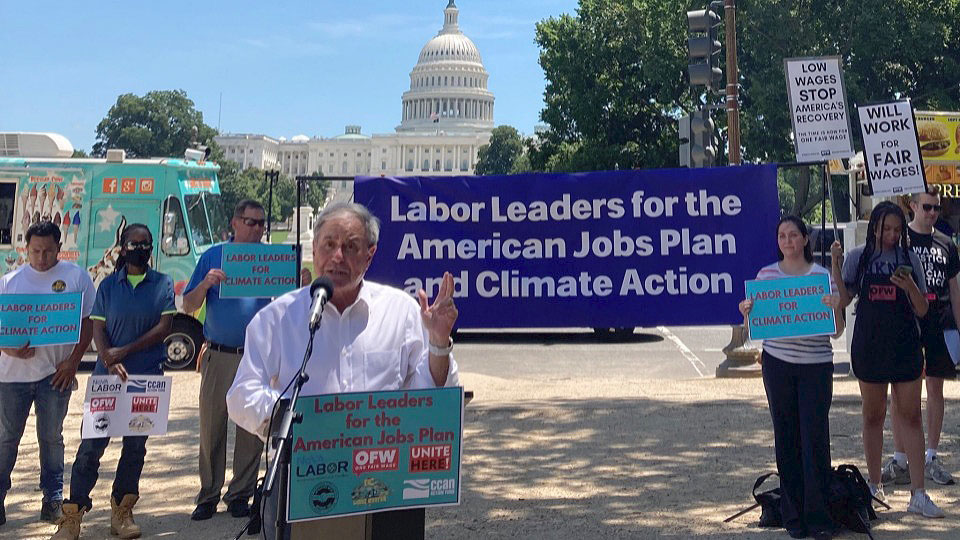 WASHINGTON—Even with Congress being out of town for its July 4 recess, union members and green groups united on June 29 to again push for a big-budget bill that would promote unionized "green" construction and fund "people programs," such as permanent child care tax credits and paid sick and family leave for all.
The unity, part of a massive nationwide campaign for Democratic President Joe Biden's American Jobs Plan and American Families Plan, manifested itself in a noon outdoor press conference in sweltering heat on June 29 within sight of their target: The U.S. Capitol.
That's the home of a balky Congress which right now seems hell-bent on passing a stripped-down version of the AJP and—thanks to rigid Senate Republican opposition and filibuster threats—doing nothing at all about the AFP.
The campaign will continue until the Senate finally comes around. But it'll take public pressure to force that outcome for the Families Plan, said one of three lawmakers to speak, House Budget Committee Chairman John Yarmuth, D-Ky.
Yarmuth's panel will handle the second non-traditional-infrastructure bill—including the Families Plan, the people projects, and taxes, if any to pay for the roads, bridges, subways, airports, and paid sick leave.
All of that would be rolled into a budget "reconciliation" bill, he told the crowd. But in a brief interview afterward, he told People's World both the total spending and the timetable for passing anything are "up in the air." And he added: "Don't believe any numbers you hear."
"But we're standing up for the future of our civilization," he warned in his talk, citing the looming threat of rapidly escalating climate change.
That leaves the Jobs Plan, which is much larger than the $974 billion five-year "compromise" Biden and a bipartisan group of senators agreed upon the week before.
"This forward-thinking piece of legislation puts Americans back to work in 2021, and its effects will last into the 22nd century," Electrical Workers (IBEW) Local 26 board member Tom Clark declared.
One particular piece of Biden's plan—building some 500,000 electric vehicle charging stations nationwide as part of the transition to a zero-net-emissions economy—will benefit both present and future IBEW members, he explained.
That's because current members can start on the construction and wiring work, but expansion, maintenance, and upkeep will be the job of union-trained apprentices—men and women "trained at no cost to the state"—in the future.
And they'll not only earn good union wages but men and women will, as in other union contracts, be under the same wage scale, thus reducing pay discrimination on the job.
And the Metro D.C. Central Labor Council's members "are sick of Congress listening to billionaires" who oppose the jobs plan, added David Stephen, the CLC's legislative director.
Added Josh Armstead, a Georgetown University food service worker and vice president of Unite Here Local 26: "At GU, we pressured (concessionaire) Aramark into a fair living wage of $15 an hour," which is still not enough for D.C. "It's a shame there are still millions of Americans who don't know how they're going to pay their bills," he added.
Biden's legislation—both the Jobs Plan and the Families Plan—would help them, he added.
"What do we need to do to serve the American people and not the 1%?" asked Yarmuth, who represents Louisville and its suburbs.
"What do we need to do to build a 21st-century economy, and not a 19th-century economy—looking forward as opposed to looking backwards to wagon train days?"
Other speakers and sponsors included One Fair Wage, the Amalgamated Transit Union, the Labor Network For Sustainability, and House Education and Labor Committee Chairman Bobby Scott, D-Va.
AFL-CIO President Richard Trumka took a different view. He's willing to accept the "compromise," as long as it has strong labor protections, such as mandated Davis-Bacon prevailing wages for construction workers.
"For too long, lip service has been paid to infrastructure without making the investments we need. It's time to build," Trumka declared in a statement.
"The bipartisan infrastructure framework…would be the single greatest infrastructure investment in history and has the potential to create good union jobs and middle-class opportunity. Investing in roads, bridges, transit, rail, climate change mitigation, electric vehicles, clean drinking water, high-speed internet, resilient transmission lines and more would make America a stronger, more competitive nation.
"The final legislation must ensure infrastructure jobs have full labor protections and nothing in the bill can be used as a backdoor to privatization," he added.
Then, after traditional infrastructure gets done, Congress must pass the Families Plan and the pro-worker Protect the Right to Organize (PRO) Act, he added.