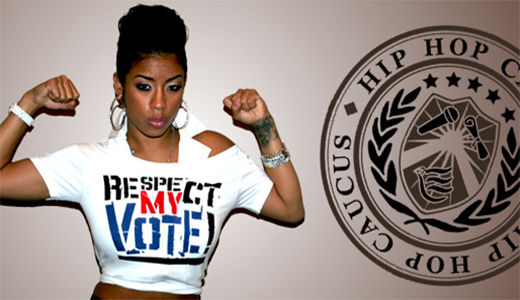 In the latest move to both bring a more diverse, younger generation into the labor movement and to build the youth vote in the upcoming midterm elections, American Rights at Work and Respect my Vote! 2010 have teamed up on a video and photo campaign.
According to Rev. Lennox Yearwood Jr., President of the Hip Hop Caucus, which is one of the groups behind Respect, the campaign will educate young people on the "importance of voting in every election to help shape public policies for our communities."
The video and associated photos show images of women in the labor and student movements, all of whom spend time discussing the role of labor, young people and the need to make progressive change, especially in the upcoming elections.
Millions of young people turned out to vote in 2008, energized by then Sen. Barack Obama's campaign for presidency. Nearly two-thirds of voters aged 18 to 23 were first timers. The problem, however, is sustaining a voting pattern. According to studies, a young person who votes in three consecutive elections is likely to become a lifelong, committed voter. In order to ensure that Obama voters become regular voters, organizers say it is therefore necessary to get as many as necessary to vote in the 2010 and 2012 elections.
"Now is the time," said Roxanne Brown, Assistant Legislative Director for the United Steelworkers of America. "We saw a significant shift with the campaign around President Obama. Young people in the country started to pay attention – more attention – to the issues that are important to them.
The Respect My Vote campaign is a project of The Hip Hop Caucus and The Source magazine. Caucus, with over 700,000 members nationwide, aims to "to foster civic engagement among young people of color on issues of social and economic justice, human rights, the environment, and international peace."
The Respect campaign, which was restarted after lying dormant since the 2008 elections, aims to educate, mobilize and register to vote people of color between the ages of 18 and 39. Most of those targeted live in urban areas or attend historically Black colleges.
In 2008, the campaign registered over 50,000 new voters, 32,000 of them on a single day.
"We had a great turnout for this past presidential election," said Rev. Yearwood, "but it's important to understand how vital it is to vote in the mid-term elections so Congress and state and local legislators continue to recognize our voice."
Engaging young voters is necessary, according to Respect's organizers, because the current generation "is larger and more progressive than preceding generations and will become nearly half (40 percent of the electorate) by the time they all reach the age to vote.
Further, African Americans and Latinos "represent the fastest growing population of Americans who turn out to vote but continue to overwhelmingly live in racially, economically and educationally disenfranchised communities."
The fact that this rising generation is more likely to be progressive and pro-labor is not lost on the labor movement and its allies.
"Young people have a vision of the world that we want," said Jobs with Justice's Sarita Gupta in the video.
"We look to work closer with young people, because young people believe in collective action, because that's what the labor movement is about, the ability for people to come together and work collectively," said AFL-CIO Executive Vice President Arlene Holt Baker.
Of course, the relationship between youth and labor is not a one-way street. The labor movement, argue student and youth leaders, is necessary to young people overall.
"If you look at why the labor movement is important, it's really about taking on globalization, taking on capitalism in a way that you can make a difference, said Neha Misra, of the AFL-CIO's Solidarity Center. "There was a time when our parents or their parents could work in a factory, middle class job, have two cars, a house, send their kids to school. People can't do that anymore."
The United States Student Association's Tiffany Lofton agreed, saying that young people "are in a huge crisis, a huge financial crisis, a huge jobs crisis, a huge education crisis."
According to Respect organizers, hip-hop is a particularly useful tool in mobilizing young voters. "The birth of hip-hop culture was a response to the very policies and practices that have sustained a persistent cycle of poverty in our communities over the past forty years," organizers said. "The hip-hop community can speak to these policies and practices from a position of expertise and an understanding of the profound urgency for change."
Photo: hiphopcaucus.org.