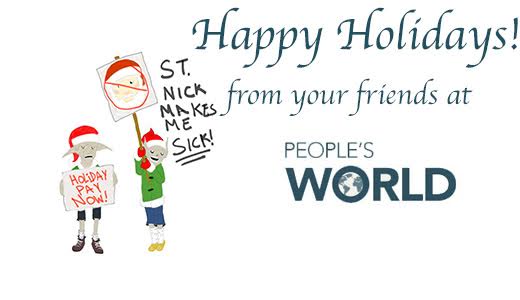 NORTH POLE – Early Friday morning, the International Committee of Industrial Christmas Laborers- Elven (ICICLE), the union that represents the 10,000+ elves who work year around producing the world's Christmas toys, warned management at Santa's Worshop that continued delays in contract negotiations could warrant a strike vote as soon as Monday, December 21.
"Our contract has been expired since 1917 and that, Mr. Claus, is an outrage. Since then, elven families like my own have been sustaining themselves on simply inadequate amounts of cookies and candy canes," said President of ICICLE Brandybutter McCumberbund.
These threats come after a landmark election last Spring that saw incumbent ICICLE president Noel Snowfir and his regime voted out of office and the rise of a new slate of progressive leadership inspired by global labor movements such as Fight for $15. During the bitter election, McCumberbund described Snowfir's leadership as "accommodationist" and "overly friendly" with Santa's management. Snowfir did not respond to requests for comment during the negotiations and has since retired to Boca Raton, Florida.
"This is a new day here in the North Pole. No longer will we settle for the technologies and working conditions of last century," said Ms. McCumberbund to a sea of red pointy hats. AFL-CI-E-I-O President Merry Sugarwine was on hand to express solidarity, as was head of the Reindeer Union, Rudolph.
She spoke to People's World about the need to modernize saying, "I don't remember the last time I saw a request for a wooden train set in a kid's Christmas list and yet our quota, per-year, is 2 million wooden train sets. Meanwhile, 4 elves die each year from splinter-related complications. It's no ho-ho-ho'ing matter".
ICICLE's environmental caucus spoke out about the need to move away from the punitive use of coal citing the fact that Santa's Workshop is the world's 5th largest buyer of coal on the planet.
"The way we see it, there are two possible solutions," said environmental caucus leader Toadstool Scarletpudding, "One: greatly reduce the amount of children judged as naughty by de-naughtifying classist 'offenses' such as the shoplifting of candy bars, or two: reduce the amount of coal allocated to each naughty child by 80 percent immediately."
The current, expired contract contains no environmental considerations.
The general mood of the rally could be described as cheerful in the face of opposition. Santa's Workshop sent out a press-release shortly after the event from its Manhattan office stating, among other things, that "Santa's Workshop management intends to comply with all relevant labor laws" and "feels sorry" that the elves have "escalated the rhetoric to this level so close to Christmas".
McCumberbund dismissed the release as "more of the same", adding "if Santa was worried about rhetoric, he would have sleighed his jolly ass up here nearly a Century ago, sat at the table, and got this thing done."
People's World will bring you coverage of this story as it develops.
Photo: Vicki Ortiz