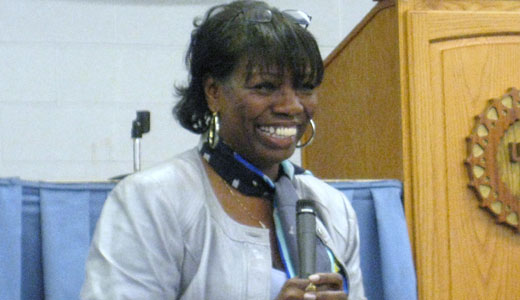 DETROIT – "An outstanding and phenomenal woman," noted Metro Detroit Coalition of Labor Union Women (CLUW) President Millie Hall about Metro Detroit AFL-CIO President Saundra Williams. CLUW's Women's History Month honored Williams in mid-March just after she retired.
The CLUW affair March allowed Williams' many friends to bestow her with awards that poured forth from members of Congress, local elected officials, the city of Detroit, and many unions. However it was her modest response to those accolades that made her special in the eyes of all who came. She asked the whole room to stand and be recognized saying "My main mission has been to boost the labor movement forward, and all of you have helped me do that."
Heartfelt words – and a few tears – came from Tanise Hill, Williams Executive Assistant who echoed why Williams is loved. "Even though I've been a union member for quite awhile, I didn't know the meaning of solidarity until I started working for Saundra. She has been good to me; she has been good to the labor movement," said Hill.
Williams, the first female President of the Labor Council and an African American, said the labor movement has come a long way from the early years when even black men weren't welcome. "The fact that now African Americans and women are not only welcome but can actually hold offices that allow us to be something more than tokens, is significant in reference to the strides the movement has made."
She also thinks there is "something special in the way women conduct their business". By that she meant an attention to detail, promotion of inclusiveness, and "a more fun and often a kinder more gentle way of getting the work done."
But don't interpret that "kinder gentler" way as being weak. Incoming President Chris Michalakis said Williams has always taken tough positions. "We were the first Central Labor Council in the country to stand up for immigrant rights." He also noted she wasn't afraid to stand up to Governor Snyder by calling for his recall, and as the coordinator of Detroit's Labor Day parade program featuring President Obama, she even clashed with the White House and a few unions by saying Detroit's Mayor Dave Bing, who had just eliminated dues collection for public unions, wasn't welcome to join the Labor Day parade.
That last incident was one of her most difficult, as a number of unions and others pressured her to relent. But her strong convictions triumphed. "I am a firm believer that an injury to one is an injury to all and felt that all the unions should have stood together against this horrible form of union busting."
As many speakers noted wherever there was any injustice, Saundra was ready to join the picket line and announce the support of the labor council.
She said she was particularly touched by issues of wage theft and the violations of anyone's rights, whether they are union members or not. Those convictions led her to be an early supporter of a campaign for justice and dignity by local restaurant workers.
"I truly believe we must support people, not just working people; not just middle class people, and not just unionized workers." She added, "We cannot beat the opposition alone. The issues I care about that impact union folks, also impact people in general."
So how does Michalakis expect to replace the outgoing president? "I want to start by stating the obvious, I've got some big shoes to fill – luckily I've got big feet," he said.
Editor's Note: This story is based on reporting from the CLUW Women's History Month event and a subsequent interview with Saundra Williams.
Photo: John Rummel/PW