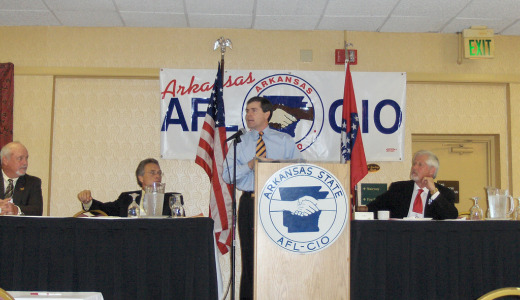 ORLANDO, Fla. – The labor movement will put "everything we've got" into a primary election challenge this year against Arkansas Sen. Blanche Lincoln, a Blue Dog Democrat, an AFL-CIO official indicated unofficially this morning. The labor official described Lincoln as "just terrible for working people."
The official said the "full resources of the labor movement will be used to back a primary challenge against her by Bill Halter, the state's lieutenant governor." The official announcement of the decision to mount a labor-backed drive to unseat Lincoln could come as early as tomorrow.
The move signifies that the federation is making good on repeated vows by its leaders that all elected officials, Democrats included, will be judged against new and tougher standards set by the labor movement.
Lincoln, who has had labor support in the past, has betrayed that support, union officials say, by working against passage of the Employee Free Choice Act, stalling on health care reform and backing a Republican filibuster against President Obama's pro-labor appointments to the National Labor Relations Board.
In a separate interview this morning, the AFL-CIO's political director, Karen Ackerman, said, "Yhe political environment is a difficult one for working people. When it comes to the elections this year, labor will use what candidates and elected officials are doing about job creation as the ultimate guide to where our support will go."
Although she would not confirm a plan to dump Lincoln, she said Lincoln had "backtracked on the EFCA, would not support the public health care option and voted with Republicans on the NLRB."
Ackerman said the recent election of Scott Brown, a Republican, to fill the Senate seat in Massachusetts that was held by Edward Kennedy, should not be taken as a sign that workers are becoming more conservative.
"Workers are angry about the state of the economy and they want to know why things are taking so long to fix. They were not happy about plans to tax their health benefits and took this out on the Democrats," she said.
Ackerman said the labor movement needs, in addition to a good candidate, six weeks or so to move its grassroots electoral operation in a state into action, and when Martha Coakley, the Democratic candidate in Massachusetts, fell behind in the polls there "just wasn't enough time."
Ackerman also noted that the election in the Bay State showed why candidates should not waver in their commitments to working people. "Voters have to see that by supporting a candidate or a party their interests are being protected and they will not see this when the elected official or the candidate is not doing this."
Photo: Arkansas Lt. Gov. Bill Halter addresses a state labor meeting in 2009. http://www.flickr.com/photos/labor2008/ / CC BY 2.0