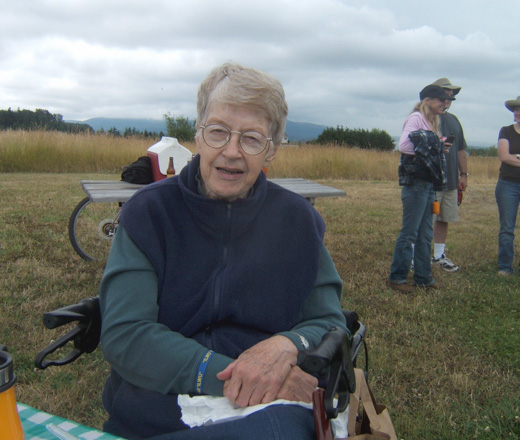 SEATTLE – Lonnie Nelson, a fighter for union rights, equality, peace and socialism died in her sleep at Swedish Hospital here Feb. 12.
She was 83 years old and was active in the people's movements and in her Communist Party club until stricken by a stroke a few days earlier.
Frailty did not keep her from attending the Martin Luther King Jr. celebration at Garfield High School this past Jan. 20 along with other members of her Seattle party club.
Nelson's family and fellow activists gathered at her bedside just hours before she passed away. Joyce Wheeler held her hand and began singing union songs. Others joined in. When they sang "Solidarity Forever," Nelson, apparently unconscious squeezed Wheeler's hand.
On watch were Nelson's four children and one of her six grandchildren. Also present were the Rev. Harriett Walden, founder of Seattle Mothers for Police Accountability (MFPA), and Jonathan Rosenblum, an organizer for the Service Employees International Union (SEIU) assigned to the SeaTac $15 minimum wage approved by voters last November. Lonnie had been a member of SEIU Local 6 since 1985.
"I met Lonnie 32 years ago at Seattle Central Community College where we were both students," Rev. Walden wrote on her Facebook page. "I worked as liaison with the Black Student Union. Lonnie came to my office and wanted BSU to sponsor a program to honor the life and work of Paul Robeson. This was the beginning of a lifetime of working with Lonnie."
MFPA has for 16 years sponsored an annual event honoring activists for their efforts in support of human rights in memory of Robeson.
Lonnie Nelson was born in Seattle Aug. 20, 1932, and named Madelon Sue by her parents Alma Viola Nickerson Nelson and Burt Gale Nelson. Her father was a founding member of the International Longshore and Warehouse Union and a leader of the Communist Party of Washington State.
In high school in 1948 she organized Young Progressives and was active in the Progressive Party campaign of Henry Wallace. She was a poet from her earliest years and four volumes of her verse were published: "What Keeps Us Going On?" "Roots and Circumstances," "A Special Collection" and "Our Hidden Monument."
She joined the Communist Party in 1951 at a time when CP members, including her father, were being blacklisted and harassed by the FBI.
She gathered signatures on the Stockholm Peace Appeal in the 1950s when Cold War elements were itching for war against the Soviet Union or China. That commitment to world peace continued in the years of solidarity with Cuba and Vietnam when she helped mobilize peace protests.
She was especially proud of a trip she took to Spain where veterans of the Abraham Lincoln Brigade, including her uncle, were honored as fighters against Franco fascism.
Nelson served as chairperson of a petition campaign against the McCarthy-era loyalty oath, which in 1972 presented 10,000 signatures to the state attorney general in Olympia. Later, she served on a committee defending the Black Panther Party.
An admirer of the Native American Indian people, she joined in the campaign to win restoration of the tribes' fishing rights. She befriended many of the Native American Indians in that struggle, working closely with Maiselle Bridges, a leader of the Nisqually tribe. Victory was won when Judge George Boldt handed down his landmark ruling 40 years ago that the tribes were entitled to half the salmon catch.
Her love of the Indian peoples and their struggles led her to join the "Trail of Broken Treaties" to Washington, D.C., in 1972, when the American Indian Movement occupied the Bureau of Indian Affairs headquarters. She helped raise funds for the legal defense of the occupiers. She knew Hank Adams and other Native American Indian leaders personally and interviewed them for articles in the Daily World during that sit-in.
Lonnie Nelson's first love was always the labor movement. During her working years, she was employed at a day care center at Providence Hospital for nearly six years. She worked to organize the workers into SEIU Local 6. She helped establish the Seattle branch of the Coalition of Labor Union Women (CLUW), heading up the CLUW Public Works Jobs Committee.
She was arrested three times for civil disobedience: during the Indian fishing rights struggle, against South African apartheid, and in the mid-1990s against Republican Newt Gingrich's "Contract on America" Medicare cuts.
In one brief 2009 poem titled "To All of You" she wrote:
My love for each of you
is there in my work,
some named and some not….
My life has been satisfying,
exciting and rich.
Even with difficulties
everyone has to survive.
Buy lots of wine, good cheese, sparkling
cider and cake.
Rent the Labor Temple for
music, poetry and friendship.
Invite all my friends to
celebrate our travels together
and the road you have ahead.
Lonnie Nelson asked that donations in her memory be sent to Mothers for Police Accountability and to the People's World.
Photo: Lonnie Nelson, via Tim Wheeler