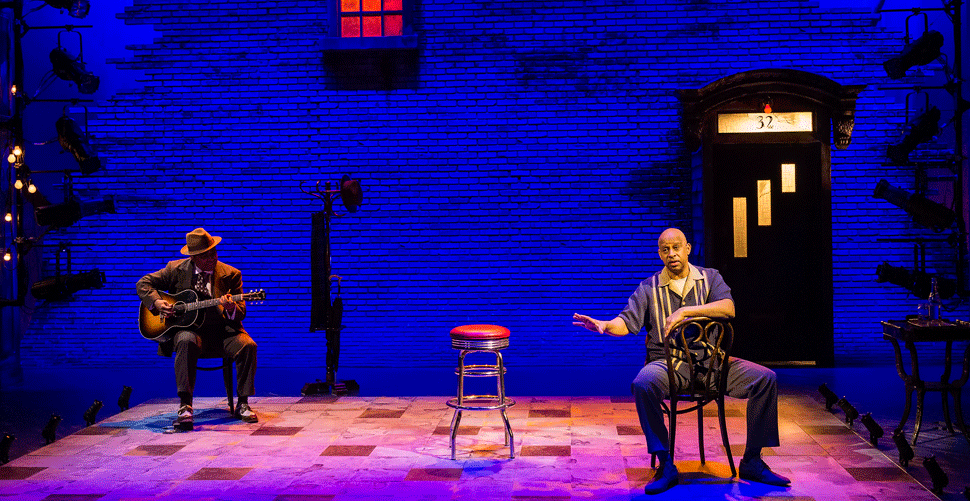 LOS ANGELES—Maybe juggling plates on roller skates while playing the "Flight of the Bumblebee" on the saxophone is one thing Tony Award winner Ruben Santiago-Hudson cannot do—though I wouldn't put it past him!
But he can do just about everything else.
His current reprise of Lackawanna Blues (seen March 13), the one-actor one-acter that he first unveiled in April 2001 at the Joseph Papp Public Theater/New York Shakespeare Festival, is currently on the boards at the Mark Taper Forum and it will blow you away. In 2005, the author adapted his play as a well received HBO miniseries which won major awards for its star, S. Epatha Merkerson, and several other honors, including Emmy, Golden Globe, Humanitas, National Board of Review and Christopher Awards.
It's actually a two-person show. RSH is joined onstage with live music performed by Grammy-winning blues guitarist, composer and actor Chris Thomas King. The original score was composed by the late Bill Sims Jr. (1949-2019), to whose memory the show is dedicated, with additional music composed by King. (Sims had been announced to join RSH on this show as recently as December 2018.) The two men work in delicate counterpoint throughout the all-too-short 90-minute duration, with the occasional vocal solo by King, soft singing underneath the actor's words, frequent guitar interludes and some guitar duets with RSH playing one of the meanest, down-homiest, soulful harmonicas you have ever heard in your life. If his mellifluous speaking voice ever gave out, they could go on tour purely as a musical act.
Ruben Santiago-Hudson (born 1956) not only wrote Lackawanna Blues, as an almost dream-like recreation of his late 1950s and early 1960s childhood in this New York State industrial town just south of Buffalo on the shores of Lake Erie. He also performs it and he self-directed.
He grew up with a mixed Puerto Rican and African-American identity. In the play one of the characters he summons, an aging former Negro League baseball player, relates that during a time of widespread segregation (yes, even in the North), he was often viewed as being Hispanic and was admitted to places where as an African-American he might have been refused. That way of viewing society from an outsider stance undoubtedly reflects something of the playwright's own experience.
RSH has a long and distinguished history in the theatre, with credits this long. But if there is any one name with which he is indelibly associated, it is that of African-American playwright August Wilson (1945-2005), whose cycle of ten "Pittsburgh" plays depicting African-American life there over the course of ten decades of the 20th century has been a foundational part of RSH's career. He has played roles in several of the plays, and also directed many on stage. He served as artistic director of a WNYC recording of all ten plays. He knows Wilson's oeuvre intimately.
Given that background, it is not hard to discern Wilson's influence on RSH's own writing. Wilson is famous for his characteristic monologues that sparkle in all of his plays, giving his actors the chance to shine in brilliant solo moments as both character exposition and as a lyrical pause in the forward movement.
In fact, the eighth annual Los Angeles Regional Finals of the nationwide August Wilson Monologue Competition took place on this very stage on Mon., March 11, two nights before Lackawanna's opening night, with the stage set already in place. Twelve high school students give impassioned performances of eleven of these monologues (one was performed by two different young actors), and two performers, plus an alternate, are being sent to the New York national finals.
Lackawanna Blues could be described as one long monologue recalling the mostly African-American community he grew up in. Many of his two dozen characters that he impersonates had moved up from Virginia and other places in the South to take good jobs (union jobs for the most part, though the playwright doesn't mention this) in steel and ironmaking. He observes that in wintertime, the snow was always dusted with silver flecks from the steelworks or a film of orange rust from the iron. Michael Carnahan's scenic design is framed by a large unit recalling the famous "iron lady" architectural style popular in the 1880s and '90s when it became a common building material.
Others of RSH's memorable figures include a psychiatric patient, street hustlers, battered women and their tough-guy husbands and lovers, gamblers, drifters and grifters, quasi-pornographic dance couples, offbeat philosophers, migrant workers and pathetic lost souls, all revolving in and out of Miss Rachel's boardinghouse where he grew up. People called her Nanny, mother of the whole community. You can almost inhale the aromas of the rich soul cooking emanating from Nanny's kitchen. She believed delicious comforting food could heal a lot of the world's problems. "Nanny was like the government if it really worked," RSH says to a knowing audience recognition.
It was a thriving era in Lackawanna with plenty of good jobs in "fertile times." "Money would find you," RSH remembers of those Eisenhower and JFK years.
But for real local color, there's nothing like poking around the underbelly of the working class—these uneducated, out-of-work misfits, maladroits and war veterans, some of them with missing limbs and others with streams of pretense or amusing malapropisms flowing from their lips—for heart-grabbing stories. The author's powers of observation, recollection and storytelling, not to mention acting, singing and musicality, are prodigious, magical and virtuosistic. We don't even miss these other people on the stage: They're there, as he distinctly and believably portrays ancient survivors and young children, both men and women, even a few animals, slipping easily from one to the next through gait, voice, gesture, and vivid vernacular vocabulary. In several scenes—a conversation, a hit dance called "The Dog" or a brutal fight—he plays both parts.
Even when he pauses to recall just the nicknames of the people in the hood that he remembered, his recitation is like a sonnet of folk poetry.
If the play is mostly a loving tribute to the strong, saintly Nanny, other characters show the collective resilience and mutuality, alongside the frailty, of a community in both good times and bad. There's not much of a through-line in the evening, except that the narrator grows into young adulthood and Nanny gets old and sick and then passes away. You just want these marvelous stories about ordinary unsung people, and that warm blue music and that mellow harmonica and those sweet sad songs to keep on coming at you.
It's a thrilling piece of documentary theatrical memoir, a record and eulogy to a time and place we'll never see again. In 2014, the native-born artist opened the Ruben Santiago-Hudson Fine Arts Learning Center in Lackawanna. Well done, Mr. Ruben Santiago-Hudson, well done.
Lackawanna Blues runs through April 21, with performances Tues.-Fri. at 8 pm, Sat. at 2:30 and 8 pm, and Sun. at 1 pm, with some exceptions: Added 6:30 pm Sun. performances in lieu of a 1 pm performance on April 14 and 21; no public performances March 19-22; and no 8 pm performance on April 16. The 736-seat Mark Taper Forum is located at the Music Center, 135 N. Grand Ave. in downtown L.A. 90012. Tickets are available online at CenterTheatreGroup.org, by calling (213) 628-2772, or in person at the Box Office located at the Ahmanson Theatre at the Music Center.