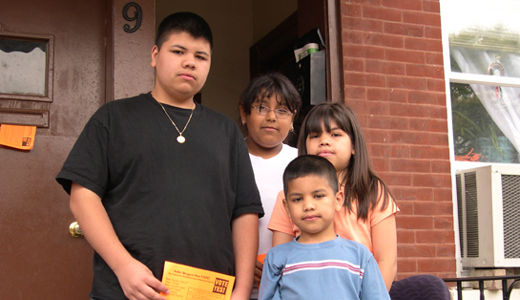 Latino children and families who lost their homes due to foreclosure suffer long-term psychological and social trauma, according to a new report.
The study, "The Foreclosure Generation: The Long Term Impact of the Housing Crisis on Latino Children and Families," was issued by the National Council of La Raza and the University of North Carolina at Chapel Hill's Center for Community Capital.
The authors note that home equity is the foundation for Latinos and all Americans to build a successful future. Instead too many are becoming a part of a foreclosure generation and children are suffering the brunt of the crisis.
Multiple moves, marital discord, anxiety, depression, children's poor performance in school, and loss of family savings and financial safety net as a result of foreclosures are major concerns.
"An estimated 1.3 million Latino families will lose their homes to foreclosures between 2009 and 2012," said Janet Murguia, NCLR president and CEO. "This represents a shocking loss of wealth and a major blow to community stability. This study brings to light the human and social costs of foreclosure and the urgent need for stronger government intervention to help homeowners, including those who are unemployed."
The report documents the experiences of 25 families that lost their homes to foreclosure. Community-based organizations throughout the country conducted the interviews. Many families had exhausted all available resources trying to save their homes. Many were unable to secure assistance from their mortgage servicer, and often relied on relatives and friends for shelter and help.
Key findings in the report include:
* Job loss and jumps in mortgage payments were the most common triggers that led to default and foreclosure. Families interviewed reported an average loss of $89,155 due to foreclosure. The loss forced parents to curb plans to help their children pay for life expenses, such as college tuition, buying a car, or a home.
* Despite seeking help to avoid foreclosure, none of the families interviewed were offered a sustainable payment plan or loan modification by their financial institutions.
* More than half of the families said their children had academic or behavioral problems in school and had trouble getting along with siblings and making new friends.
* All but one family were left without reserves that they could tap into in case of a financial emergency and many neglected needed medical care to save money.
Almost 8 million homeowners in the U.S. are behind in their mortgage payments and an estimated 400,000 Latino families were expected to lose their homes to foreclosure in 2009 alone.
The report lays out specific policy recommendations. It says unemployed homeowners need immediate relief; qualified families need opportunities to purchase newly affordable homes; and stronger consumer protections and accountability standards should be implemented to prevent a future crisis.
Everyone is affected by foreclosures, not just Latinos, the housing rights advocates note. They're urging Congress and the Obama administration to take bold steps to remedy the situation including enacting a major jobs program.
The full report is available at the NCLR web site.
Photo by Pepe Lozano/PW