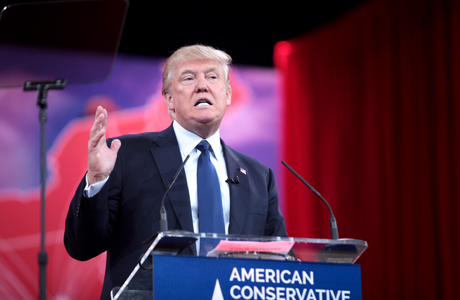 WASHINGTON – The National Hispanic Leadership Agenda (NHLA), a coalition of 39 of the nation's preeminent Latino advocacy organizations, released the following statement applauding the entertainment division of Univision Communications for ending its business relationship with the Miss Universe Organization -which is partly owned by Donald Trump, a contender for the Republican Party's presidential nomination- over his repugnant comments regarding Mexican immigrants and, by extension, Mexican-Americans. NHLA also calls on NBCUniversal (NBCU) to follow Univision's lead and both withdraw from airing the Miss U.S.A. pageant and terminate its financial ties to Donald Trump.
"Aspirants to the highest office in the land must not use a national electoral platform to spew venomous speech about Mexican immigrants and Mexican-Americans," said Hector Sanchez, Chair of NHLA and Executive Director of the Labor Council for Latin American Advancement. "As a Mexican immigrant to this country, I can personally attest to the falsity of Donald Trump's statements."
"Univision Communications' courageous action to sever ties with both the Miss USA and Miss Universe Pageants-which are partly owned by Donald Trump-is civil rights leadership in the digital age," Sanchez declared, adding, "We implore NBCU to follow Univision's lead and take a similar stance and sever their financial relationship with Mr. Trump, in light of the bigoted way he has denigrated Mexicans and Mexican-Americans.
"Trump's arrogance has never been questioned, but his disgusting views on Latinos and Mexicans in particular will forever mark him as the arrogant bigot that he is," said Alex Nogales, President and CEO, National Hispanic Media Coalition. "Our country deserves much more from its Presidential candidates."
On June 16 Trump announced his candidacy for the Republican presidential nomination. During Trump's announcement speech, he said, "When Mexico sends its people, they're not sending their best. They're sending people that have lots of problems, and they're bringing those problems with them. They're bringing drugs. They're bringing crime. They're rapists." Trump also proposed erecting a big "wall" along our Southern Border, to be paid for by Mexico.
The Miss USA Pageant is scheduled for a July 12, 2015, broadcast on NBCU from Baton Rouge River Center in Baton Rouge, Louisiana. Nia Sanchez of Nevada, the reigning Miss USA, will crown her successor at the end of the event. Ms. Sanchez, who is from California, is of Mexican descent.
Photo: Donald Trump by Gage Skidmore 3. Licensed under CC BY-SA 3.0 via Wikimedia Commons.
UPDATE: AP Television Writer, David Bauder, reports: "NBC said Monday it is ending its business relationship with mogul and GOP presidential candidate Donald Trump because of comments he made about Mexican immigrants during the announcement of his campaign."