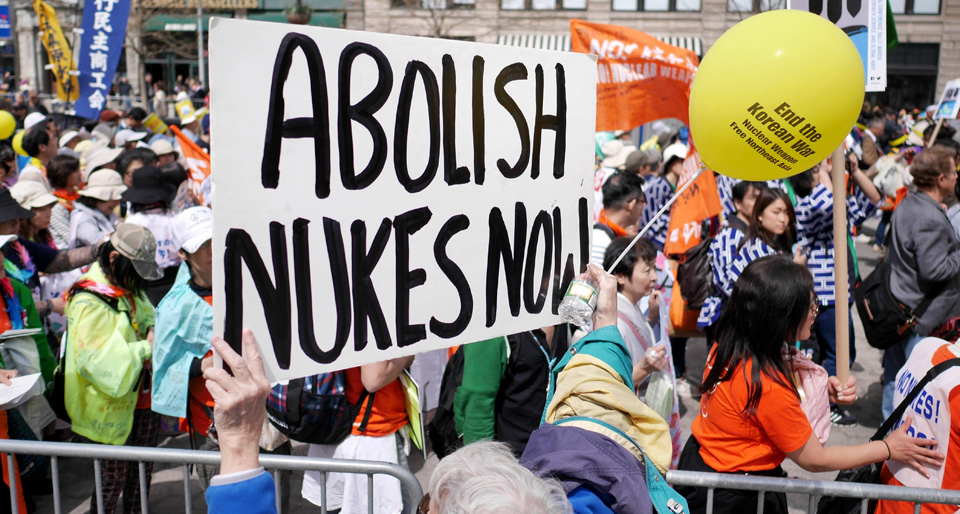 NEW YORK – Lawmakers around the country and the Working Families Party, a group that's particularly active here in New York, Oregon and half a dozen other states, is citing GOP President Donald Trump's bellicose threats against North Korea to push legislative restrictions on U.S. first use of nuclear weapons. The WFP wants people to sign a petition demanding lawmakers pass the measure, introduced earlier this year by Sen. Ed Markey, D-Mass., and Rep. Ted Lieu, D-Calif.
"The threat posed by Donald Trump's presidency just got much, much scarier," party chairman Dan Cantor said. The president's "reckless, ad-libbed threat to a nuclear-armed North Korea has put the entire world on edge.
"North Korea has responded by threatening to fire missiles towards Guam, and escalating tensions are making the idea of the unthinkable happening suddenly realer than it has been in decades.
"And STILL, most Republicans in Congress are standing silently by, empowering Trump to say and do whatever he pleases. Congress has a duty not just to our country but to the world to rein in this reckless, erratic president."
The petition asks lawmakers to step in and give themselves power to veto Trump's march towards "an unthinkable global catastrophe," Cantor said.
Trump has spewed out anti-Korean statements and tweets even before he was elected. But they have intensified since one intelligence agency, the Defense Intelligence Agency, issued an unsubstantiated report last Tuesday that North Korea could fit miniature nuclear warheads onto its missiles.
Trump's nuke-use threats even before he entered the Oval Office –- he threatened ISIS — were so reckless that Markey and Lieu introduced their Restricting First Use of Nuclear Weapons Act, HR669 and S200 on January 24, four days after Inauguration Day.
"Congress must act to preserve global stability by restricting the circumstances under which the U.S. would be the first nation to use a nuclear weapon," Lieu said then. "Our Founders created a system of checks and balances, and it is essential for that standard to be applied to the potentially civilization-ending threat of nuclear war."
"Nuclear war poses the gravest risk to human survival," Markey added. "By maintaining the option of using nuclear weapons first in a conflict, U.S. policy provides" Trump "with that power. In a crisis with another nuclear-armed country, this policy drastically increases the risk of unintended nuclear escalation.
"Neither President Trump, nor any other president, should be allowed to use nuclear weapons except in response to a nuclear attack. By restricting the first use of nuclear weapons, this legislation enshrines that simple principle into law," Markey said.
The legislation against first use of nuclear weapons also has support from several peace groups, the Quakers and former Obama Administration Defense Secretary William Perry.
And 60 lawmakers, marshalled by Rep. John Conyers, D-Mich., a Korean War veteran, sent an urgent letter on August 10 to Secretary of State Rex Tillerson, supporting his direct-negotiations approach and urging him to rein Trump in.
Signers included Rep. Barbara Lee, D-Calif., the sole U.S. House foe of GOP President George W. Bush's war in Iraq, and Rep. Madeline Bordallo, D-Guam, the territory's non-voting U.S. House delegate.
"As a veteran of the Korean War, I am ashamed that our commander-in-chief is conducting himself in a reckless manner that endangers our troops stationed in Korea and our regional allies.  Trump must immediately cease talk of pre-emptive war — which must be authorized by Congress — and commit to the diplomatic path advocated by both American experts and the South Korean government,"  Conyers said.
"President Trump's belligerent rhetoric is dangerous. Instead of saber-rattling, this administration should pursue direct talks with North Korea to de-escalate tensions," Lee added.  Bordallo called a peaceful solution "imperative."
Trump's talk "led to North Korea directly threatening nearly 168,000 American citizens living in my home district of Guam," she added. "While I have great confidence in our military's capabilities in the Pacific and appreciate that the Defense Department deployed proven missile defense systems in the region…President Trump must show steady leadership to prevent further escalating tensions."
"I never confronted a situation, or could even imagine a situation, in which I would recommend the President make a first strike with nuclear weapons — understanding that such an action, whatever the provocation, would likely bring about the end of civilization," Perry said in backing their bill.
"The legislation proposed by Rep. Lieu and Sen. Markey recognizes that terrible reality. Certainly a decision that momentous for all of civilization should have the kind of checks and balances on executive powers called for by our Constitution."
"As president, Trump currently has unilateral and unchecked authority to order an unprovoked use of nuclear weapons. No cabinet member, no advisor, and no military official can stop him from doing so. But (House Speaker) Paul Ryan, (Senate Majority Leader) Mitch McConnell, and other Republicans in Congress have the power to rein him in," Cantor said.