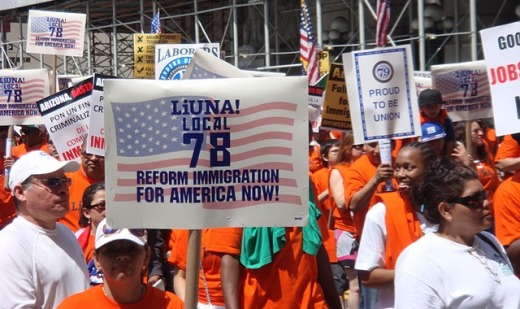 Representative Luis Gutierrez, D-Ill., called for the Obama administration to take a new approach to the deportation of undocumented immigrants, including the parents of minor children with undocumented parents and undocumented youth who would qualify for the DREAM Act.
In a Capitol Hill press conference, Gutierrez outlined a plan to push for the use of administrative adjustments to stop the deportation of these categories of immigrants. Flanked by colleagues, including Reps. Raul Grijalva, D-Ariz., Jan Schakowsky, D-Ill., Keith Ellison, D-Minn., and California Democrats Mike Honda and Judy Chu, as well as immigrant rights advocates, these participants signed on to the "Change Takes Courage" program organized by the Fair Immigration Reform Movement.
During the last Congress, the Democratic congressional leadership and the White House did not push comprehensive immigration reform, instead opted for a push to pass the DREAM Act, a bill that would have legalized many undocumented youth willing to attend college or serve in the military. But the measure failed in the Senate.
The majority gained by the Republican Party in the House of Representatives in the November 2010 elections, and the GOP's evident disposition to keep up demagogic anti-immigration attacks through the 2012 elections, seem to doom any legislative efforts on comprehensive immigration reform, and even make more modest legislative packages like DREAM very difficult.
Meanwhile, Homeland Security Secretary Janet Napolitano has been promoting Secure Communities and 287 g, federal programs that encourage the cooperation of local, county and state police with federal immigration enforcement activities. The use of E-Verify and the prosecution of employers of undocumented immigrants have also increased.
Napolitano and the head of Immigration and Customs Enforcement, John Morton, told congressional hearings the Obama administration has been deporting a "record number" of people, nearly 400,000 last year.
Although they claim their focus is on immigrants convicted of crimes, rights organizations charge many of the people swept up and deported as a result of enforcement actions have never been convicted of a crime. Cracking down on employers is of no help to undocumented immigrant workers, as it just leaves them unemployed and forces them to work for even lower wages, they say.
More recently, President Obama and Secretary Napolitano told DREAM Act youth that, even though the government is focusing on criminal aliens, there was no way the government can protect them from deportation if they are caught, and that their focus should be on getting Congress to pass the DREAM Act.
However, last summer someone leaked an internal Homeland Security memo from high level officials of the U.S. Citizenship and Immigration Services to Alejandro N. Mayorkas, the agency's director. The memo, surfaced by the right-wing National Review, pointed out to Mayorkas a whole series of perfectly legal administrative actions that could be taken to defer or cancel deportation of various categories of people.
The leaked "Mayorkas Memo" caused the predictable apoplectic reaction from the anti-immigrant right wing.
Immigrant rights activists, however, have been intrigued by it. In particular, they have latched onto its suggestion that immigrants subject to deportation could be given "parole-in-place" on the basis of the administration ruling that their deportation would cause severe hardship to someone. This would allow them to stay and work in the country for the time being.
It would appear that such an approach might be used to help potential DREAM Act youth, as well as minor children of undocumented adults facing deportation, depending on how "severe hardship" is defined by the government, which seems to have leeway.
The "Mayorkas Memorandum" suggests six other means by which immigrants facing deportation could catch a break. For example, the government could facilitate the transition of people covered by "Temporary Protected Status" to full legal residence, which would help many Haitians and Central Americans.
Even if all seven recommendations in the memorandum were implemented, not all of the 11 million undocumented immigrants in the country would be covered. But several million would be able to stay in the country at least for a while, buying them time while a legislative solution is pursued.
Congressman Gutierrez and his allies in and out of Congress are going to organize a national tour in support of the "Change Takes Courage" demands. The tour, announced at Gutierrez's March 31 press conference, involves rallies in 20 cities around the country building up to a meeting with President Obama.
The congresspersons and activists are also asking that the government suspend implementation of the 287 g and Secure Communities programs, which facilitate participation of local and state police in immigration enforcement activities.
Photo: Labor unions and immigrant rights groups march on May Day in New York City, May 1, 2010. (Libero Della Piana/PW)