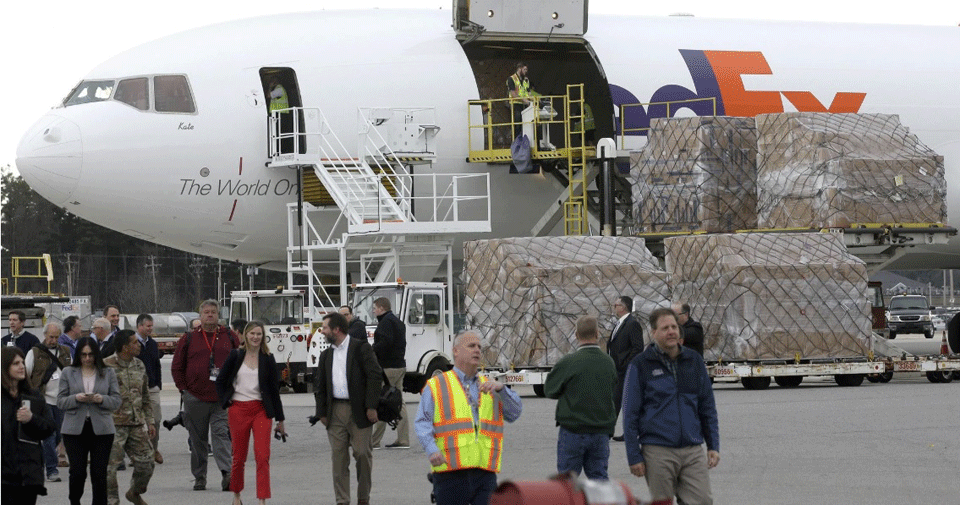 WASHINGTON—Red states are getting protective masks to help protect people against the coronavirus. Blue states are getting their masks seized or diverted.
Two Republican senators in tough re-election races got to take credit for the masks; Democratic governors got stiffed. And a Massachusetts hospital chain exec was met at the airport by FBI agents threatening to seize masks headed for his hospitals until he convinced the duo his hospitals and his workers really needed them.
This "red state, yes, blue state, no," pattern for protective personal equipment (PPE) to fight the coronavirus pandemic riles two top House Democrats, who demand GOP President Donald Trump and his agencies stop playing politics about saving people during the disaster.
Political preferment surrounding the PPEs is just one of countless scandals surrounding Trump's response to the pandemic, which has killed 72,225 people nationwide as of 8:30 am on May 6. Some 2.2 million have been infected so far.
Other scandals include large firms and chains grabbing up federal grants meant for small businesses to keep alive and keep their workers on the payroll – rather than send them to unemployment lines – and short-staffing and system crashes in overburdened state jobless benefits agencies. Corporations that have received funds to keep workers on payroll have been laying off workers and buying back stock instead. And in past disasters, FEMA could even, with a presidential OK, hand out money to poor families to pay for funerals of lost loved ones, but Trump's denied that so far.
Besides those examples, airlines are already cutting workers' hours and pay and planning to fire thousands after Sept. 30 despite specific grants from the $2.2 trillion economic rescue legislation conditioned on the carriers keeping their workers on the job, with no reductions in pay or benefits.
And that's not even counting the original and widely documented scandal around Trump's denial of responsibility and his refusal to listen to scientific warnings about the coronavirus pandemic. Those include specific warnings in December and January about the coronavirus's threat and cautions from top specialists three years ago that the U.S. should prepare to battle another pandemic, after fighting off Ebola, SARS, and MERS. It also doesn't count his bogus "cures," including having doctors explore the efficacy of ingesting bleach.
The political favoritism, documented in several recent and long investigative stories by NBC and others, prompted House Transportation Committee Chairman Peter DeFazio, D-Ore., and Emergency Management Subcommittee Chairwoman Dina Titus, D-Nev., to demand an explanation from FEMA – and that the politics stop.
"The ongoing Federal response to COVID-19," the official name for the coronavirus, "has been stunted (and) opaque," they wrote Trump's FEMA chief, Peter Gaynor.
"There have been several allegations that critical decisions made at FEMA and impacting the health and safety of all Americans have been clouded by political influence from the White House.
"We are concerned about recent media reports of FEMA's redirection and/or reprioritization of orders for urgently needed protective gear and medical equipment to help respond to the COVID-19 pandemic placed by state and local officials, as well as FEMA's ongoing lack of complete transparency in its atypical coordination with the private sector on sourcing and distribution of urgently needed supplies."
That last was a polite way of criticizing sole-source contracts gained by knowing someone who knows someone in Trump's White House. In one case, a Texas mask-making firm won a $9.5 million no-bid contract to eventually send masks to New York. The mask maker knew which White House officials to contact from a podcast by former Trump campaign manager Steve Bannon, who's still an unofficial Trump adviser.
One particularly notorious case involved Baystate Health, a medical system in Springfield, Mass., in a state that now ranks fourth in the U.S. in coronavirus deaths. After scouring the country and the world for available N95 masks, Baystate finally found some in China – at five times the normal cost per mask – and arranged for shipment to an unnamed airport in the mid-Atlantic states, Chief Medical Officer Dr. Andrew Artenstein wrote to the New England Journal of Medicine.
Aware of past federal seizures of PPE shipments, Artenstein arranged a midnight meeting and drove down to the airport, too. The PPE was to be loaded onto semi-tractor trailers disguised with foodservice delivery logos and driven by Baystate supply chain workers via two separate routes back to Massachusetts to prevent the feds from stopping and seizing them. Then things started going wrong.
"Hours before our planned departure, we were told to expect only a quarter of our original order. We went anyway since we desperately needed any supplies we could get. Upon arrival, we were jubilant to see pallets of KN95 respirators and face masks being unloaded," Artenstein wrote.
"Before we could send the funds by wire transfer, two Federal Bureau of Investigation agents arrived, showed their badges, and started questioning me. No, this shipment was not headed for resale or the black market. The agents checked my credentials, and I tried to convince them the shipment of PPE was bound for hospitals. After receiving my assurances and hearing about our health system's urgent needs, the agents let the boxes of equipment be released and loaded into the trucks.
"But I was soon shocked to learn the Department of Homeland Security was still considering redirecting our PPE. Only some quick calls leading to intervention by our congressional representative prevented its seizure."
Artenstein didn't say so, but his congressman carries a lot of clout on Capitol Hill: He's Rep. Richard Neal, D-Mass., chair of the House Ways and Means Committee, which writes tax legislation, Medicare and Medicaid legislation and oversees Social Security, too.
"I remained nervous and worried on the long drive back, feelings that did not abate until midnight, when I received the call the PPE shipment was secured at our warehouse," Artenstein concluded.
Then there was the case of the 500 ventilators headed for Colorado, whose Gov. Jared Polis (D) ordered them from a domestic manufacturer so his state Health Department could distribute them. The feds seized them, but later let 100 go – after Trump tweeted that Sen. Cory Gardner, R-Colo., would make the announcement and take the credit.
Gardner is one of the most vulnerable Republicans up for re-election this fall. Left unsaid: Polis is a member of a group, gays, Trump hates. And Colorado is trending blue but still a swing state.
A similar case happened in Phoenix, the two lawmakers told Gaynor. There, the fire chief kept ordering "millions of dollars' worth" of PPE for Fire Fighters and other first responders, "but it kept getting hijacked." Some were later released, accompanied by a statement from Sen. Martha McSally, R-Ariz., who's also extremely vulnerable at the polls this fall. Arizona is a swing state, also.
All this angered the two lawmakers, whose Oversight Committee has a wide license to investigate executive branch wrongdoing. They particularly focus on directions from Trump's two coronavirus task forces, and White House influence on those directives, and on a separate "Project Airbridge," which Trump set up through FEMA. That directs FEMA orders for PPE, and sends half of what's shipped to the national PPE stockpile and distributes the other half to private companies to resell to their customers.
DeFazio and Titus also want a list of the PPE requests to FEMA from states and Native American tribes – and how much was shipped in response to each.
"While the unprecedented challenge posed by the coronavirus pandemic will invariably require cooperation between both the public and private sectors, it is essential proper procedures be followed to protect public health, security, and taxpayer funds," the two lawmakers said. "Congress must also ensure the administration is not, 'picking winners and losers based in part on personal relationships, ideological affinity, and partisan loyalty,' as an NBC News analysis has suggested," they concluded.