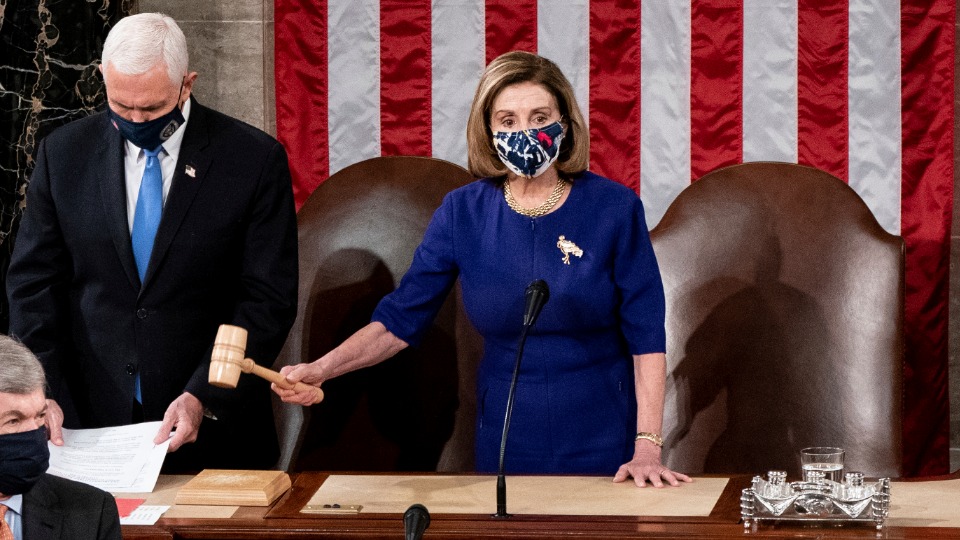 Assistant House Speaker Katherine Clark, Democrat of Massachusetts, declared on national television Monday morning that "the Congress is moving to immediately end the ability of President Trump to terrorize the American people, and we must end for good his ability to do that ever again in the future."
Speaker Nancy Pelosi has announced that lawmakers will move forward with impeaching President Donald Trump after the House attempts to force him out today or tomorrow using the 25th Amendment. One article of impeachment was already introduced in the House today.
She said House Majority Leader Steny Hoyer, D-Md., will introduce a resolution today calling on Vice President Mike Pence to invoke the 25th Amendment and declare that Trump is incapable of executing the duties of his office. Under that scenario, Pence would become acting president until the inauguration of President-elect Joe Biden.
Hoyer needs unanimous consent to introduce such a resolution. If he doesn't get it, lawmakers will bring it to the House floor for a vote, Pelosi said. If the Vice President does not comply within 24 hours, lawmakers will move to impeach.
The nation remains in danger as demands grow for removal of an unhinged president who, after inciting insurrection and a coup against the U.S. government, continues to cling to power.
A handful of GOP senators who enabled the most dangerous president in U.S. history for the full four years of his regime now say, after the failure of his attempted coup this week, that he should either resign or be "very careful" during his last dangerous days in office.
Pennsylvania's Republican Sen. Pat Toomey yesterday joined Alaska Sen. Lisa Murkowski in calling for Trump to "resign and go away as soon as possible" after he sent a violent mob of his supporters on a deadly rampage through the Capitol on Wednesday as he and his family, in the safety of the White House, enjoyed watching the attempted coup on television.
Murkowski, who has occasionally voiced her dislike of Trump's behavior in office, told the Anchorage Daily News on Friday that Trump "needs to get out."
Resignation, Toomey said as he stated the obvious, was the "best path forward, the best way to get this person in the rearview mirror for us." Toomey said Trump committed impeachable offenses but he did not think there was enough time to pull off an impeachment. He admitted that it was unlikely Trump would take what he said was the best path—resignation—before the inauguration of Biden on Jan. 20.
Many supporters of impeachment, however, are viewing it as much as a way to guarantee he never runs for office again as they are viewing it as a way to get him out before his term ends.
Sen. Roy Blunt, R-Mo., essentially endorsed the idea of doing nothing about a president who fomented a coup, warned Trump to be "very careful" in the next week-and-a-half.
House leaders are determined, however, to take strong action almost immediately.
On Saturday, Pelosi held a conference call with her leadership team and sent a letter to all members of Congress declaring that the rogue president must be held accountable. She told the nation's representatives that they must be in Washington this week. Her letter was sent prior to the introduction of the article of impeachment, but she told member to expect a vote soon.
"It is absolutely essential that those who perpetrated the assault on our democracy be held accountable," Pelosi wrote. "There must be a recognition that this desecration was instigated by the President."
Rep. James Clyburn, D-S.C., the third-ranking House Democrat, said "it may be Tuesday, Wednesday before the action is taken, but I think it will be taken this week."
The details of what will happen when the articles are voted on and approved are not at all clear. There is a strong possibility that Pelosi could hold the articles for a period of time, possibly until Biden finishes his first 100 days in office, before she sends them to the Senate for a trial. The chances of that increased after remarks this weekend by Clyburn.
That approach fits with the announced intention of  Sen. Mitch McConnell, the Republican leader, who remains in office until Jan. 20, when he presumably will be replaced by Democratic Sen. Chuck Schumer of New York. McConnell, who has also had a belated epiphany, has falsely claimed that an impeachment trial could not begin under the current calendar before Inauguration Day, Jan. 20. He has the power to begin a trial as soon as he gets the articles of impeachment from the House and does not have to wait that long.
But some Democrats prefer to wait until after the inauguration because then they will have control of the Senate in a 50-50 lineup where the new vice president, Kamala Harris, would cast the tie vote.
In addition, if the House passes a resolution banning Trump from ever running for public office again, such a resolution in the Senate would only require a majority vote rather than the two-thirds vote an impeachment article would require for removal of the president.
"Let's give President-elect Biden the 100 days he needs to get his agenda off and running," Clyburn said. "And maybe we will send the articles sometime after that."
Clyburn said lawmakers "will take the vote that we should take in the House" and that Pelosi "will make the determination as to when is the best time" to send them to the Senate.
Under consideration also is a completely separate vote on a measure to prevent Trump from ever holding office again. Section 3 of the 14th Amendment prohibits any person who has "engaged in insurrection or rebellion" from holding public office. It was passed in the aftermath of the Civil War to prevent traitorous Confederate officials from regaining power in the U.S. government; Trump's actions last week could qualify as insurrection.
Toomey said he might support such a vote: "I think the president has disqualified himself from ever certainly serving in office again," he said. "I don't think he is electable in any way."
Displaying their continued cowardice, many of the Republicans who now criticize Trump, Lindsey Graham among them, say that impeachment would be divisive in a time of unity. It begs the question of whether the violent insurrectionists are among those that should be included in some kind of unity fest.
Also high on the list of this group of cowards is Sen. Marco Rubio, R-Fla., who said this weekend that instead of "coming together," Democrats want to "talk about ridiculous things like 'Let's impeach a president' who isn't even going to be in office in about nine days."
And Blunt, also a newcomer to realizing that Trump is a danger to the nation, said Trump's actions "were clearly reckless," but "my personal view is that the president touched the hot stove on Wednesday and is unlikely to touch it again."
GOP Sen. Susan Collins, it is remembered, said the same thing when she refused to vote for removal of Trump after his first impeachment trial a year ago.
A few Republicans are hinting, however, that they might go further than others.
Nebraska Sen. Ben Sasse said he would take a look at any articles that the House sends over. Illinois Rep. Adam Kinzinger, a more frequent Trump critic, said he will "vote the right way" if the matter is put in front of him. But, he said, "I honestly don't think impeachment is the smart move because I think it victimizes Donald Trump again."
Most Democrats want to find a way of branding Trump as a criminal for his support for the insurrection. They feel that if it takes a second impeachment to do that, it is worth the effort.
Rep. David Cicilline, D-R.I., a leader of the House effort to draft impeachment articles accusing Trump of inciting insurrection, said Saturday that his group had grown to include as many as 250 lawmakers.
At least one article of impeachment is expected to be introduced by Wednesday. Impeachment articles, when passed by the House, could then be transmitted to the Senate for a trial, with senators acting as jurors who would ultimately vote on whether to acquit or convict Trump.
If this were done before Jan. 20, and if the Senate acted before then and convicted Trump, he would be removed from office and succeeded by Vice President Pence. Regardless of when or if the Senate acts, Trump is now on track to become the first U.S. president to be impeached twice.
Biden has avoided taking a position on the impeachment question, saying the matter is in the hands of the Congress. He has made no secret, however, of how he views Trump—as a dangerous rogue president who threatens the security of the nation.
Democrats want to see Biden use his first 100 days in office to lead a movement for passage of as much of his progressive agenda as possible. A top concern is that Biden use the time to score a major advance in how the federal government handles the coronavirus pandemic and the economic crisis.
A massive increase in the number of vaccine doses available and a drastic improvement in how it is distributed will have to happen. Biden has said he wants 100 million people to receive the vaccine in his first 100 days. No one wants to see an impeachment battle or other things, for that matter, to sidetrack that effort.
With the economy reeling and millions still unemployed and facing evictions, the need for another economic rescue package is also an essential item on Biden's immediate agenda.
The events of last Wednesday when the violent Trump mob overpowered police, smashed windows, ran amok in the Capitol, and forced lawmakers to duck for cover as they were certifying Biden's victory, have increased the anger of Democratic lawmakers to a point where they feel they must take strong action this week.
Trump was directly responsible, having told the crowd at a rally outside the White House to march on the Capitol. His lawyer, Rudy Giuliani, told the crowd to conduct "trial by combat" in response to the lie that the election had been stolen from Trump.
A Capitol Police officer died after a Trumpite smashed a fire extinguisher into his head. The Trumpite slogan of "Blue Lives Matter" apparently meant nothing to the president's mob as they injured scores of police officers after they murdered the first one.
The deadly attack was stepped up after the rioters broke into the Capitol. A woman from California was shot to death by Capitol Police, and three other people died after medical emergencies during the invasion.
The Trump presidency ends on a note unlike the end of any other presidency in U.S. history. He leaves office in an unparalleled aura of disgrace and shame.
The unhinged and dangerous president is almost totally isolated as he remains holed up in the White House, abandoned by many in his inner circle who are fleeing like rats exiting a sinking ship.
Like free stuff? So do we. Here at People's World, we believe strongly in the mission of keeping the labor and democratic movements informed so they are prepared for the struggle. But we need your help. While our content is free for readers (something we are proud of) it takes money — a lot of it — to produce and cover the stories you see in our pages. Only you, our readers and supporters, can keep us going. Only you can make sure we keep the news that matters free of paywalls and advertisements. If you enjoy reading People's World and the stories we bring you, support our work by becoming a $5 monthly sustainer today.