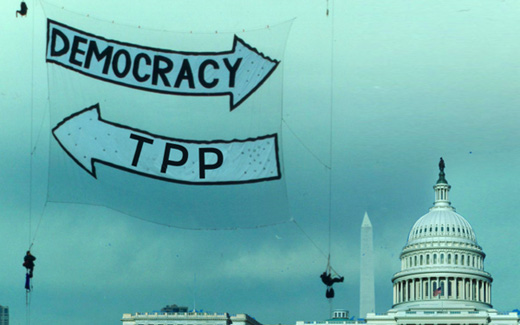 WASHINGTON – Local, state, and federal labor laws in the United States "are subject to being tossed out" by a secret trade court included in the controversial Trans-Pacific Partnership pact, a top law professor who opposes the TPP says.
In a Sept. 7 telephone press conference on the trade pact, Alan Morrison, Associate Dean for Public Interest Law at George Washington University, explained that the secret court, formally called the Investor-State Dispute System (ISDS), would have the power to kill any federal, state, or local labor laws – or even pro-worker presidential decisions – unilaterally.
Only investors and corporations can bring cases to the ISDS, challenging pro-worker laws and rulings, Morrison added. If they win, by showing harm to present or future profits, the measures are dead and affected governments cannot appeal. Other speakers at the press conference added that after such rulings, governments, i.e. taxpayers, could be on the hook for huge damages.
The ISDS is one of the most-controversial sections of the already controversial TPP, said Lori Wallach, director of Public Citizen's Global Trade Watch, who organized the briefing. Other speakers noted that its only backers are U.S.-based multinational corporations.
It's also drawn the ire of U.S. workers and unions, and existence of the ISDS within the trade pact is one reason President Obama delayed sending legislation to implement the TPP – not the pact itself – to Congress for up-or-down votes.
But since reports say Obama plans to do so this month, workers, environmental groups, religious and community groups, and their allies have been out campaigning against it, and intend to do so through the November election and beyond, speakers said. If Obama follows through, the TPP legislation could come up in Congress' lame-duck session.
Three-member ISDS tribunals would decide the cases, with no rights to appeal rulings and no opportunity for anyone other than governments to formally contest cases. Trade lawyers would compose the tribunals – when they're not bringing cases for the multinationals.
As a result, Morrison said, "If a city raised its minimum wage to $15 an hour, an investor" – or a corporation – "could challenge that as a threat to its profits."
That's not far-fetched. Sen. Elizabeth Warren, D-Mass., who led off the press conference, noted that a mining company used an ISDS threat to force the Indonesian government to give in when that nation decided to oppose environmentally ruinous mining.
Faced with the prospect of a multimillion-dollar fine imposed on their poor country, officials retreated, Warren said. The fine made up for lost profits. Canada paid a $300 million fine for lost profits in a similar environmental ISDS case under NAFTA, she added.
ISDS "is a unique threat," Warren explained. "It allows companies to challenge laws they don't like, and win millions or even billions of dollars from taxpayers.
"And it shifts the power from U.S. courts to unaccountable international tribunals of corporate attorneys" to decide such cases, she noted.
U.S. trade officials retort the ISDS, which exists in less-detailed form in other so-called "free trade" pacts, will not hurt the U.S. That prompted Warren to point out that TransCanada, sponsors of the controversial Keystone XL pipeline from the Montana-Canada border to Guthrie, Okla., is using NAFTA's version of the ISDS to try to recover what it says is $15 billion in lost profits after Obama vetoed that long leg of Keystone.
"Giving foreign corporations special rights to challenge our laws outside our legal system is a bad deal for everyone – except for the companies," Warren explained.
"And 9,000 corporations worldwide have subsidiaries here that would be empowered to use ISDS" against U.S. federal, state, and local laws, including labor laws, Wallach added.
The law professors on the call – Morrison, Jeffrey Sachs of Columbia University and Cruz Reynoso, a professor emeritus at the University of California at Davis and a retired state Supreme Court justice – agreed. They are among 223 law professors and economists from around the country who sent a detailed letter to Congress on Sept. 7 opposing the ISDS and illuminating its constitutional dangers.
The letter "from top legal experts makes clear: ISDS undermines the American judicial system and tilts the playing field further in favor of big multinational corporations," Warren said. ISDS "empowers companies to challenge laws and regulations they don't like, with friendly corporate lawyers instead of judges deciding their disputes. Congress should not approve a TPP agreement that includes ISDS."
"The ISDS can hurt laws and protections in our states and our country," Reynoso elaborated. "Let me give an example. Suppose the California legislature passes a law to curb fracking," the controversial practice companies use to extract oil from rock formations. "The company challenges the law, but the California Supreme Court upholds it. And the U.S. Supreme Court upholds it. Nevertheless, foreign investors and corporations can then file against it under ISDS, alleging that it harms their expectations of profits."
That's what TransCanada is doing under NAFTA, Warren said. Obama canceled Keystone's northern segment on environmental grounds. Unions split on Keystone.
The Steelworkers, National Nurses United, the Amalgamated Transit Union, and several others opposed the pipeline because its "dirty oil" from Albertan tar sands would contribute to the carbon gases that produce global warming. Construction unions, led by the six – including the Laborers and the Teamsters – that signed a Project Labor Agreement to have union workers build Keystone, lobbied strongly for it, saying it would create up to 40,000 jobs.
Photo: A protest against the TPP outside the U.S. Capitol. | Rainforest Action Network