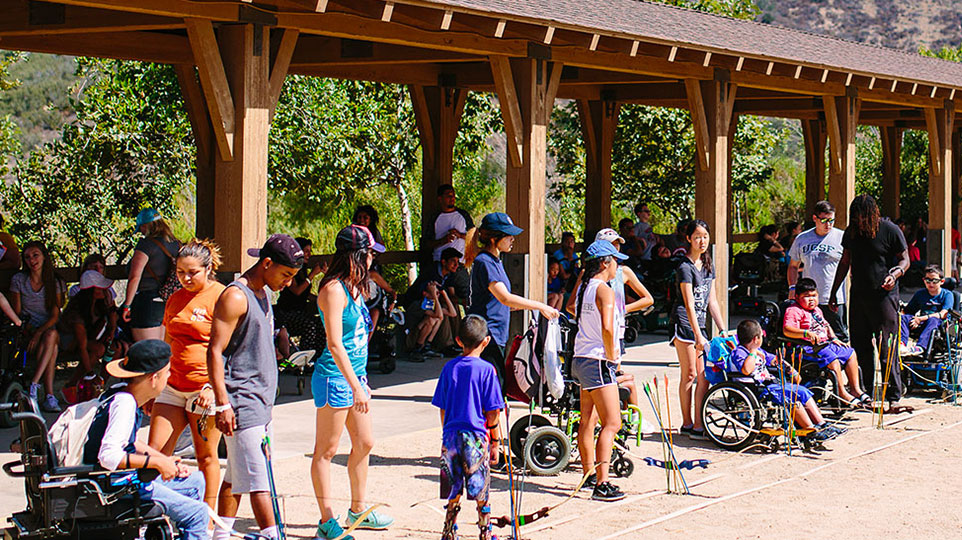 "Hey man, nice boots!" I look over and see a young feller, maybe twelve years old. "Thanks, I've had these buggers for a long time," I cheerfully retort. I look down at the boots he was referring to. A pair of black Tony Lama cowboy boots bought in a little store in Bandera, Texas, in 1998 on my 39th birthday. These are my favorite riding boots and have been on my feet as I traversed the whole of this United States. They show every sign of the 49 states traveled and the 21 years of hard riding. The local cobbler knows them well and laughs every time I bring them in to his shop. The leather is cracked and patches are on top of patches. This day they are covered in dust from the gravel road I have ridden down, yet this young buck admired the "patina" on these boots that most folks, including my wife, cringe at. This kid, his name is Ian, obviously has a keen eye for fashion. He is also confined to a wheelchair.
The gravel road I traveled down that day on my motorcycle leads to a very special place. It is called Camp Cavell, and this idyllic slice of Michigan splendor sits next to the azure waters of Lake Huron. Along with the breathtaking views of the lake, this camp consists of many cabins and lodging areas along with a variety of common areas both inside and outside. The kitchen and dining area are banquet hall sized. A good portion of the camp is set inside a densely wooded area with majestic trees and foliage. But the most magical thing about Camp Cavell is the transformation that takes place here once a year in June. For one whole week, this camp becomes Camp Cavell MDA.
The Muscular Dystrophy Association has been hosting this week of camping for over 40 years. It is a sight to behold. This year 87 young campers, with a variety of disabilities, were able to attend Camp Cavell MDA. Each camper is assigned a volunteer assistant, one on one. This assistant, from rise and shine till bedtime, is there to ensure that every camper gets the maximum camp experience. They have tons of activities for these campers and with all that energy expended, they get hungry. Once a year, the letter carriers ring that camp bell for vittles.
The official charity of the National Association of Letter Carriers is MDA, and that is how I became involved with volunteering for this camp many years ago. The letter carriers cook a lunch, a big lunch, for the campers and staff on Sunday every year. We also host some games and activities for the campers. This year we set up a relay race for delivering and collecting the mail. For the campers in wheelchairs, we dressed them up to look like they were driving a postal truck. With satchels over their shoulders, it was a blast to see the girls and boys laughing as they raced to the mail and collection boxes. This week of camp, where the world for once revolves around them, leaves an indelible impression on these young minds. They feel important and empowered by the camp experience. I know that from personal experience.
Guy Dick was my cousin, the same age as my brother, three years younger. Guy lived just two blocks away from me and we went to the same elementary school. When Guy was about five or six, I noticed he started walking oddly. If I recall properly, it seemed like he was walking on his toes. As the years passed, walking became impossible for Guy and he was confined to a wheelchair. As I got older I learned that Guy had Duchene Disease, the most common form of the muscular dystrophy diseases. There is no cure for Duchene's and we were told that Guy would get weaker with each passing year. He would not live a long life. My father, his "Uncle Bob," spent a lot of time with Guy. I was along for a lot of those adventures. The whole family knew the clock was ticking. The end of Guy's battle with Duchene's came in 1984, at the age of twenty-one. The muscles in his body had thoroughly weakened, including his heart. Lying in the hospital bed, surrounded by family, he asked to be placed in his wheelchair so that he could sit up one last time. As his father, my Dad's brother, lifted him from his bed to grant him this final wish, he took his last breath and died in his father's arms.
Guy Dick went to Camp Cavell MDA not once, but twice in his short life. He said that they were some of the best days of his life. So now I go, even if it is just for a few hours, to cook and play with the campers. It is not just a simple gesture of volunteerism, it is an obligation. I do this for Guy Dick. This camp is completely free for all the attendees. MDA pays all the costs associated with the camp. MDA is also funding much of the medical research that has invented new drugs and therapies that have extended and improved the lives of so many afflicted with these horrible muscular diseases. Letter Carriers across this nation have raised millions of dollars and volunteered thousands of hours to help MDA find a cure. That's what a great Union does for the community. We not only deliver the mail; we hope one day to deliver the cure.
As I saddled up on the Great White Steed to head home, I looked down again at my dusty, gnarled footwear. I thought of Ian noticing and commenting on my boots. Confined to a wheelchair, he probably looks at shoes and boots a lot. He imagines what it would be like to walk normally, to actually wear down a pair of boots, to have to get a new set of heels from the cobbler because you walked on so many gravel roads. He imagines riding a motorcycle with his feet up on the highway pegs, boots covered in bug splatter. He imagines using his boot to drop the kick-stand after a long day of riding. He imagines getting old and having some twelve-year-old kid compliment him on his worn-out duds. He imagines. And he waits for the cure.