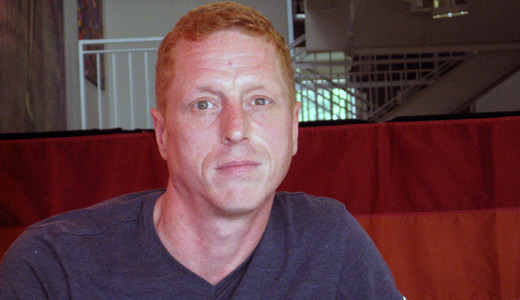 FERNDALE, Mich – Sometimes, it's a good thing to go hungry. Throughout the state and up to the general election, Michigan's "anti-equality environment" is being protested with a 100-day hunger strike.
Leaders from Michigan's eight Lesbian, Gay, Bisexual and Transgender (LGBT) community centers and others have signed up for 24-hour shifts in the front window space of Affirmations, the state's largest LGBT community center located in in this suburb on the outskirts of Detroit.
At 2:00 p.m. yesterday, 40-year-old Hamtramck hunger striker Jon Piechota was five hours into his 24-hour shift. Hunger pains had not yet hit. Easily viewed from the large picture window, hunger strikers have access to a comfortable chair, couch and other amenities (just no solid food). Piechota has heard the evening shift can "be a lot of fun" because outside foot traffic picks up when patrons of nearby bars and restaurants go by.
For work, he details cars while his partner, a mechanic, works under the hood. Usually at this time of year he's working 12- to 14-hour days preparing cars for the Dream Cruise, a Metro Detroit classic car event, taking place next Saturday, that draws over one million spectators.
However, the importance of this strike forced him to set 24 hours aside. "I can't get married, can be denied housing, can't adopt children, and domestic partner benefits in the state are being taken away. It's just not right," said Piechota
In addition, he says, most of his friends and family are baffled when they hear he can be fired for being gay and has no legal recourse. "We can sue all we want but we're not going to get anything. It is legal to do it," he says.
The state's anti-equality environment has gone from bad to worse under Republican leadership. Extreme bills prohibiting communities from adopting non-discrimination ordinances and, unbelievably, turning anti-bullying legislation into its opposite by allowing bullying if done for religious or moral convictions have all been introduced.
Another bill requires university counseling programs to allow "refusal of service" to certain clients. Last December, Republican Gov. Rick Snyder signed a bill preventing public employers from providing medical benefits to domestic partners.
Piechota cautions people to carefully weigh their vote to ensure they don't support someone trying to deny rights or "screw over a close family member."
"I pay taxes too," Piechota said. "I'm tired of not having the same benefits and laws."
He said people sometime ask if he's advocating for "special rights." "I say no, I just want the same rights you have."
Cassandra Varner, Affirmations Director of Communications, said shifts are still available and urges people to become a striker or strike advocate by calling 248-677-7230.
The hunger strike is live streaming online.
Photo:Hunger striker Jon Piechota, by John Rummel/PW