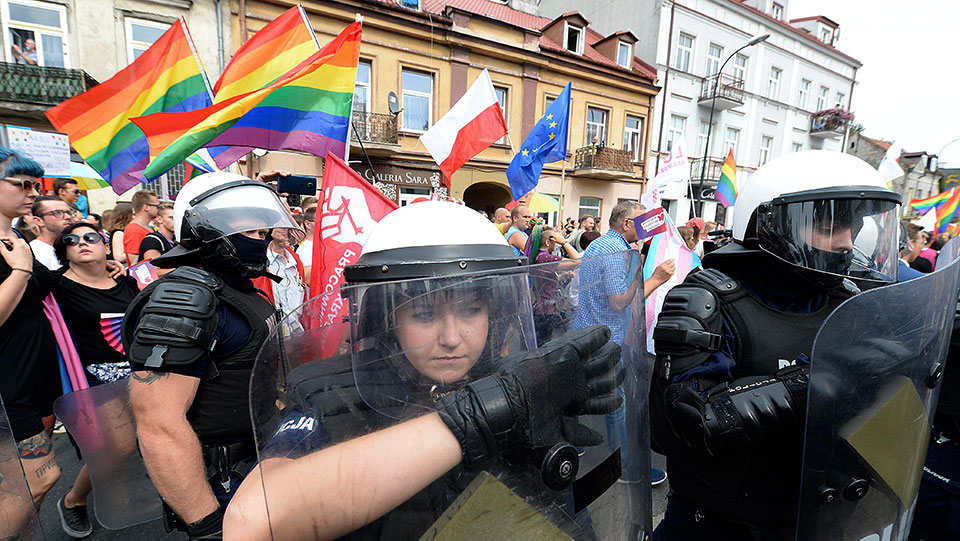 Pride marches in Poland took place under heavy police presence over the weekend, with homophobic counter-demonstrations threatening violence.
Marches for LGBTQ rights were held at the foot of Czestochowa's Jasna Gora Catholic monastery in southern Poland as well as in Gdansk on the Baltic coast.
The demonstrators were surrounded by officers, including on horseback, while beyond the police columns far-right activists gathered, chanting slogans including "No homosexual love."
Far-right thugs have set upon gay rights marchers in the past, especially in Czestochowa, claiming the demo near the monastery is a provocation. But LGBTQ marcher Monika Radecka said: "Whatever we LGBT people do is interpreted as a provocation."
LGBTQ activists say the far right has become bolder in attacking them because of ideological support from the ruling nationalist Law and Justice Party.
Polish President Andrzej Duda declared during the last election that "LGBT is not people—it's an ideology which is worse than communism," while in June Education Minister Przemyslaw Czarnek said Poland should copy a Hungarian law banning the "promotion" of homosexuality or gender reassignment in schools.
Morning Star