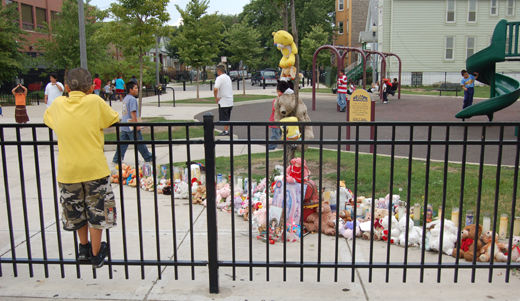 CHICAGO – The U.S. Supreme Court began hearings today regarding a landmark case about whether to lift a 28-year-old handgun ban here.
The case, McDonald v. Chicago, could be an uphill battle for gun-control supporters after the Supreme Court lifted Washington D.C.'s ban two years ago.
Otis McDonald, 76, and three other residents here say the ban infringes on their Second Amendment right to keep and bear arms. But, the city is expected to argue that its local legislative power is different from D.C.'s, which is under federal jurisdiction.
A final decision is expected this summer. The ruling could determine what type of gun laws can be passed by cities nationwide.
"Lifting the ban is a bad idea," said Michael Rodriguez, violence prevention director with Enlace Chicago, a community organization on the city's southwest side. "There are too many young people on the streets dying everyday due to the easy access of guns. Until we solve this problem there's no way we can even think about lifting the measure on guns in Chicago."
Rodriguez recalled two young men who died within days of each other recently due to gang retaliation and illegal guns. Four families were immediately affected by the senseless incident in a matter of days, he said.
Gun-rights activists argue that lifting the ban would actually lead to safer neighborhoods by giving citizens the ability to arm and defend themselves. "I have never heard the mother of child killed by gun violence say owning guns would help save lives," said Rodriguez. People who believe that are disconnected from the reality of the inner-city, he said.
Tio Hardiman is the director of Cease Fire Illinois and said Chicago has been plagued with gun violence for years. Lifting the ban on guns will increase the violence and give a green light to a "semi-cowboy state of mind," he said.
"We have to change the way we think about violence," said Hardiman. Street violence for many neighborhoods is considered the norm, but it's really a learned behavior and we have to instill in our youth that it's not okay to shoot people, he said. "We have to change that culture and mentality."
Hardiman said more funding should be allocated toward violence prevention programs and outreach workers throughout Chicago including job-readiness services and long term employment opportunities for young people.
Officials here say a 10 percent reduction in the murder rate in the past two years is proof that the ban is working. Figures show that 81 percent of the murders here were gun-related; nearly 60 percent were gang-related.
Meanwhile Chicago has passed Los Angeles with the highest youth homicide rate in the nation. In the 2008-09 school year, a record 36 city public school students were murdered, mostly by gun violence and underage gang activity. It was the third straight year the numbers had risen.
Mayor Richard Daley, who is strongly against lifting the ban, contends the federal government does too little to address the issue for fear of the powerful gun lobby. He hopes the high court rules in the city's favor.
"We've turned our backs on common-sense gun laws in America and we continue, unfortunately, shooting each other on a daily basis," Daley told reporters. "What's at stake for those of us on the front-line … is nothing less than the safety of our streets and our families and all of our children. How many more must needlessly die because guns are too easily available in our society today?"
Photo: Memorial where young Schanna Gayden was shot, Chicago, 2007. Pepe Lozano/PW
Also by Pepe Lozano: The Silent War: Taking on guns and gangs with positive alternatives, August 10, 2007, https://www.peoplesworld.org/the-silent-war-taking-on-guns-and-gangs-with-positive-alternatives/