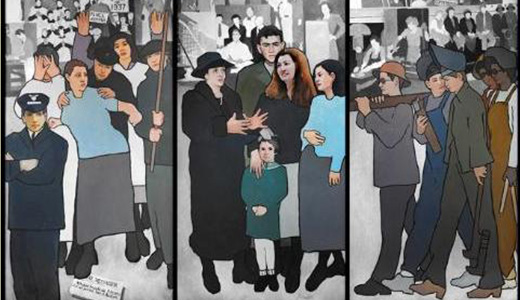 IMLU Local 207 of the Lobstermen's Union is taking on Maine's tea party Republican Governor Paul LePage over a host of issues. Heading the list is the attempt to dredge Searsport harbor and the dumping of the toxic debris in the ocean.
The Local is hitting a litany of villains propagating this double-edged sword aimed at their livelihood and the ecology of the ocean. First up is the fossil fuel industry. The dredging is not a new proposal. The main proponents are Canadian oil companies such as Sprague and Irving. They want a deeper harbor at Mack Island, Searsport, to move their climate-changing, polluting products.
Some see this as a longer-range scheme to build a dirty fossil fuel pipeline across Maine when renewable energy sources are needed more than ever. Of course these fossil fuel companies mine more than energy products. They want Maine taxpayers to foot the bill and endanger fishermen's jobs and the environment in one swell swoop.
Penobscot Bay, Maine's largest, is one of the most fecund lobster fishing areas in Maine. The western half of the Bay is known as Zone D. It is in this upper part of the Bay that the state of Maine is proposing to dump up to one million cubic yards of contaminated industrial debris from the dredging. The area is just off the coast of the Island of Islesboro.
Cheerleaders for this project include LePage's Department of Environmental Protection. Patricia Aho, DEP Commissioner, is claiming that the dredging is safe. She is a former industrial lobbyist. She worked for the state's largest law firm, Pierce Atwood, where she functioned as a lobbyist for some of the same dirty fossil fuel companies. Governor LePage's "Open For Business" slogan is in plain sight here. The one percenters are the benefactors.
Climate change is in the mix of challenges to the environment and workplace of these union workers. Heat trapping gases, mainly from the same dirty fossil fuel companies, are warming ocean waters. A 2013 study found that marine species are pushing their range boundaries toward the poles at a rate of 4.5 miles a year. In Maine, lobsters are doing well. Not so in southern New England's warming waters. Lobster populations have dropped while taking fishermen's jobs with them.
Every species have what scientists call their thermal niche. These are the warmest and coldest temperatures in which the species have been observed in their daily life. If the push northward of lobsters continues, what lays ahead for Maine's lobstermen, their jobs, and the many livelihoods that depend on the industry?
Climate change and warming, impacting temperature ranges, are not the only factors in species survival. The huge amounts of carbon dioxide from dirty fossil fuels are affecting the acidity of the waters. Wildlife habitats physically change with latitude. The mix of species will be different. There are many variables that may decide which species survive and which died off.
In July, all the above came full circle. The Vinalhaven Electrical Coop reported a victory for renewable energy. Vinalhaven has three wind turbines that have stabilized electrical prices on the Island. These have been under attack by anti-environmental elements. The same Maine DEP commissioner, Patricia Aho, was supporting the attack on the Coop and renewable energy. This cabal of "browns" and Aho was defeated in a July court decision.
Needless-to-say, environmentalists have an interest in these battles. They have been hitting Governor LePage on his attempt to intensively and unsustainably log public land. He is holding hostage $13.5 million of Land for Maine's Future money, including $11.5 million voter approved bonds, for increased timber harvesting of public land and raiding these funds for non-conservation uses. Union members and greens are realizing they have the same enemies.
As Mainer Scott Nearing used to say, it's important to view struggles from the crow's nest. It had double meaning. It was a working class outlook and encouraged the long view . What elected the tea party governor twice by a minority of voters were three party races and the usual winner-take-all arrangement. In the last eleven governor elections with three or more candidates, nine winners received less than 50 percent of the votes cast. This undemocratic process is now being fundamentally challenged.
A petition is being circulated for ranked choice or proportional voting by www.fairvotemaine.org/faq In the case of no candidate receiving a majority of votes, the lowest vote getter is eliminated. Voter's 2nd choice now comes into play. They have not lost their vote. Unity is the key to make all this happen.
Photo: Part of the labor history mural by artist Judy Taylor that LePage ordered removed from the Maine Labor Dept. lobby, causing a huge uproar. It was later put on display in an atrium that serves as the entryway to the Maine State Museum, Maine State Library and Maine State Archives. Dirigoblue