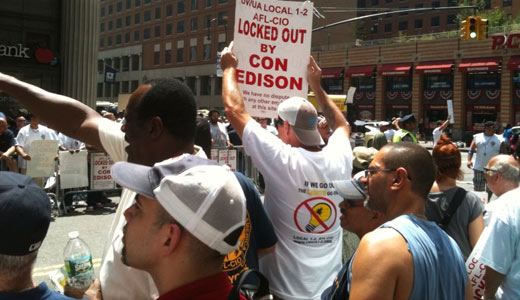 NEW YORK – Negotiations resumed July 5 between Con Edison, the electricity and steam provider for this city and elsewhere, and its workers, represented by Utility Workers Union of America Local 1-2, after negotiation broke down and the company locked out their 8,000 workers.
The stakes are high: The company wants many givebacks, while the workers want to keep what they have and are looking for a raise over the duration of the next four-year contract.
Longtime employee Joe had much to say about the lock out: "Con Ed is trying to break the union. These guys [UWUA members] come out every day and risk their lives; Con Edison wants to take back everything. They brought in Craig S. Ivey, [Ivey has been the president at Con Edison since December 2009] from Virginia; he was the CEO of Dominion. Dominion is a non-union utility company based in a right-to-work state. They brought him in to bust the union."
Joe continued, "Ivey brought in crews from Dominion, put them up in hotels, packed them on the sidelines. The only reason they're not working here is because of the storm in Virginia. We are fighting for the middle class. This is nothing but corporate greed; this union is standing strong."
As of fiscal year 2011, Ivey's compensation was $2,652,240.
One union member on the picket line said that OSHA rules have been broken. "Of the five thousand management substitutes, only a thousand are qualified, many are college students working without CDL [commercial driving license] licenses or propane licenses. One substitute was injured yesterday and word is circulating that another worker may have been injured or killed today."
There are many issues to be resolved, e.g., pensions. Con Ed wants to end the defined pensions and replace them with 401k, eliminate 21 top pay titles; slash payments to health care. The company has proposed a 4 percent pay raise over 4-year contract.
Con Edison is a Fortune 500 company ranking in at 209 on the Fortune list. It had profits of over $1 billion in 2011, and has managed to cut its work force by half since the 1980s due to technology and productivity. Con Edison also owns valuable properties and has other sources of income that bring in millions in profits.
In a press release, the company bragged, "Con Edison Communications, Inc., a provider of fiber optic network services in metropolitan New York, has signed an agreement with Newmark and Company Real Estate, Inc., one of the tri-state area's largest providers of real estate services. The partnership will enable Con Edison Communications (CEC) to provide 'last mile' fiber optic connectivity to multi-tenanted commercial properties owned or managed by Newmark. Con Edison fiber optic network will connect telecommunications and Internet service providers to commercial properties throughout the five boroughs and Westchester."
Greg, who has been doing dangerous work for 35 years, working in manholes said, "What's going on here is they want to take our pensions, stop paying premium for midnight and weekend work and make us work for dirt … They are sending out managers to do our job. They haven't done the job in years; they don't know what they are doing. They are getting hurt in the holes all because of corporate greed."
When asked about the reduction in the work force since the '80s Greg replied, "Over the years things have become more reliable. The system continues to be upgraded and we do a better job and this is how they repay us."
"We were locked out. They are offering us a crappy contract. Half percent per year, co-pay for medical is going up from $28 to $40. We all understand in this day and age things are going to go up, but when a company is making millions and stockholders are happy but the people who do the hard work in the holes and on the trucks… We are the ones risking our lives every day."