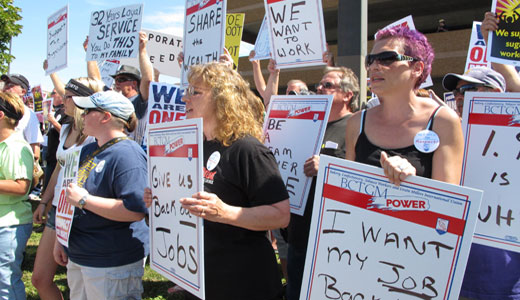 GRAND FORKS, N.D. – Workers locked out by American Crystal Sugar since August 2011 voted 55-45 percent to reject management's contract offer.
This is the fourth time members of the Bakery, Confectionery, Tobacco Workers and Grain Millers' International Union have voted down an identical offer.
"By now it should be clear that Dave Berg (the company's CEO) and Crystal Sugar's management has no interest in ending a fiscally irresponsible lockout that has been disastrous to farmer shareholders, put the federal sugar program in jeopardy and hurt countless families in the Red River Valley," said BCTGM Local 167G President John Riskey. "It's time for shareholders to reclaim their company and send management back to the table for real give and take negotiations."
A long-time union activist at American Crystal plants in both Minnesota and North Dakota said over the phone today that he thought the vote against the contract offer would have been closer. "They have been trying to wear down the workers but they are staying solid," he said.
The company, according to the union, is willing to take losses to achieve its ultimate goal of destroying the collective bargaining rights of the workers.
"They've told the farmers to put up with the lower prices for their beets because it will serve the long term goal of de-fanging and de-clawing the union," the activist said. "They've been told that in the long term they'll make their money back many times over if the union is destroyed."
So far the company, in its drive to bust the union, has absorbed some big losses. Net proceeds fell more than 30 percent in fiscal 2012 to $555 million, compared to $811 million for the fiscal year that ended August 31, 2011.
The amount received by growers per ton of beets fell more than $14 to $58.67. In contrast, farmers at Mini-Dak Farmers Cooperative, which has not locked out its workers, are projected to receive $74.05 per ton in 2012. Western Sugar expects $82.70 per ton and Michigan Sugar expects $87.74 per ton.
Another problem is that American Crystal warehouses are full of unsellable remelt.
"This all has to do with the fact that maintaining all those scab laborers is actually an expensive project," said the union activist. "They are slower and less experienced, they can't run the equipment properly and they make lots of expensive mistakes."
Shop stewards told peoplesworld.org that the company had its workers tailed months before the lockout to assess the content of their jobs and that the company actually brought in the scabs weeks before the start of the lockout in 2011.
Last month the AFL-CIO called for a nationwide consumer boycott of American Crystal Sugar products and said yesterday that with the company's decision yesterday to continue the lockout, the boycott too will continue.
"BCTGM members thank all who have continued to support our stand for justice and dignity and who have helped our families survive these hard times," said Riskey.
American Crystal Sugar has processing plants in East Grand Forks, Crookston, and Moorhead, Minn; Hillsboro and Drayton, N.D.; and packaging and transportation sites in Chaska, Minn. and Mason City, Iowa.
Photo: Union workers locked out by American Sugar Crystal protest at its headquarters in Moorhead, Minn. Dave Kolpack/AP