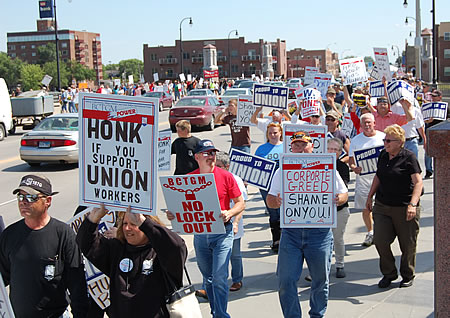 MOORHEAD, Minn. – More than 600 locked out sugar workers and supporters rallied outside the headquarters of American Crystal Sugar August 11, demanding an end to the lockout that has shaken communities up and down the Red River Valley.
Some 1,300 members of the Bakery, Confectionery, Tobacco & Grain Millers union were barred from their jobs Aug. 1 after they rejected Crystal Sugar's contract offer by an overwhelming margin. The company has hired out-of-state workers to run some operations at its facilities in East Grand Forks, Crookston, Moorhead and Chaska, Minn.; Drayton and Hillsboro, N.D., and Mason City, Iowa.
"They're trying to gut our contract," said Sie Rawls, who has worked in Drayton for 11 years. The union said the company's proposal threatens job security by allowing massive outsourcing of jobs and makes major shifts of health care costs onto employees.
Thursday's events included a gathering outside Crystal Sugar headquarters, a march and demonstration on a bridge spanning the Red River between Moorhead and Fargo, and a rally at a Moorhead park that featured leaders of several labor organizations.
Dedicated workforce
Worker after worker said they feel betrayed by the farmers who own American Crystal Sugar and the executives who manage the company, which is the largest producer of sugar from beets in the United States.
The workers put in long hours on rotating shifts, working on weekends and holidays, giving up time with their families and missing out on activities with their children.
The lockout "is a slap in the face," said Dorsey Moss, a 36-year veteran of the Drayton plant. He recalled working 40 hours straight during a 1997 snowstorm that prevented the next shift from making it to the plant. Other workers had similar stories of sacrifice.
To add insult to injury, Crystal Sugar has hired replacement workers through a Minnetonka-based consulting firm and is paying them more than the long-term employees – and giving them a daily per diem for expenses. Cars in local hotel parking lots carry license plates from North and South Carolina, Tennessee and Mississippi.
Mike Halstad shook his head when he contemplated how the replacement workers are performing.
"It takes years of hands-on to know what you're doing" in the plants, he said.
Halstad and his wife, Echo, both employees at the Hillsboro plant, carried a sign that read, "We are the real sugar workers."
Broad support
Speakers at the rally expressed support from a number of labor organizations and said the sugar workers are taking a stand on behalf of all working people.
"You are not alone in this struggle," said Shar Knutson, president of the Minnesota AFL-CIO, whose affiliates represent 300,000 workers. "We are with you."
"I want to thank all of you for taking a stand," said Dave Kemnitz, president of the North Dakota AFL-CIO. "It's not just for you – it's for all of us."
And he posed a question for the farmers who own American Crystal Sugar: "Growers, have you forgotten what these workers do for you?" He noted the company is making large profits and expecting a record beet harvest.
Eliot Seide, director of AFSCME Council 5, Minnesota's largest union of public employees, questioned how the company's executives could draw multi-million dollar salaries while cutting the pay and benefits of employees.
"When did one rich person become more important than thousands of middle class people?" Seide asked.
This article originally appeared at Workday Minnesota.
Photo: Locked-out sugar workers and other union supporters march across the bridge between Moorhead, Minn., and Fargo, N.D. Courtesy of Barb Kucera/Workday Minnesota.