LOS ANGELES—Back in 2017, on the day after Donald Trump's inauguration, over half a million women and allies marched in Los Angeles. It was the largest demonstration ever in the city. Collectively around the country, as well as abroad, it was the largest demonstration ever in the United States, with approximately one out of every hundred Americans taking to the streets.
Each year the Women's March has demonstrated again, although never in the numbers of 2017, as the horrors and abuses of this administration continue to mount. Saturday, Jan. 18, marked the third anniversary of that original mass show of opposition to Trump, and much has changed over that time. Women have run for public office in numbers never seen before, contributing a mighty impetus to the Democratic takeover of the House in 2018.
According to the Women's March Foundation, marchers this year in L.A. reached 300,000, but my own eyeballs—and those of others I spoke with—did not match that. Nevertheless, the spirit was strong and militant, and the speakers forceful and energizing. People of all ages marched, including babes in arms. People held clever signs and images. "We are not ovary-acting," read one. A few women dressed in costumes of a century ago, honoring the suffragists who finally achieved the vote for women in 1920.
One of the new symbols many marchers carried this year was a clothes hanger draped with a pink paper frame that read "#noban" and on the other side "Warning, this is not a surgical instrument." These hangers were designed by Robin McCarthy in anticipation of the resort to coat hangers as a crude method of abortion should Roe v. Wade fall as the law of the land.
Most of the speakers were women, but L.A. Mayor Eric Garcetti opened with a speech celebrating the heightened role of women in his administration. In department after department of city government, women have assumed a greater profile. Still, he said, "It's not what we say today, it's what we do tomorrow."
One advancement in Los Angeles that is more than symbolic is the election of Nury Martinez, the only woman currently serving on the City Council, to the position of City Council president. Daughter of working-class immigrants from El Salvador, she has vowed to lead with a woman's perspective. It's time, she said, to pass paid parental leave in L.A. "Dream big and work hard," she told the crowd, "because you will be next."
"First partner" of California Gov. Gavin Newsom, Jennifer Siebel Newsom, mentioned the 19th amendment, which gave the vote to women, acknowledging at the same time that while white women gained the vote, the amendment did little to guarantee that women of color would also be able to vote.
"In 2020, I have no doubt that it will be women who lead again, rise up and move this country forward on a path to justice," she declared. "As Gov. Newsom says, as California goes, so will go the country."
Hilda Solis, former U.S. Representative and Secretary of Labor under Barack Obama, now serves as a Los Angeles County Supervisor. Her pitch was for more women to be elected to public office at every level.
The roundup of speakers included Lorri Jean, CEO of the Los Angeles Lesbian and Gay Community Center. "We have marched to save our country and the world," Jean said without exaggeration. "We need equal numbers of women in office, and we need a president who is not Donald Trump."
Marlee Matlin, actress, author, and activist, spoke in American Sign Language with a voice interpreter. Matlin won the Academy Award for Best Actress for Children of a Lesser God, the only deaf performer to have won an Academy Award. She spoke movingly about disability. "Twenty percent of Americans are disabled in one way or another," she said, yet "from our leaders you would hardly know we exist."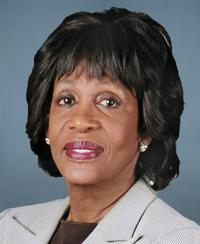 Excitement in the crowd peaked with the introduction of 15-term U.S. House member Rep. Maxine Waters. "It's a new day and a new way," she roared, citing the names of the large number of women who have been bold and brave enough to testify against the corruption of the Trump regime. "Women are going to save democracy and get this country back on track." Looking forward to the impending presidential impeachment trial, Waters promised, "If we fail to get him in the Senate, we'll get him on the campaign trail."
Speakers were interspersed with performers. "These are critical times, crucial times," said renowned singer Seal, who was backed by a several-piece band in "Change Gonna Come," "Stand By Me," and "Kissed by a Rose."
Actress Lisa Ann Walter of The Parent Trap gave a rousing speech which could have been considered the keynote address of the day. Mentioning the 40% of the electorate who are one-issue voters—namely, abortion—Walter spoke of how the right wing has used that sentiment to parlay into force a whole raft of other laws and policies. "This was always their plan," she said. "They do not care about life when U.S. citizens are perishing in Puerto Rico…. Flint, the insurance companies…they care very much about controlling us."
Walter mentioned some personal details of great relevance today as state after state passes restrictive laws meant to eviscerate Roe v. Wade. She was on set some years back while filming in Georgia when she suddenly experienced a miscarriage and had to be rushed to the hospital. Now that laws are in place criminalizing abortion, any woman having a miscarriage could easily be seized and prosecuted under the presumption that she had induced an abortion.
"Do not go backwards," Walter urged. "Do not vote against your own interests, I beg you. Everything is at stake." She then led the crowd in a chant:
"Vote blue no matter who. Vote down the ballot too."
Toward the end of the long roster of speakers, the U.S. Representative from West L.A., and the current Chair of the Congressional Black Caucus, Karen Bass, called Donald Trump "a clear and present danger not just to the United States but to the planet." Reaching out to the audience, she continued, "You're the ones who will turn this country around."
"He wants to take food out of the mouths of children. He's appointed secretaries with the mission to destroy their government agencies. They know that we can win because we are on the right side of history. But they can overthrow in the courts what legislation we pass."
Bass spoke about the coming census and how biased it is. Much of it will be conducted online, but there are many people who do not use the internet, and "parts of this country do not have broadband. It's a cynical maneuver." And even though the citizenship question is not on the census, may still fear that it is, or that the census will be used against them by ICE or Homeland Security. In any case, the census will serve to undercount the population and to redistrict the nation to favor rural and more conservative areas.
In California, although the 2018 elections reduced the congressional GOP delegation from 14 to 7, other Republicans are vulnerable now (think Devin Nunes!). Even 7 out of 53 are too many for this progressive state.
For the good of the country, Bass recited, and led the crowd in shouting:
"We can't lose! We can't lose!"